THROUGH THE LENS: So Many Festivals, So Little Time
---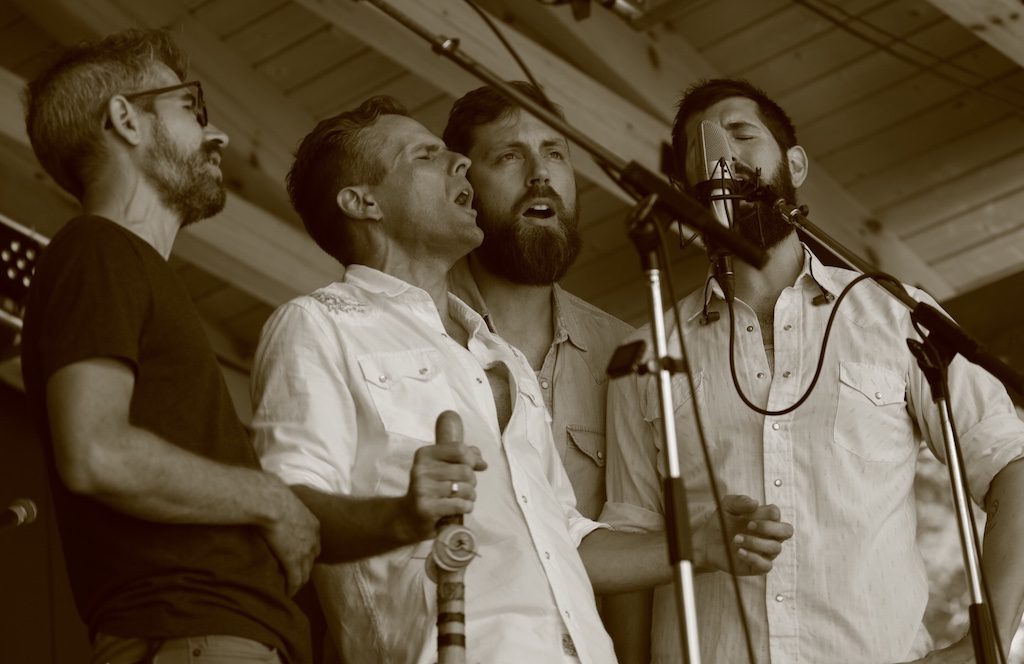 The Steel Wheels - Red Wing Roots Festival 2019 - Photo by Larry John Fowler
While summertime for music fans has always meant festival time, this year has seen a significant increase the number of such events. Beginning with this column I will feature five festivals in four weeks. This week Larry John Fowler reports from the Red Wing Roots Festival in the Appalachian Mountains, and Peter Dervin takes us to the 4 Peaks fest in central Oregon. Besides presenting intriguing lineups of roots artists, they both offer family-friendly experiences in picturesque scenery.
Besides the music, I think what makes a festival successful, and what keeps people coming back, is an experience where you can kick your shoes off, feel the dirt between your toes, and let your kids be kids. And, after the festival lights go out, you can actually see a sky full of stars — a glimpse into the great beyond.
Red Wing Roots Music Festival (by Larry John Fowler) 
Set in Virginia's beautiful Natural Chimneys Park, just up the road from Staunton, where a young Phil Ochs once played in the local military academy's marching band, the seventh edition of the Red Wing Roots festival was, as Buster Poindexter would say, "hot, hot, hot" in terms of both the music and the temperature. Organized by host band The Steel Wheels, the fest also provides yoga (which seems to be a necessity these days), cycling through the "pastures of plenty" though the foothills of the Shenandoah, and wading in the creek. What's not to like?
In addition to the house band, this year featured big-name acts such as Lucinda Williams, The Wood Brothers, Mandolin Orange, Peter Rowan, and Della Mae. Add to that artists who seem to be fixtures on the festival circuit, such as Birds of Chicago, Charley Crockett, Dead Horses, Lonely Heartstring Band, Fireside Collective, and Sean McConnell, and you get a nice mixture.
One big reason for attending festivals is for the sense of discovery. I had not seen Della Mae, and I was blown away by their set that also included former member Courtney Hartman, as well as Lindsay Lou and Lonely Heartstring Band's Maddie Witler. They are among the the strongest bands I have heard in recent years. A newer song, "Headlight," dedicated to Anita Hill and Christine Blasey Ford, won an emotionally energized crowd that didn't want them to leave the stage. 
Other notable bands new to me included The Hollering Pines (with great harmonies and voices rather than actual "hollering"), Hush Kids, The East Pointers from Prince Edward Island, The Lil Smokies, River Whyless, and Fruit Bats.  
Finally, there were the two Sunday sets that brought the fest to a close: the morning's "Gospel Set," and evening's "Tribute Set." The latter was dedicated to David Grisman, Jerry Garcia, and Tony Rice's The Pizza Tapes. Three of this year's best deliveries during these sets were by Kiki Jane Sieger of The Hollering Pines, Lindsay Lou's " I Belong To The Band," and of course the closing songs by The Steel Wheels.
4 Peaks Music Festival 
Located on Stevenson Ranch in Bend, Oregon, the 4 Peaks Music Festival is a showcase for the state's central high desert. The music wasn't too bad either: The Wood Brothers, Billy Strings, Rising Appalachia, Los Lobos, Sonny Landreth, Sister Sparrow & the Dirty Birds, and more.  
It's also the most child-friendly fest I know, with one of its four stages, Kidlandia, serving as a vast area for music as well as activities that's fun for kids. You could call it a music-oriented day camp, complete with teepees and movies under the stars. The festival also offers door-to-door accommodations. In addition to on-site camping, fully furnished yurts and RV campers are also available. The best known and most accommodating camp resident is a woman named Chris who brings her own vintage trailer to the fest each year, and wears vintage clothing to match thought the weekend.
Now, enjoy Larry John and Peter's photos.
Note: Individual photos in the gallery below can be enlarged by clicking on them. Once enlarged, you can view all the photos as a slideshow. 
---