THROUGH THE LENS: Six Roots Music Artists on the Verge
---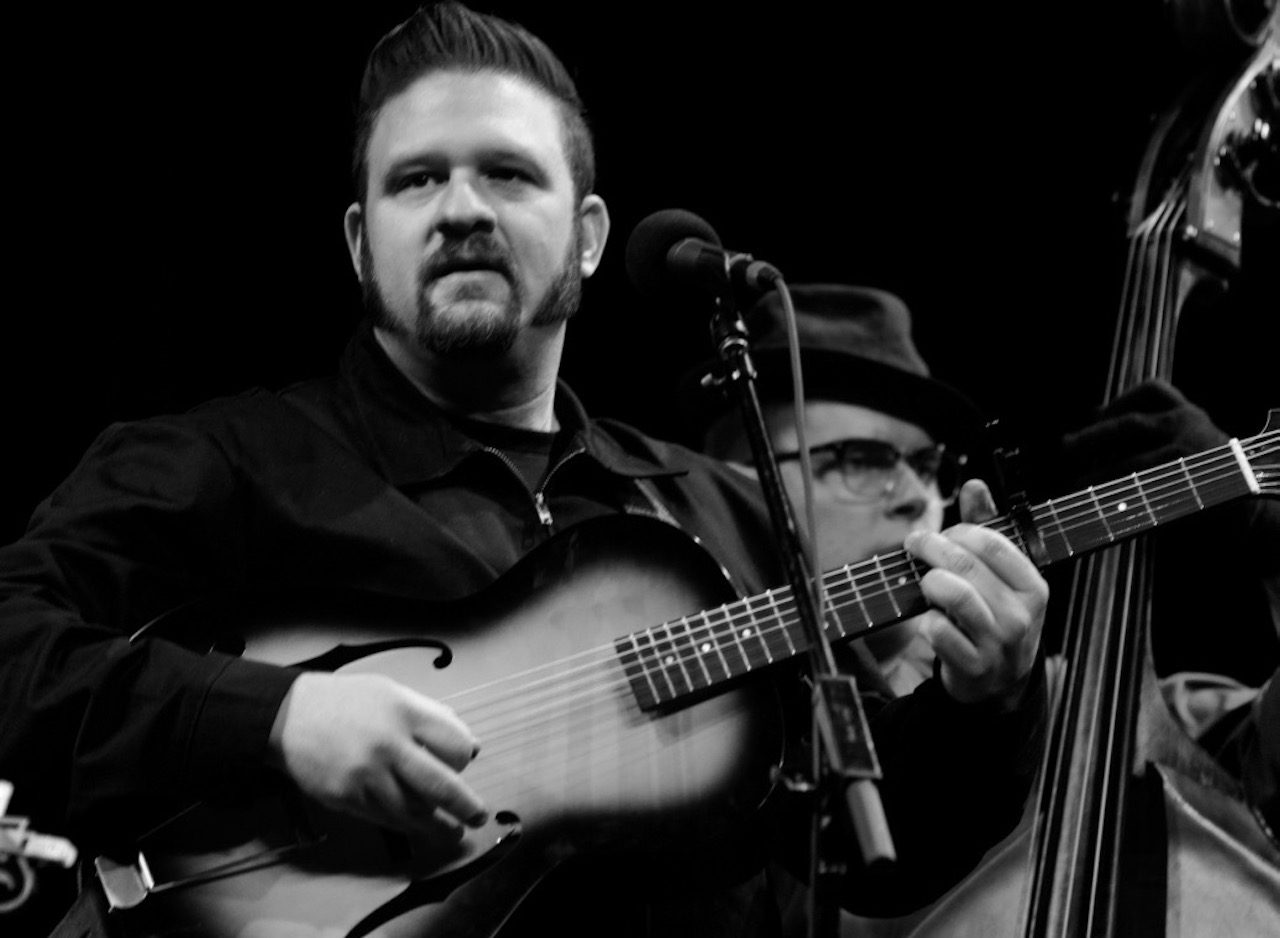 Andrew Adkins -Mountain Stage - Photo by Amos Perrine
The Through the Lens column has featured artists on the verge as selected by ND photographers twice before, and as the last was about a year and a half ago, it's high time I did it again. The thesis being that since ND photographers see a lot of shows, especially up and comers, perhaps we are in a pretty good position to see artists who have "it" before they reach a wider public.
We must be pretty good as of the seven artists highlighted in that
last column
, four had AmericanaFest showcases last year, and another, Darrin Bradbury, recently signed with the prestigious indie label Anti-. You know, the same label that has Tom Waits and Mavis Staples.
Andrew Adkins
Adkins' latest album,
Who I Am,
 which chronicles life in today's Appalachia without rose-colored glasses, currently sits at No. 4 on the
Roots Music Report Americana chart
, right between Molly Tuttle and Josh Ritter. I said in
my review
that the album is an amalgam of "against-all-odds tales of those who continue to live in the hills and hollows where they were born, complete with hopes, regrets, innumerable losses, and shattered dreams." After living with it for awhile, I'll go one step further, Adkins is the region's John Steinbeck. Remember that portion of
The Grapes of Wrath
where Steinbeck describes the inside of a boxcar? Adkins' songs are that rich with history and detail. And live, he has a quick, amiable wit that is disarming.
Ariana Gillis (by Boom Baker)
Ariana Gillis is an award winning and critically acclaimed Canadian singer-songwriter who I first discovered when watching a YouTube video of her performing a cover of Dylan's "It Ain't Me Babe" recorded in Buddy Miller's studio. Besides accolades from Buddy and Julie Miller, Ariana has been praised by rock critic Dave Marsh and Elton John's lyricist Bernie Taupin. After this serendipitous discovery, I was excited to see she was listed as a performer on this year's Cayamo Music Cruise. Her performances on the boat were spectacular and took us on a magical musical journey with her poetic songwriting. Check out Gillis' forthcoming album The Maze, produced by Buddy Miller and David Gillis, with a June 14 release date. Ariana Gillis is a rising star.
Anna Tivel
Don't be fooled by Tivel's soft, whispery vocals that float, caressed even, by lyrics and music that ever so subtly hint at a turbulent undercurrent. Her fourth album, The Question, was released last month to rave reviews, including at NPR and right here at No Depression. Folk Alley's (and ND contributor) Kelly McCartney noted that Tivel "asks questions that can't be answered. She knows that the destination is never what matters, not when we are unwilling to look at the pain and despair that fills the journey for so many." Having seen Tivel shortly before the album's release, I can attest to how quietly devastating her songs are. As if to counteract that persona, she also demonstrated a graceful stage presence, secure in her own skin.
Carsie Blanton (by C. Elliott)
This folk rocker writes smart, funny, and edgy songs about sex, gender expectations, and politics. You can hear a bit of jazz, power pop, and torchy soul in her folk-based songs. In her live performances she's a badass who's both funny and frisky and who wears colorful western boots.
*repeat repeat (by Chris Griffy)
The best kept secret in Nashville's rock community for the past several years has been *repeat repeat. It's time we learned to share. The duo of Kristyn and Jared Corder create their unique sound by living in the neutral zone between Jared's punk and garage fury and Kristyn's Laurel Canyon serenity. With a new album, Glazed, produced by Patrick Carney and an eight-date run in the fall opening for The Black Keys and Modest Mouse, it's a near lock that *repeat repeat is poised to be Nashville's next Moon Taxi, the "new" band on everyone's lips that locals can remember from their club days.
Roseanne Reid (by Carol Graham)
Over the last few years, Edinburgh-born Roseanne Reid has built a loyal following at solo performances across Scotland, but it's only in recent weeks that her long-awaited debut album Trails has been released following a crowdfunding campaign. Roseanne Reid has a spine-tingling voice that is both gentle and gritty. Her songwriting abilities have been nurtured by none other than Steve Earle, through repeated invitations to his annual Camp Copperhead. Reid's album has been produced by Teddy Thompson, with Steve Earle providing guest vocals. Watching Reid promote her album in a local record shop recently, I knew I was watching history being made. Reid is an artist whose name will be on everyone's lips in the future.
---