THROUGH THE LENS: Signature Sounds Recordings Is a Village for Roots Music Artists
---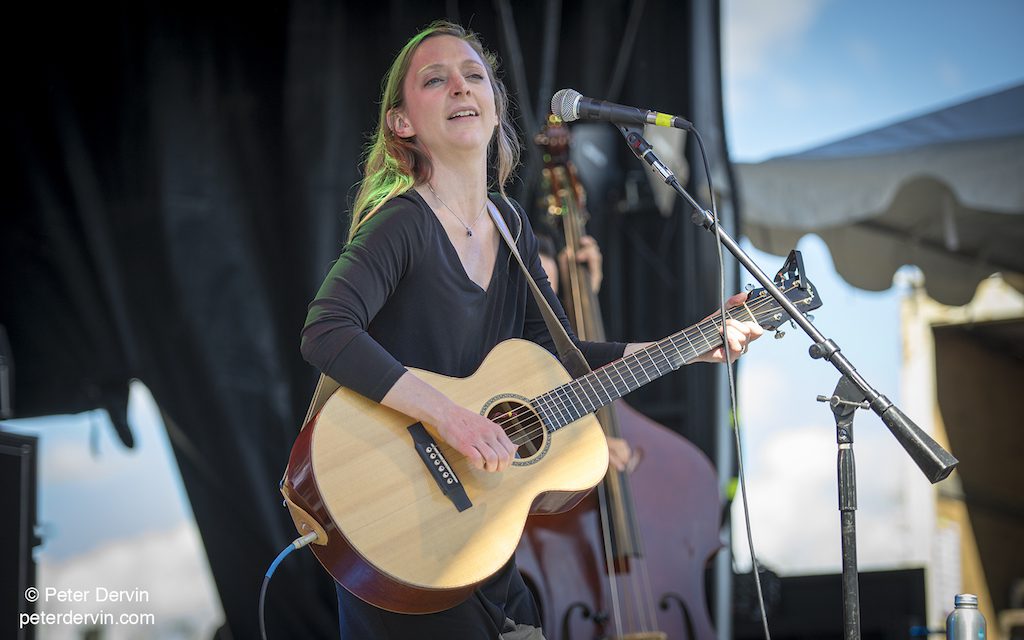 Eilen Jewell - Treefort Music Fest 2017 - Photo by Peter Dervin
Record labels are more than an outlet for music, they are a philosophy of life. Sometimes narrow, sometimes wide. As evidenced by the logo on its website, Signature Sounds Recordings falls in the latter category: "Record Label – Live Music – Artistic Development: Folk, Americana, Roots, Singer-Songwriter, Rock, Indie." Yet even all that is somewhat inadequate. Signature is better described as a village, a haven for artists pursuing their singular visions.
This week's column is second in a series that looks at the independent record labels that are the backbone of roots music. Compass Records was the first. Signature Sounds and its artists are now being highlighted.
Golden Age: 25 Years of Signature Sounds
Earlier this year the label celebrated its 25th anniversary with the double CD Golden Age: 25 Years of Signature Sounds, which features 37 of its artists in as many songs culled from 175 albums. In keeping with the label's independent nature, it's not a greatest hits collection, but rather a representative survey that reflects the breadth and depth of its roster of artists. As co-founder Jim Olsen says in the liner notes, "The approach for this was to make it a really good sounding, listenable album, rather than just the biggest hits. Let's make it a really nice listen all the way through and showcase the artists to their best effect."
ND's Henry Carrigan reviewed the album for our sibling publication, Folk Alley.
The Beginning
Like all good things, Signature started small. After graduating from Ithaca College, Olsen had some radio gigs in the area, eventually becoming the program director of WRSI in Greenfield, Massachusetts. As Signature Sounds got started, he sold CDs and cassette recordings of local artists out of his home in Whately. Many of these early albums were recorded at the studio of engineer and label co-founder Mark Thayer.
After talent is located and their albums are recorded, the next step is to get their work noticed. That's where Flora Reed comes in. As publicist she was the label's only employee for quite some time, and she remains the publicist today. In the pre-internet days, Reed says, "We did many 400-piece radio and press mailings ourselves." 
Growth 
In 2000, the label had a growth spurt, signing Erin McKeown, who was then a student at nearby Brown University. "Erin was exciting because she was our first artist that hit beyond the folk world and hit on a national basis," Olsen says. "Her album Distillation sold 25,000-30,000 copies. Before 2000, if an album sold 2,000 copies, it was a lot."
At the same time, Josh Ritter, from Idaho, began playing local clubs. Ritter sent, unsolicited, early tapes of Golden Age of Radio to the label. It was remastered, released in 2002, and became the label's second national hit. 
Things then began to spick up speed. The label attracted two established artists, Richard Shindell and Peter Mulvey. Mulvey introduced Olsen to Eilen Jewell, and later, Birds of Chicago.
Thereafter, Lori McKenna, Lake Street Dive, Chris Smither, and a bunch of my faves would follow: Joy Kills Sorrow, The Sweetback Sisters, Jeffery Foucault, Crooked Still, The Mammals, Heather Maloney, Twisted Pine, and oh so many more were signed. 
Signature Sounds Live: The Parlor Room Sessions and More
Not standing still, and changing with the times, Olsen began presenting live shows with Peter Hamelin as offshoots of the Green River Festival in Greenfield, Massachusetts. In 2012, Signature found a home for those live shows (and for its current offices) in downtown Northampton, just nine miles from Whately. The venue became known as The Parlor Room. 
Two years later, Signature bought the rights to the Green River Festival, which had ballooned into a nationally acclaimed, 3-day, 40-artist music festival. That same year, the label held a three-day 20th Anniversary Celebration. Read ND's coverage here.
When the COVID-19 pandemic hit last year, live performances came to a crashing halt. However, within a week the label had the Parlor Room Home Sessions up and running. The Sessions presented a successful series of socially distanced, streamed outdoor shows at the Black Birch Vineyard in Hatfield, six miles from Northampton. Called "Streaming in Place," the sessions are ongoing with two personal faves coming up, among others: Diana Jones tonight (March 23), and Nellie McKay on April 6. Previous musicians included Rhiannon Giddens, James McMurtry, Tim O'Brien, and Rachael Price of Lake Street Dive, and quite a few more. See the remaining schedule here.
The Immediate Future
On what's on the horizon, here's what Reed told me: "On March 25th, Streaming in Place will feature favorite highlights from our past year of livestreamed shows. We're pretty proud to have created four series, streamed 87 shows, and paid $155,000 directly to artists. You can watch it right
here
.
"Looking ahead, we are thrilled to release Rachel Baiman's label debut for us. Cycles is out on June 11. We've been fans of Rachel's work for a while now and can't wait for the world to hear this important and inspired new album."
Now, photos of just some of Signature Sounds' artists, including Rachel Baiman, who writes The Long Haul column for ND. Click on any photo below to view the gallery as a full-size slide show.
---