THROUGH THE LENS: Sights and Sounds of the Future at the 2023 Folk Alliance Conference
Posted On February 14, 2023
---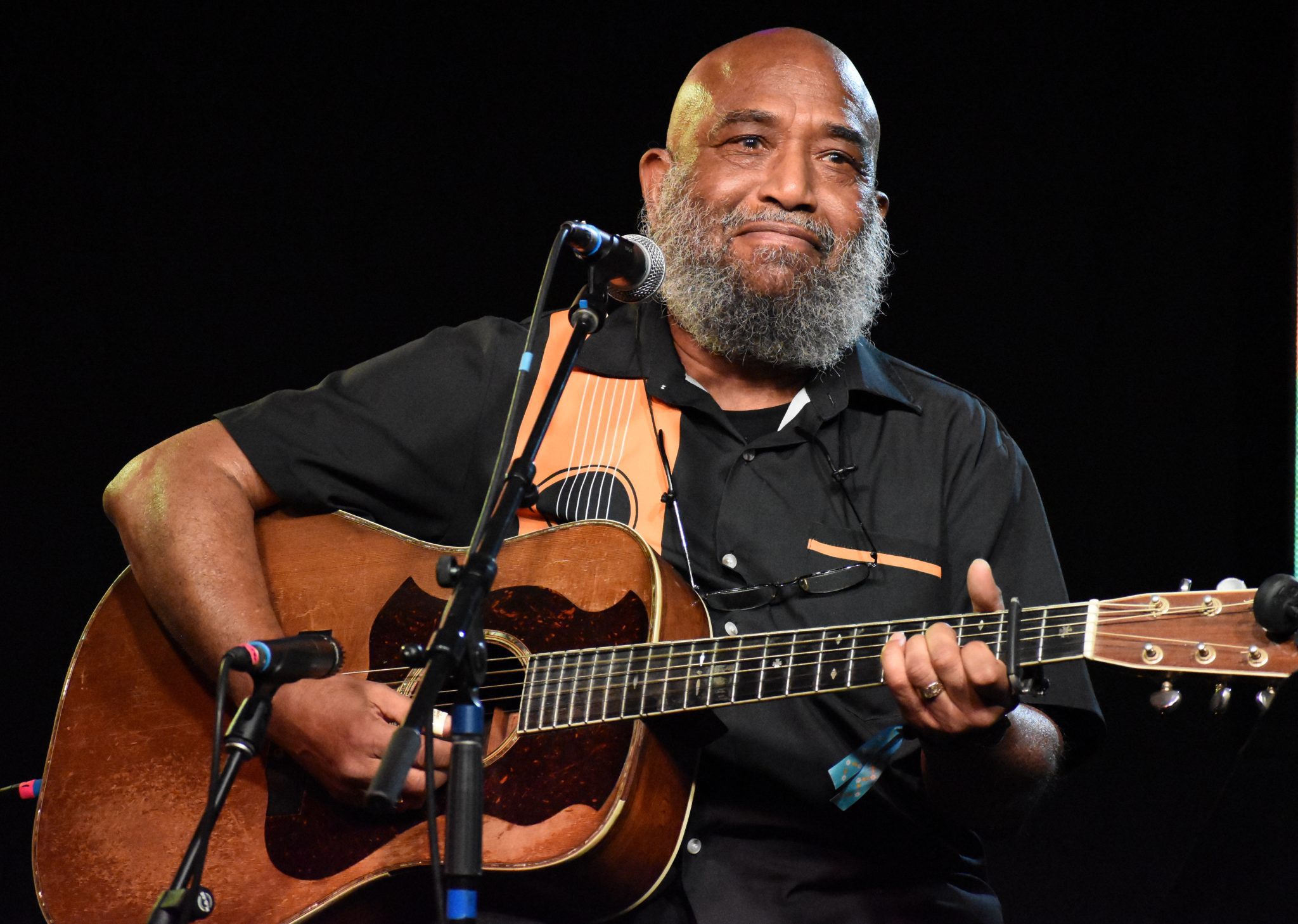 Josh White Jr. - Folk Alliance International 2023 - Photo by Kim Reed
The annual conference of music organization Folk Alliance International (FAI) is the world's largest gathering of the folk music community. Folk music crosses a diverse array of roots music, including Appalachian, Americana, blues, bluegrass, Celtic, Cajun, global roots, old-time, singer-songwriter, spoken word, traditional, zydeco, and the many combinations thereof. This year's conference, the 35th, was held in the organization's hometown of Kansas City Feb. 1-5.
The folk music revival of the 1950s brought folk music to national attention, by 1963 spawning a prime-time network show, Hootenanny, that was filmed at college campuses around the country. But by the 1980s interest seemed to have waned, so in 1989 FAI was formed. Complete with a conference, an awards show, and official and private showcases, the five-day flagship event provides folk artists the opportunity to network with one another as well as demonstrate their talents to festival and venue bookers, agents, record labels, DJs, media, and the public.
Once again we are fortunate to have FAI and Through the Lens column veteran Kim Reed to report on the happenings from this year's conference.
The 35th Annual Folk Alliance International Conference by Kim Reed
Trying to describe the breadth of FAI is the like the proverbial story about trying to describe an elephant while touching it blindfolded. So many aspects are encompassed during its five days that no one article can do it justice. But I'll try.
The Awards
Unfortunately, inclement weather prevented some scheduled performers from attending, and others, such as Molly Tuttle & Golden Highway (Album of the Year winner) and Aoife O'Donovan and Anais Mitchell (Song of the Year co-winners) were on tour or at the Grammys. 
Josh White Jr. read a moving account about his father, Josh White, who received the Legacy Lifetime Achievement Award, and also performed. The Living Lifetime Achievement and Artist of the Year awards were presented to Janis Ian, who had a hit as a teenager in the 1960s with "Society's Child" and recently announced that she is retiring from touring. Leyla McCalla received the well-deserved People's Voice Award and later treated us to a marvelous set.
ND's Assistant Editor Stacy Chandler also attended FAI and wrote an article on the awards show that includes video of the entire show.
Facing the Future
This year's conference theme was "Facing the Future: Sustainability in Folk Music,"  and keynote presenter Valerie June really brought that home with her riveting remarks, interspersed with a few songs, including a breathtaking version of "What a Wonderful World," made famous by Louis Armstrong. June challenged us to reflect on our place in this ever-changing world, leaving us with a swelling of inspiration much like the feeling we get when listening to Pete Seeger sing "How Can I Keep From Singing?"  
Part of that future is the challenge of respecting and protecting the land. This year's Artist in Residence project was a partnership between Colorado-based musician Cary Morin and Friends of the Kaw, the only grassroots conservation group dedicated to protecting the Kaw River (aka the Kansas River). Morin, a Crow tribal member with Assiniboine Sioux and Black heritage and the son of an Air Force officer, spoke of the river's importance as well as the challenges experienced by his grandfather, Robert Yellowtail, as he tried to prevent the US government from building a large dam in Montana, which, to add insult to injury, was named the Yellowtail Dam.
Folk Music
Folk music is as varied as the cultures it comes from. This year, just to name a few of the musicians performing and their countries of origin: Shane Hennessy (Ireland), The Falls (Australia), FAI board member Iona Fyfe (Scotland), and Les Hay Babies (Canada). Sara Curruchich opened the awards show with music inspired by her Mayan culture.
Many performers shared their stories, histories, cultures, and dreams for the future. FAI veterans such as Tom Paxton, Rachel Sage, Freebo, Dan Navarro, and Steve Poltz encouraged and mentored the newbies. Relative newcomers Hello June, Of Sea & Stone, and Kamika King impressed us with their determination and talents. 
Artist of the Year nominee Jake Blount's numerous performances were certainly a highlight. He also paid loving tribute to Janis Ian on Awards night, performing with what seemed an extra resonance her Grammy-winning song, "At Seventeen."
Culture Ireland has been bringing a delegation of Irish artists to FAI since 2015. This year featured six showcases, most notably The Armagh Rhymers and The Henry Girls. Other Irish performers were on hand, too, including Shane Hennessy and Wallis Bird. Bird's set included a mishap that turned into gold: During a song a string on her guitar broke. As it flew up she caught it between her teeth! I snapped a photo just as it happened — it's in the gallery below.
It was also an event of firsts. In partnership with Music Export Memphis (MEM), FAI featured its first City of Honor, Memphis, Tennessee. While Valerie June and Amy LaVere represented the town with great aplomb, other featured Memphis musicians, including The Sensational Barnes Brothers, Talibah Safiya, Bailey Bigger, and Yella P, gave memorable sets. As MEM also presents a daylong event during AmericanaFest, it's clear that a lot of roots music is going down in that town. 
I came away from FAI with a long list of performers that impressed me, including The Magpies, Pi Jacobs, Elurji, and, as noted above, The Armagh Rhymers and Hello June. There's never enough time, but certainly not too much music. Until next year …
Click on any photo to view the gallery as a full-size slideshow.
---