THROUGH THE LENS: Seven Overlooked Roots Albums of 2019
Posted On November 26, 2019
---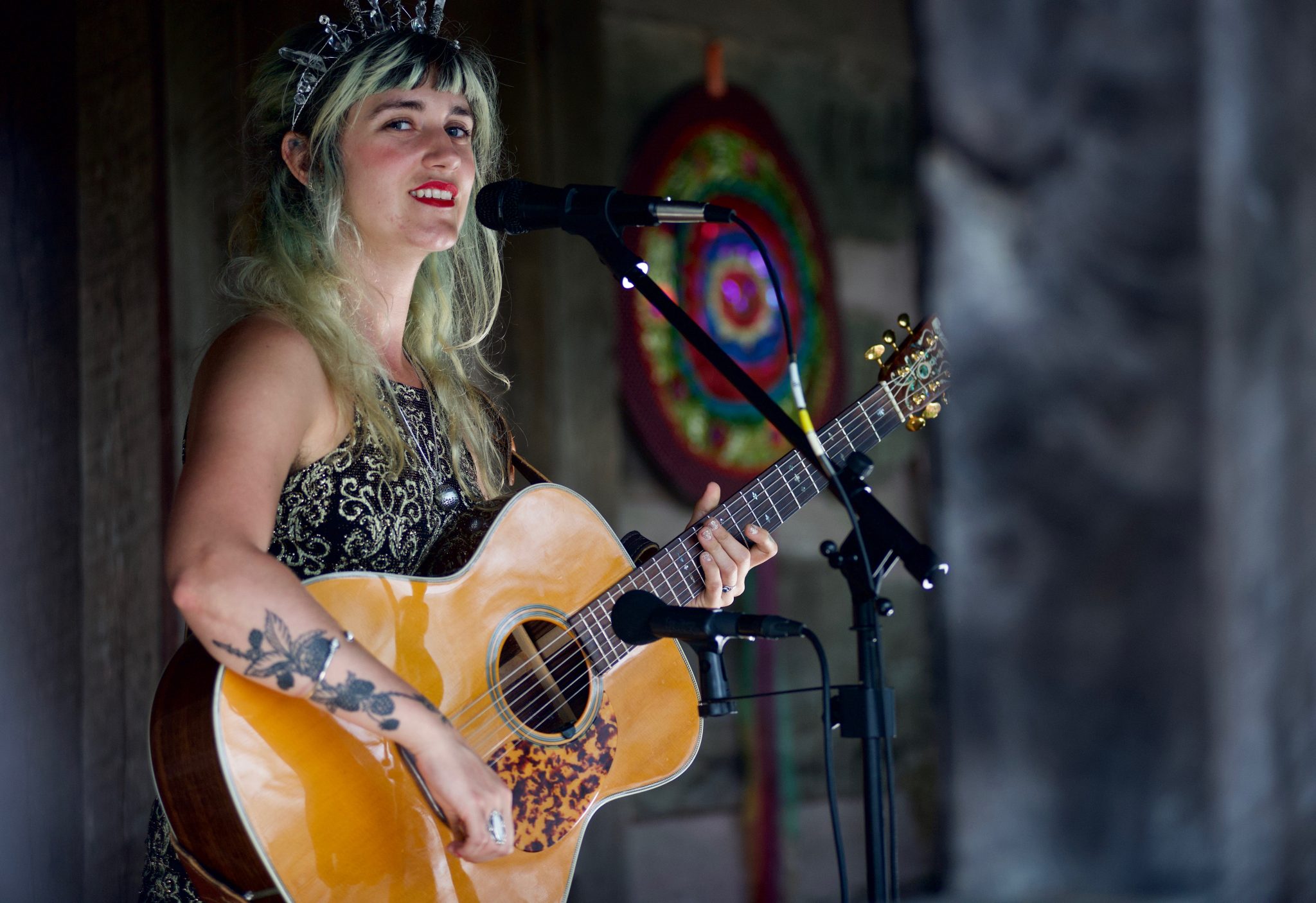 Sierra Ferrell - Photo by Amos Perrine
With every music writer busy at work compiling lists for year-end reviews, on this last Tuesday in November before that deluge begins next month, three ND photographers — Boom Baker, Mark J. Smith and Carol Graham — and I have chosen seven neglected roots albums that just did not get the attention, or love, they deserved. From stringbands to singer-songwriters to country rock, here are our short takes on those recordings.
Sierra Ferrell – Washington by the Sea 
Singular is too inadequate a word to describe Ferrell. Her mixture of tempo, melody, and imagery — each often changed multiple times within a single song — would be enough to make even the most traveled purveyor of singer-songwriters sit up and take notice. But when you see her perform one of those songs with that sorrowful, seductive voice in a certain nonchalant manner, with a faraway look in her eyes, you become entrenched in the black-dirt blues of late-night, rain-drenched streets, pool halls, and furnished rooms by way of Robert Mitchum's Thunder Road. 
Tom Russell – October in the Railroad Earth 
In his songs Russell paints pictures with name-checking lyrics and landscape descriptions of time and place. For example, in "Highway 46," named for a highway near Bakersfield, California's honky-tonks with flashing jukebox lights, he weaves a late-night story about Spade Cooley, James Dean, Merle Haggard, and Buck Owens. Russell is a master of intellectual lyrics, songs from the heart, political observation, and wit. (Here's ND's review from March.) — Boom Baker
Locust Honey – The Low & Low
On their third album, this duo dropped "String Band" from their name and, at least on the record, added other instruments, including pedal steel. In doing so they venture into shades of classic country with a tinge of rockabilly. It's definitely a fuller, more complex sound, yet Chloe Edmonstone's mournful fiddle accentuates their new "expanded" sound. While their plaintive vocals remain, there are notable exceptions, such as "Making Plans," which evokes the wanderlust of Fred Neil's "Everybody's Talking," but more in a romantic manner. The banjo-fiddle interplay that supports "Driver Boy" takes you home, on the down low, the low and low.
Lizanne Knott – Bones and Gravity
On her sixth album, Knott steps out of her familiar folkiness into a bit of a jazz feel, going right to her soul. These warm, inviting songs show not only her talent as a singer and songwriter but also her courage. The album goes into her soul, and maybe yours as well. The Americana world still considers her an emerging artist, but this remarkable album should end that thought. — Mark J. Smith
Zoe & Cloyd – I Am Your Neighbor
As personified by the title song, the album primarily concerns itself with family, acceptance, community, and their preservation during troubling political and environmental times. These are not radical themes; they have been the backbone of rural America, the America I was raised in. What ties it all together is, of course, the music, which mixes bluegrass, (Cloyd) Miller's country crooning, and (Zoe) Weinstein's fiddle and klezmer traditions. I am especially taken with "Zisa Meydele," written after the birth of their daughter, even before I knew it's Yiddish for "Sweet Little Girl." If we're lucky we've had at least one in our lives.
Doghouse Roses – We Are Made of Light
Iona MacDonald and Paul Tasker quietly and without fanfare just keep writing and playing brilliant music. Described by Americana UK as Scotland's Gillian Welch and Dave Rawlings, Tasker's banjo and guitar playing and MacDonald's vocals are a strong match for their sublime songwriting and melodies. This Kickstarter album includes new material along with previously unrecorded songs, familiar ones from live gigs made perfect in the studio. — Carol Graham
Laila Belle – All These Things 
This upstate New York quintet is proof that good-time country rock is neither dead nor passé. However, good times still need a purpose, and as with Zoe & Cloyd, this is an album about community: family, friends, connections — and a bountiful garden. These are the things we must celebrate, sing about, if we are to come out on the other end with our humanity intact. Some of the songs have a barroom feel, some as if sung on a front porch on the 4th of July, but what they have in common are thoughts, feelings, and experiences that bind us and complete us.
Now, the photos. The gallery can become a slideshow with an enlargement of each photo if you click on your photograph of choice. 
---