THROUGH THE LENS: Scotland's Celtic Connections Demonstrates the Power of Roots Music to Unite
Posted On February 10, 2020
---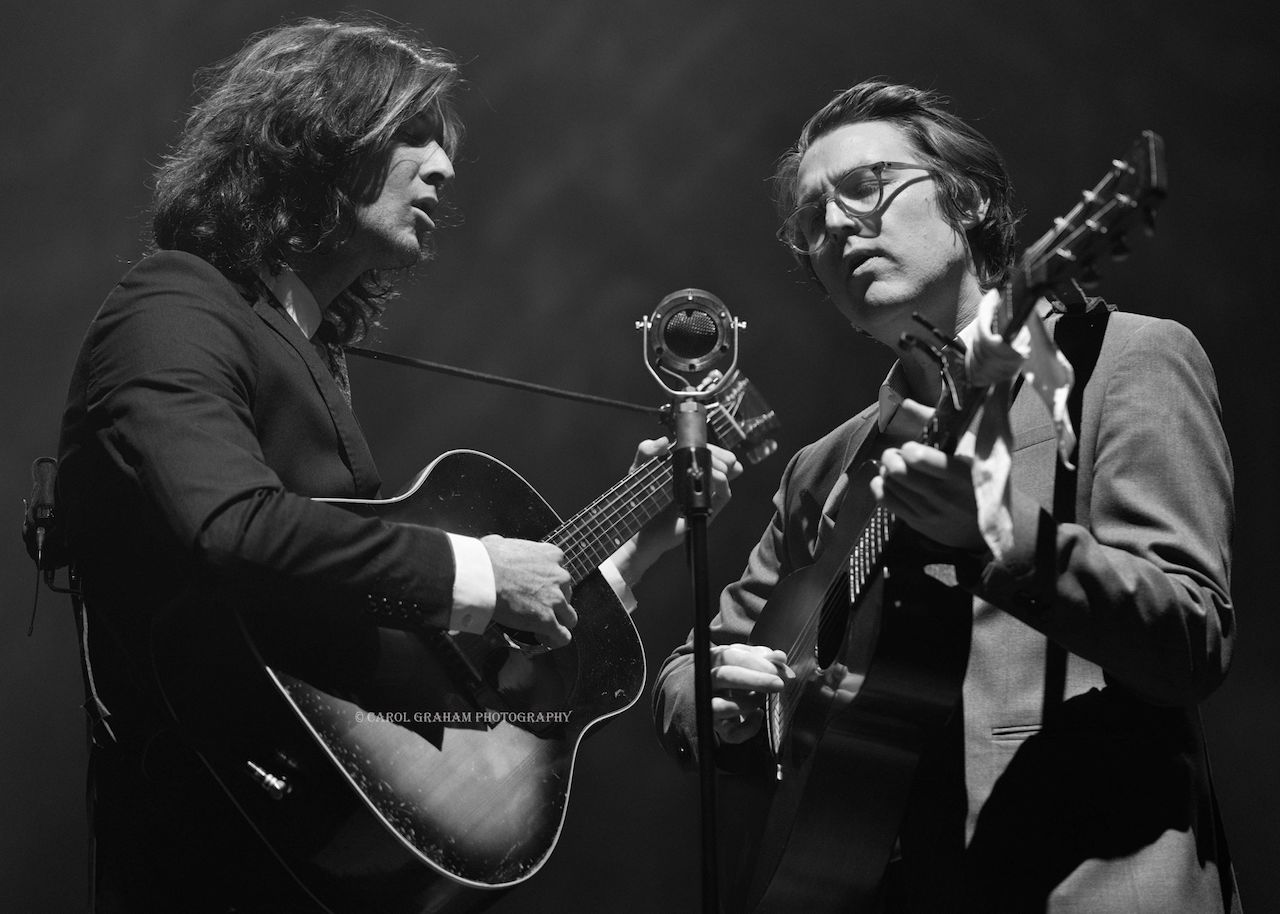 The Milk Carton Kids at Celtic Connections in Glasgow. (Photo by Carol Graham)
Our Scottish correspondent, Carol Graham, again reports on what may be the most widely attended roots music festival in the world, Celtic Connections. From veterans to newcomers, from the US to the UK, the festival revels in the connections between us while moving the music — and us — forward. I could go on, again, on how much I admire and appreciate Carol's work, but instead, let's get right to it. Here's Carol in her own words, and her photos that follow.
"Celtic Connections feels like a family reunion for us and so many American roots artists. We cherish the musical and personal friendships we make here each year. But each year we all sign a petition to have the festival moved to June.''  — The Milk Carton Kids
Celtic Connections is my favorite festival every year. It always brings energy and warmth to the darkness, rain, and cold of the Scottish winter — a perfect time of year, despite The Milk Carton Kids' humorous quip. This year's festival brought together 2,100 artists from across the world for more than 300 events on 29 stages throughout Glasgow. 130,000 people attended over 18 days. Simultaneously glorious and exhausting, it is simply impossible for one person to see more than a small fraction of the festival.
Celtic Connections is more than a sum of its parts. The best magic always occurs not in single-musician events, but when artists come together in unforeseen ways, demonstrating not only that Americana and Celtic music have shared roots, but that our musicians have shared joy in our musical history.
Collaboration Across the Atlantic: The Transatlantic Sessions
Now in its 17th year and running across two sold-out nights, Jerry Douglas hosts the annual Transatlantic Sessions. The first of the Transatlantic Sessions took place on the evening that the UK departed from the EU, so the all-cast rendition of "Ae Fond Kiss," led by Rachel Sermanni, had heartbreaking poignancy, especially when accompanied by a mass candle-lit vigil outside the venue.
Sierra Hull, Cahalen Morrison, and Tommy Emmanuel joined some of Scotland's best musicians, including Aly Bain, Phil Cunningham, and Sermanni. Emmanuel had played his own jaw-dropping spectacular showcase earlier in the festival, before returning for Transatlantic Sessions after some scheduled shows in Ireland, where he had badly dislocated his finger. Not only did he manage to play guitar perfectly, but his on-stage camaraderie and jamming with fellow musicians was a joy to witness.
Another unmissable event was the annual "Roaming Roots Revue," directed by musician and radio show host Roddy Hart, and this year celebrating Bruce Springsteen's 70th birthday. A mixture of original songs and Springsteen covers, the lineup included Ryan Bingham, The Rails, Lisa Hannigan, Jonathan Wilson, and more — with many memorable one-off collaborations combined with perfect sound. The all-artist finale of "Dancing in the Dark," with a packed audience singing along, summed up the magic of Celtic Connections.
Bringing Roots Music to New Audiences
Many of the festival showcases were double bills, bringing international and local music to new audiences. (Favorite combos included The Milk Carton Kids and Della Mae; Tyler Childers and The Local Honeys; and Shovels & Rope and Jeremie Albino.) The Jellyman's Daughter — my favorite Scottish band — opened for Keb' Mo' in one of the festival's biggest venues, which immediately won them many new fans.
I discovered wonderful "new" roots music in: Allt, the harmonious Gaelic collaboration of Julie Fowlis, Zoe Conway, Eamon Doorley and John McIntyre; rockabilly youngsters Awkward Family Portraits; and the remarkable Texan guitarist Rodney Branigan. There was also a welcome unscheduled appearance by Carson McHone, with a lovely solo acoustic set before The Rails opened for The Felice Brothers — a perfect triple bill.
Combining Music and Laughter
A constant thread running through the festival was humor — from the stories of Gerry Rafferty recounted by Archie Fisher and Barbara Dickson, through the brilliant deadpan wit of The Milk Carton Kids, to the hilarious interruption of Abigail Washburn's finger-snapping finale by her adorable toddler, who was clearly very hungry.
There were many jokes about banjos, and also about growing old — with birthday celebrations for Scottish folk greats Jimmie MacGregor (at 90), Archie Fisher (at 80), and Phil Cunningham (at 60). Many of the musicians also had fun trying to converse with their Scottish audiences, including a sweat-covered Michael Trent from the highly energetic Shovels & Rope, who said "Please don't bother shouting anything out. We can hear you, but we really can't understand your accents at all!"
A Festival With a Social Conscience
Celtic Connections brought more than great music and entertainment. The festival is committed to becoming environmentally friendly and is working with the City of Glasgow to be plastic-free by 2021. Bespoke reusable water bottles were given to artists and staff, both to reduce waste and encourage the drinking of Scottish water.
The festival included a large educational program, book readings, and dementia-friendly concerts. It was inspiring to see so many young people attending the festival, many carrying musical instruments. Several international artists, including Sierra Hull, Abigail Washburn, and Béla Fleck, contributed to "come and try" workshops and masterclasses. Two Glasgow-based radio stations, BBC Radio Scotland and Celtic Music Radio, provided coverage and interviews with musicians throughout the festival.
Yet again, Celtic Connections demonstrated the power of roots music to be a common language that can build bridges between artists and audiences from across the world — facilitated, of course, by free-flowing drams of Scottish whisky!
Now, here are the photos Carol took with her beloved Sony mirrorless camera, and assorted lenses, many of which are B&W and exhibit a silvertone luster that one usually associates only with film.
---