THROUGH THE LENS: Roots Music on Both Coasts – Bristol Rhythm & Roots and BeachLife Ranch
Posted On September 27, 2022
---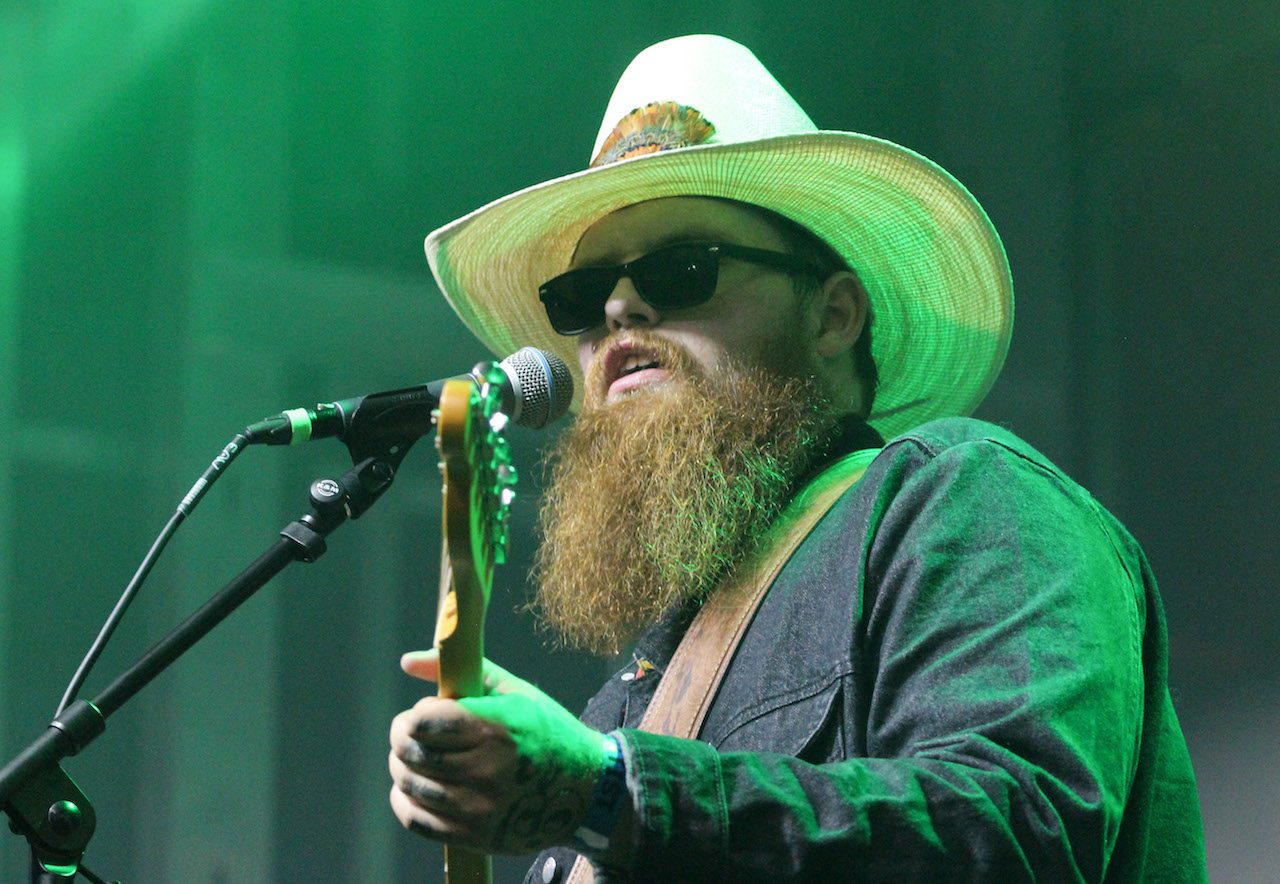 Isaac Gibson of 49 Winchester - Bristol Rhythm & Roots Reunion 2022 - Photo by Kelly Shipe
This week the Through the Lens column explores the vitality of roots music festivals regardless of their locales, as well as two different approaches to their presentation, via two such festivals held earlier this month.
BeachLife Ranch bills itself as a music festival "born in the South Bay of Los Angeles, that celebrates the cowboy surfer way of life," while the Bristol Rhythm & Roots Reunion festival "celebrates Bristol, Tennessee-Virginia's music heritage as the birthplace of country music."
No value judgments here, just different strokes for different folks. The proof, as they say, is in the pudding. In this case, it demonstrates that be it played in the misty Appalachian mountains or on the sunny beaches of Southern California, roots music is made for you and me.
We are fortunate to have had two column veterans at those two festivals: Jim Brock covered BeachLife Ranch while Kelly Shipe covered Bristol Rhythm & Roots Reunion. Here are their reports.
BeachLife Ranch by Jim Brock
An offshoot of the original BeachLife Festival, founded in 2018 and held at the same Redondo Beach harborside location, this inaugural edition of BeachLife Ranch was a slightly scaled-down affair with two main stages with little overlap between sets. In billing itself as a "country and Americana" fest, BeachLife Ranch brought "outlaw country" to the edge of the Pacific while mixing in a fair number of roots acts familiar to veteran festivalgoers. 
Despite John Oates having returned to his roots some time ago, some may question whether Friday's closer Daryl Hall & John Oates was a good fit. There was also line dancing along with booze vendors that seemed to outnumber food vendors. But the ever-present ocean breeze and sand beneath your feet was a welcome relief. 
Of the three-day fest I was only able to sample what Sunday had to offer. The day kicked off with a nice set from Jackie Greene, but it was The War & Treaty that seized it for me. When Michael and Tanya Trotter went deep through the crowd, Michael hugging anyone within arm's reach, the joy got seriously passed around.
Drive-by Truckers, Greensky Bluegrass, and Lukas Nelson and The Promise of the Real all played to their strengths, as did Maddie & Tae, who had a Lucius-meets-The Chicks flavor to this first-time listener. Individual highlights were a shimmering "California Stars" from Wilco and a throat-catching "The Story" from closer Brandi Carlile. 
Speaking of Carlile, she came out with some serious swagger befitting her '90s Seattle youth, dropping Bowie's "Space Oddity" and Radiohead's "Creep" during her set with Phil and Tim Hanseroth. Not only is Carlile seizing the moment for all it's worth, she's also sharing it with all those who made it possible.
BeachLife Ranch is already booking for 2023 and I'll be back. In sandals next time, not boots.
Bristol Rhythm & Roots Reunion by Kelly Shipe
"They don't call it a reunion for nothin'." — Justin Fedor (The Denim Denim)
Summer's eleventh hour draping golden light over the Blue Ridge Mountains was a fitting backdrop to this year's Bristol Rhythm & Roots Reunion held in downtown Bristol, a town that straddles both Virginia and Tennessee. 
As I walked through the Cumberland Park gate that serves as the entry way to the fest, I was out-of-the-blocks charmed by Justin Fedor and The Denim Denim, with the exuberant Evie Andrus on fiddle. Early evening brought The War & Treaty, who took the stage in such a joyous wave it felt as though we were surfing through "Ain't None of Your Business." The love between them was unabashedly shared with all of us. Tanya Tucker must have felt the same as she stood in the pit area (where the photographers gather) with a full head of rollers to experience the tour de force herself.
Speaking of Tucker, long live the queen! Tucker lit up the fest in white leather fringe, with a voice of gravelly brilliance. "Love Me Like You Used To" and "Texas (When I Die)" took me back to my days as a young girl, listening to her highness on the radio in our old red Ford as we drove through the Smoky Mountain foothills. But I was pulled back to the present when a young fan, Alma, flushed cheeks, eyes wide, wearing a Stetson hat, exclaimed at the first lick of the guitar, "I can't believe it. I'm gonna see Tanya Tucker!" While I was not there to witness it, I heard that the Trotters joined Tucker for "Delta Dawn," her first hit at age 13. What a moment that must have been.
A misty Saturday morning set the tone for a captivating set by Adeem the Artist, who has intrigued me since their release of Cast Iron Pansexual, and did not disappoint. What an incredibly commanding storyteller. Alone on stage, their voice was pure country-western as "I Wish You Would've Been a Cowboy" cut through a light rain, expressing a love for, and truthful depiction of, Southern living in every note. 
Bristol certainly doesn't shy away from female powerhouses. Tuatha Dea was incredible, mixing Americana and rock with a Celtic cherry on top. This Gatlinburg-based band is fire. Lead singer Katherine Holman took my breath away. Not to be outdone, Abby Bryant about blew us away with her mighty voice. 
Arlo McKinley's songwriting and sheer willingness to leave it all on stage simultaneously filled and broke my heart. Flanked by Chad Light on pedal steel, McKinley slayed us with "Stealing Dark from the Night Sky."
49 Winchester, considered hometown boys from nearby Castlewood, Virginia, rallied the crowd that included numerous local fans from the Tri-Cities area (Kingsport and Johnson City, Tennessee, and Bristol, Virginia/Tennessee) as they poured all they had into a raucous country-rock-soul shindig. Just three years ago I saw them in a bar, and now they played to an entire town, the streets of Bristol packed to the gills. I was so caught up that I exclaimed, "Tri-Cities boys done good!" By my side stood lead singer Isaac Gibson's dad and band bus driver, Gary, and his uncle. Both were beaming. Yep, they don't call it a reunion for nothin'.
Click on any photo below to view the gallery as a full-size slideshow. 
---