THROUGH THE LENS: Quick Takes on Some Exciting Roots Music at Midsummer
---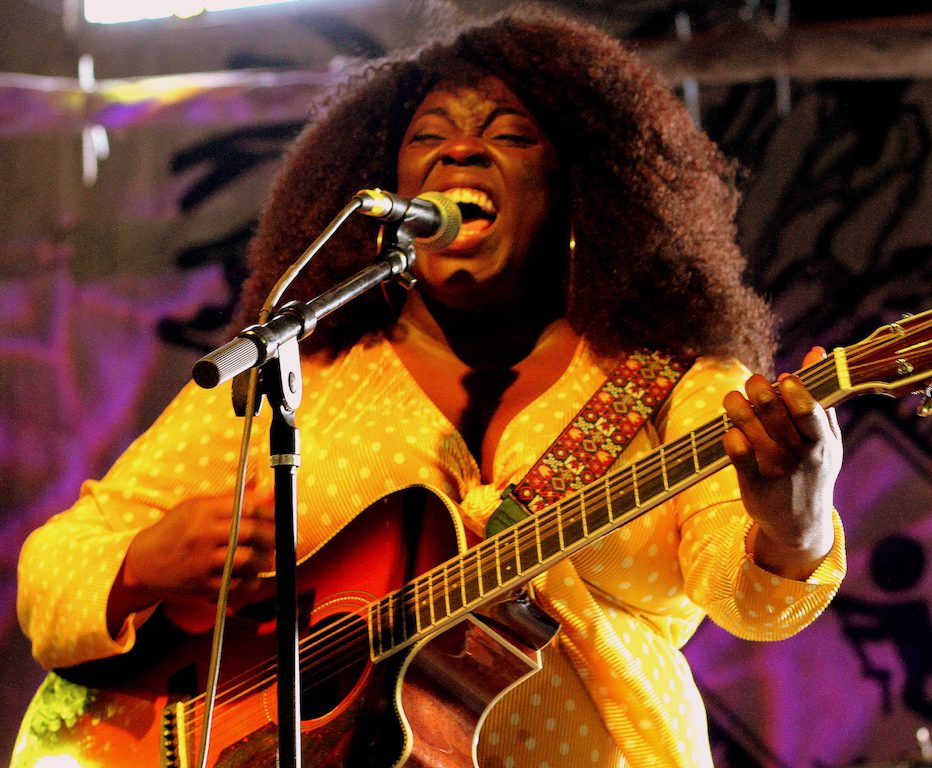 Yola - AmericanaFest - Photo by Chris Griffy
During my first vacation in several years last week I listened to a slew of upcoming albums when I wasn't listening to the spirit-renewing sounds of the wind and waters of the Atlantic Ocean and children screaming with delight as the surf crashed around them. Below are four standouts, ones that, with headphones, I kept returning to late at night after the house had grown still.
While one, by Yola, ND's Spotlight Artist for July, is certainly on everyone's radar, the other three may not be. I think you'll be just as captivated by them just as much as I am if you give them a listen.
John R. Miller – Depreciated (July 16) 
Hailing from West Virginia's eastern panhandle, Miller is my anti-John Denver: There's no sense of sentimental BS of times never lived or of being taken home by mythical country roads. This collection of insightful and nuanced vignettes could only have come from a variety of life experiences, some by happenstance, some imposed, some self-inflicted, resulting from years on the road, steeped his home state's many illusions and contradictions, yet with a feeling of being cradled in the arms of the Shenandoah. On my fave, "Old Dance Floor," Miller sings, "The sky is blue and so am I / While you're in there gettin' high / I've out here gettin' by / Breaking every golden rule" that I see as a metaphor for those who got out and those left behind.
But the standout is "Shenandoah Shakedown," which debuted at Relix magazine. It begins, "There's a crack in the altar / Pale light through the break / Like crooked teeth / And I couldn't fault her" and concludes, "The hills move like lungs / The river speaks in tongues / And I am not alone." Aided by producer Adam Meisterhans' pulsating electric guitar and Chloe Edmonstone's incessant fiddle, it's a psychedelic-inspired look at a failed relationship that demonstrates that a significant new talent has not only arrived on the scene but also is poised to redefine it. Comparisons to Townes Van Zandt and Mickey Newbury are not unfounded, but it's also clear that Miller is hoeing his own row, just as they did. Don't take my word for it: Tyler Childers routinely performs his songs and he's toured with Sierra Ferrell.
Lara Hope & the Ark-Tones – Here to Tell the Tale  (June 25) 
I am a recent convert to Hope, winner of the 2017 Ameripolitan Music Award for Rockabilly Female. With a jaunty, beguiling persona, Hope and the Ark-Tones' singular blend of rock and roll, country, blues, surf, Western swing, rockabilly, folk, pop, and jazzy R&B gets feet a-moving and hands a-clapping on this, their third album. As ND's DC Larson said in 2017, "A beguiling chanteuse, Lara swirls with facility from sonorous swinging to purred intimations to powerhouse, knock-down-drag-out rock 'n' roll."
What makes this album stand out from the group's earlier work is that Hope's lyrics and the band's coherence have both matured. For example, there's a strength in Hope's voice in my fave, "It's a Crime." It begins ballad-like before turning into a powerful anthem: "It's a crime to hide what you're thinkin' / Don't wait till you've been drinkin' / To say what you really mean." Not your ordinary rockabilly sensibility. Don't worry, their enthusiasm and sense of fun remain, along with a clarity of sound that's been added. Parade magazine premiered the album's first single, "Let's Go."  If you are taken with it, you'll love the whole album.
Nobody's Girl – Self-titled  (July 30) 
If you missed this Austin trio's wonderful initial EP release, Waterline (2018), don't worry, you're not alone. But you now have the opportunity to catch up. Comprised of three individual accomplished singer-songwriters — BettySoo, Rebecca Loebe and Grace Pettis — who have recorded at least 15 albums between them, Nobody's Girl has an organic, unforced quality that is as refreshing as it is exhilarating.
With superfine assistance from some of Austin's best, including Charlie Sexton, BettySoo calls their sound "bubblicious." In a note she said while "our songwriting instincts are all honed from the folk world, the textures we tap into when we write together are definitely more pop." A standout is "Waterline" (original version is on the EP), where a searing organ underscores the storm crashing  down on a couple who've abandoned "the wreckage of happily ever after." DittyTV premiered their lovely cover of Carole King's "So Far Away." Do not let this one slip by.
Yola – Stand For Myself  (July 30)
Much has been written, and even more is yet to come, about Yola's empowerment on this album, but I also see her vulnerability and sense of history. Showcasing the former, with the sweetness of groups such as The Moonglows or The Duprees, she coos, "Oh darling, I've been yearning / All the lonely nights, my heart's been burning / Because I'm on the other side, of the great, the great divide."
"Be My Friend" speaks to her sense of history, with lyrics, "No medal will adorn you / No fanfare will salute your fame / Hoping someone remembers, nobody knows your name." It reminded me of the many unheralded Black women who were instrumental to the civil rights movement. These women opened their homes, cooked the meals, washed the clothes, and healed the wounds of the men who were the visible voices against tyranny. Co-written with Brandi Carlile, the song most certainly did not have that in mind. But one of the marvelous attributes of Yola's music is that it can take you to places you hadn't previously thought to explore.
Yola has cited Minnie Riperton as an inspiration. You should check out her recordings, as well as those of other outstanding neglected '70s Black artists, such as Linda Lewis and Ashford & Simpson, whose music continues to reverberate in much of what we take for granted today. If time is a river, Yola's is the river of now.
Now, the photos. Click on any photo below to view the gallery as a full-size slide show.
---