THROUGH THE LENS: Paul McCartney Gets Back But Stays Present
---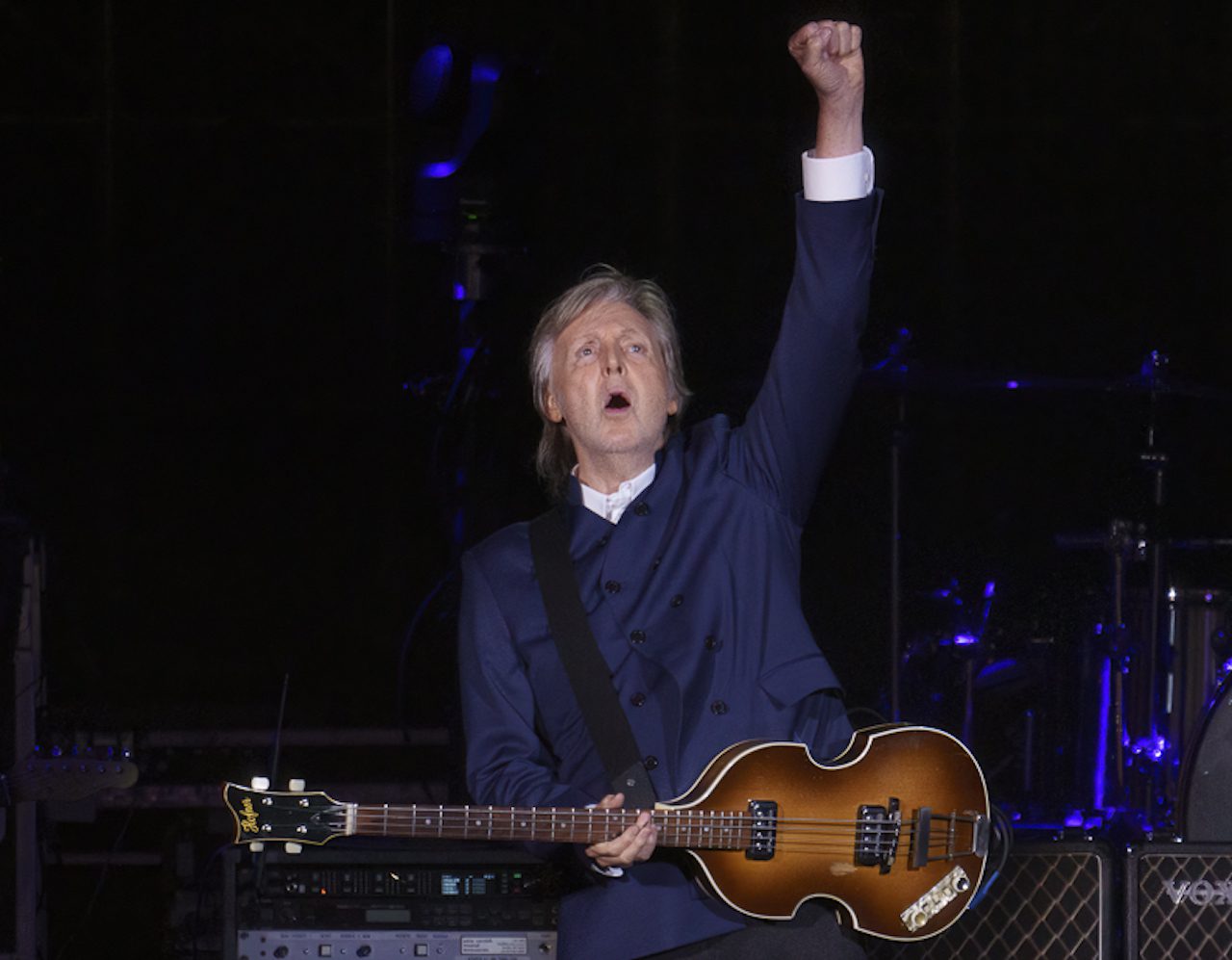 Paul McCartney - Los Angeles, CA 2022 - Photo by Jim Brock
This year sees the final tours of Janis Ian, Elton John, and Robert Earl Keen, but soon to be octogenarian (on June 18) Paul McCartney is still going strong. On the current "Got Back" tour featuring nearly three-hour shows of musical history, McCartney puts to shame scores of  younger would-be icons of today's music.
But that raises the question, what is Paul McCartney doing in a roots magazine? During their formative years in Hamburg, Germany, The Beatles' set lists overflowed with covers by Little Richard, Ray Charles, Chuck Berry, and other R&B artists. Their early English recordings included some of those R&B covers, and they had a hit with Buck Owens' "Act Naturally," which added country to the mix.
As with many 1960s British bands, The Beatles' music was roots-based, and it served as a conduit for American teenagers to discover their own heritage. The fact that McCartney, and the other Beatles, took their music to new, unexpected, and extraordinary heights serves only to underscore the band's reliance on roots music.
This week we are fortunate to have had two regular Through the Lens photographers capture photos of McCartney and band at two different shows: Jim Brock in Los Angeles and Kim Reed in Orlando, Florida, with Jim also providing us with a written narrative of his show. I feel the goosebumps already.
Paul McCartney in Los Angeles, by Jim Brock
The songs of Sir Paul McCartney are probably imbedded in more hearts and souls than those of any other songwriter alive. They're certainly in mine. We feel them deeply, take them in like oxygen, wrap ourselves in their familiarity. McCartney turns 80 this month, and each tour is not only one of the most important musical events of any year, but it could well be his last one. 
The shows on this "Got Back" tour are close to three hours and span three dozen songs. Hearing "Can't Buy Me Love," "Lady Madonna," and "Hey Jude" in McCartney's voice may not be time travel, exactly, but it's pretty darn close. His Los Angeles date at SoFi Stadium last month was the first stadium stop on this tour, and every one of its 50,000+ seats was filled. Ten-story video screens on each side of the stage displayed a scrapbook of images from McCartney's musical and personal life accompanied by a remix of solo, Wings, and Beatles songs to prime the crowd for the band to take the stage. 
The set list and banter have not changed drastically since the last tour, but this show was a comprehensive retrospective of his work. Longtime guitarists Rusty Anderson and Brian Ray flanked McCartney much of the night, with Ray holding down the bass parts when Sir Paul switched to piano (which he did for a good part of the show) or guitar. The muscular drumming of Abraham Laboriel Jr. never overpowered and always landed where it should, and keyboardist Paul "Wix" Wickens filled all the spaces and, at times, wielded a pretty sweet accordion. A three-piece horn section spiced up some arrangements, lending nice orchestral touches along the way. 
McCartney regaled the crowd with stories from his youth when introducing many of his most beloved songs, including his first recorded tune with The Quarrymen, "In Spite of All The Danger." With a crowd the size of a small city, much of the evening turned into a singalong, especially on "Ob-La-Di, Ob-La-Da" and the stirringly full-throated "Hey Jude" closer. While his vocal range isn't that of his youth, it was, nonetheless, a fearless performance that saw McCartney reaching for both the deep and the high notes of each tune. 
McCartney also did something a bit different when he began "Something" on a ukulele, but the song really blossomed when he switched to guitar and the full band kicked in, with Rusty Anderson laying down an almost note-for-note George Harrison solo. Later, toward the end of "Get Back," McCartney poked us with, "Wanna get back? … I do, too" before pausing before its final chorus. It had an unexpected poignancy, a poignancy that reverberated in an encore, "I Got a Feeling" where Paul sang with John Lennon's isolated vocal tracks and video footage courtesy of  Peter Jackson, the filmmaker responsible for the eight-hour documentary The Beatles: Get Back.
Far from being bound to the past, these songs are an anchor in a world of turbulence and way more than enough to generate "oh that magic feeling" courtesy of one Sir Paul McCartney. The tour wraps in East Rutherford, New Jersey, on June 16.
Click on any photo below to view the gallery as a full-size slide show.
---