THROUGH THE LENS: No Depression's Best Roots Music Photos of 2021
Posted On December 14, 2021
---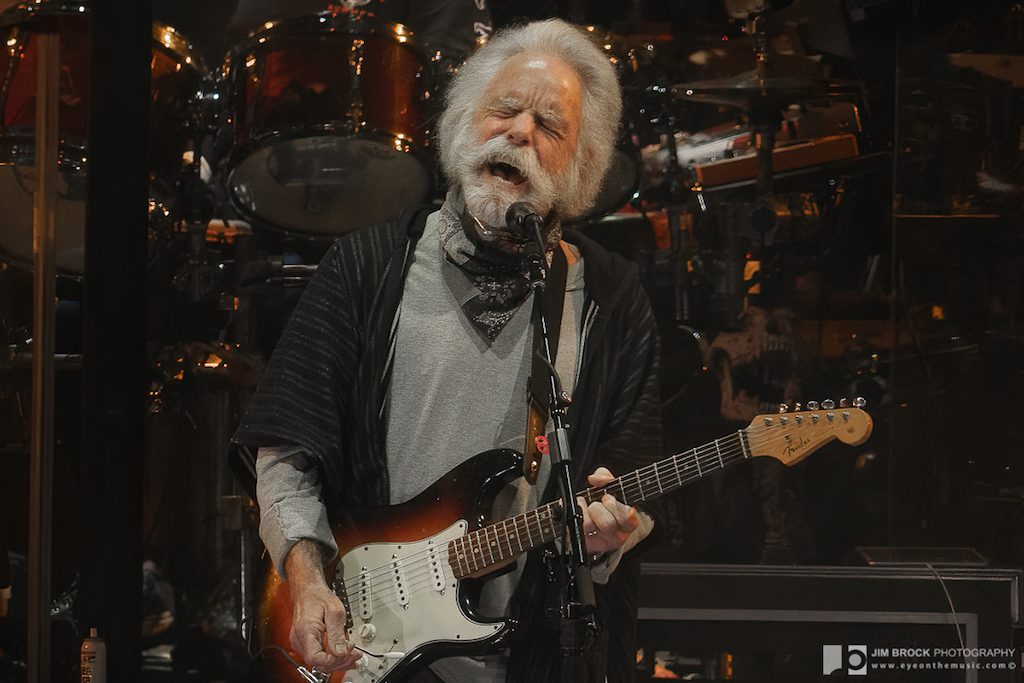 Bob Weir - Photo by Jim Brock
The age-old question among photographers and our audiences is what makes a good photograph? And to a lesser degree, with so many cell phones out there, why should we care?
What Makes a Good Photo?
What makes a photograph good is relatively straightforward, involving foundational elements such as lighting, the rule of thirds, lines, shapes, texture, patterns, and color. You can learn all about those in any photography textbook or website. But when it comes to music photography, you can sometimes throw many of those rules out the window. For instance, in the case of 12″ x 12″ album covers, one of most iconic photos ever is an out-of-focus Bob Dylan on Blonde on Blonde.  
To me a good photo is when a certain mood is evoked or a story has been told, one that invites you into the narrative. When I see a photograph of a musician, I want to hear their music, I want to feel what it was like to be at one of their performances. In order to get that type of photograph there are practical obstacles to overcome, such as when the "subject" is moving too much, or not enough, when they hide behind a microphone or rarely open their eyes.
Concert photographers have two other, even larger impediments beyond their control: the venue and the lighting. The venue can be a small stage, someone's living room, backstage, or an arena, which dictates how you position yourself and the type of shot you can get. But the most serious element is lighting. Some venues are in near darkness, others have lights that rapidly change not only in color but in intensity as well. Especially at festivals, the lighting can be so bright that it washes out skin tones and colors.
Another key element in live music photography is spontaneity. When I shoot a show I watch what artists do during a song and try to anticipate future movements and facial expressions. That gives me some "establishing" shots. But that is not enough: What we all live for is something out of the ordinary, something spontaneous that may only occur a few times during a show. To capture that, the photographer must stay alert and be on the ready if and when it happens. Technical skills are a given, but patience is the key.
Why should we care? Because these photos create a visual history of the life and times of artists who are essential to our culture. Not just for us, but for future generations. Just imagine if we had more photos of Robert Johnson. Imagine if we had just one of him performing live.
ND's Best Photos of 2021
The photos below capture not just the many different branches of roots music, but also moments of sheer, uninhibited joy amid making music, featuring Hubby Jenkins (photographed by Todd Gunsher), Elizabeth Cook (John Rominger), Valerie June (Mark J. Smith), and Lil' Ed Williams (Jim Gavenus).
Others demonstrate moments of contemplation, such as Marty Stuart (Peter Dervin), Tyler Childers (Mary Andrews), and Molly Tuttle (Bryan Bolea). 
Still others offer a sense of motion, such as Anders Osborne (Jim Brock), Trombone Shorty (Eric Ring), and LeAnn Rimes (Thomas Beck). 
Additionally, there are the informal, off-stage photos, such as Jason Isbell and Adia Victoria (Anthony Mulcahy), The Travelin' McCourys (Rob Laughter), and Kathy Mattea (Steve Ramm).
Photos Never Featured Before 
While many of the photos in the gallery below have been featured in this column before, most have not. Just some of these include a closeup of Yasmin Williams' fingers as she plays the guitar on her lap (Chris Griffy), Amigo the Devil (C. Elliott), The Black Crowes (Kirk Stauffer), Ashley McBryde (Kim Reed), and Max Gomez's thousand-yard stare (Boom Baker).
But the cream of the first-time photo crop are those of legends, such as a stoic Leland Sklar (Lou Montesano), the furrowed brow and cry of ecstasy from Bob Weir (Jim Brock), a rapturous Tommy Emmanuel (Rick Davidson), and the inimitable Albert Lee (Carol Graham).
All in all, the gallery below features 54 photos taken by 27 photographers spread over three continents. As noted before, no other publication features as many live and behind-the-scenes photos as No Depression, regardless of genre. The fact that ND's photos are of roots musicians makes our music that much more resonant and that much more accessible to the roots music fan.
Now, the photos. Click on any photo below to view the gallery as a full-size slideshow.
---