THROUGH THE LENS: ND Photographers' Favorite Roots Music Albums of 2020
Posted On December 22, 2020
---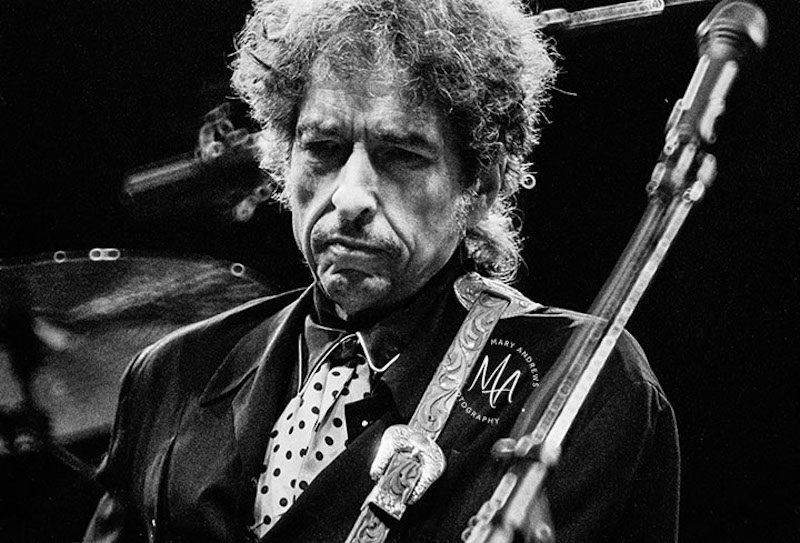 Bob Dylan (archive photo by Mary Andrews)
With COVID-19 wrecking the live music scene this year, recorded music became an even larger presence in our lives, providing solace to many during our respective solitudes. This week, 13 ND photographers select the cream of roots music albums that were released this year. Nearly all are familiar names, especially to readers of this column, but you'll also see a couple lesser-known acts that certainly deserve wider appreciation. As a whole they make a wonderfully diverse roots music playlist (as well as a fine photo gallery to cap off this post). Many thanks to our photographers, who are listed after their picks, and to the artists whose work inspires us all.
Bob Dylan – Rough and Rowdy Ways 
Dylan's recent recordings have been as erratic as his live performances. I've cheered Dylan from in front of the stage on numerous occasions and I've walked out of shows that were just stops on his never-ending tour. This album finds Dylan unleashing ideas, rich observations, and incidentals. Dylan has created the perfect languid hot summer's night mood as it flows through his colorful imagery in song. No matter how many times I play this record, I know I have only scratched the surface. — Kim Reed 
Margo Price – That's How Rumors Get Started
I've only seen Price twice, but that's enough to make me fall in love with her music and her live performances. This album is so good I that cannot wait until I see her again, and can add future albums to my collection. — Mark J. Smith
The Third Mind – The Third Mind
The only real response to a year like no other is this trip down the psychedelic blues rabbit hole. Dave Alvin assembled a group of musicians to create a sonic masterpiece. Enlisting the talents of David Immerglück (Counting Crows), Victor Krummenacher (Camper Van Beethoven), Michael Jerome (Richard Thompson), and Jesse Sykes, this album is soaked with dreamy guitar rifts, subtle drumming and bass, and gripping vocals. Sykes' interpretation of "Morning Dew" with Alvin's riveting guitar licks torches up this classic song.
The lone original, "Claudia Cardinale," named after the Italian actress, is a dreamy tune that segues into a hot, rockin' version of Paul Butterfield's "East-West." The album closes with a flat-out rocker, The 13th Floor Elevators' "Reverberation." — Peter Dervin
Lucinda Williams – Good Souls Better Angels
I love everything Williams puts out, and this album is no exception. The songs veer away from heartbreak and into the topical, including the current political climate. They're a lot more grungy, bluesy, and rock and roll that will reach out and grab you. The album might be a bit too raw for some, but I love it. Rock on, Lu, rock on! — C. Elliott
Charley Crockett – Welcome to Hard Times
Crockett has been hitting the highways and byways of America for a long time, busking, gigging, and playing festivals, often as a one-man act. He's gone through more than a few hard times, including surviving open heart surgery. Produced by Mark Neill, the album is a fabulous, immediately comfortable dive into the elements that made country music an art form in the first place. Weepy pedal steel, banjo, nods to western movie soundtracks, and story songs written by a man who's lived a life few have experienced. His sound is decidedly retro, but in all the right ways. His Texas baritone drawl will grab you hard. The album is worthy of his Ameripolitan Awards' Honky-Tonk Male Artist of the Year award. Give it a spin, you will thank me! — Kevin Smith
Will Kimbrough – Spring Break
Rather than my "favorite" album of the year, I'm going with one that might have gotten overlooked in the glut of late-year releases. This album is easily the most professionally sung, played, and produced "home recording" of 2020. Not surprising, considering Kimbrough's many talents, but still worth noting. As always his writing drills right to the core of the current world situation, be it political divisions among friends, lockdown-enhanced wanderlust, or grappling with the death of a roots music god in "The Late Great John Prine Blues." — Chris Griffy 
Kathleen Edwards – Total Freedom 
This was my most anticipated album of the year, and I was not disappointed. Edwards' songwriting is a good as it has ever been. The production of the album is on point, as is her crack band. Every song on this album sounds like it is meant to be right where it is supposed to be. — Boom Baker
Tyler Childers – Long Violent History 
This collection of mostly old-time fiddle tunes fills my Appalachian heart while simultaneously shattering it. "Squirrel Hunter" and "Camp Chase" transport me into the arms of mountain nuptials. Sitting in armless chairs and attired in their finest overalls the wedding band plays while the bride beams in her thrift-store gown. "Midnight on the Water" and "Zollie's Retreat" send me to the holler deep on my papaw's farm where hemlocks tower, moss grows, and melancholy flutters through the air like a luna moth. Childers uproots me from my travel with the title track, the only vocal, returning my focus to the current moment and awareness of the good work we all have in front of us if we are to indeed make a better South. — Kelly Shipe
Eliza Edens – Time Away From Time 
Edens' debut album is a mesmerizing 29 minutes of delicate finger picking and poetry in motion. Her voice has a smooth edge that wraps itself around the sounds that shape these songs, with production that gives everything space to breathe, giving her words a perfect home. Highlights include "When Silence Turns To Sound," "Ramble," and "Illusion Sublime." — Anthony Mulcahy
Sarah Jarosz – World On The Ground
I've been a fan from the get-go. From her solo albums to her work with I'm With Her and her remarkable contributions to Live From Here, Jarosz has an enviable résumé for an artist still in her 20s. Teaming with John Leventhal as producer, player, and co-writer was an inspired choice.  — Steve Ford 
The Jellyman's Daughter – Wake-up Call and Christmas
These two EPs are my bookends to a challenging year, when COVID-19 stopped live music and kept many people confined to tight geographical boundaries. Wake-up Call echoed the state of the world during this time, from the title track to a superb cover of Paul Simon's "American Tune." Emily Kelly's vocals are sublime and matched perfectly by Graham Coe's mandolin and cello. The year closed with the limited-release Christmas, inspiring much-needed hope and bravery for 2021. — Carol Graham 
The Third Mind – The Third Mind
I wouldn't think of putting Miles Davis and Dave Alvin in the same sentence, but this Alvin-led collaboration does just that. Inspired by the improvisation and exploration of Miles' electric band, Alvin surrounded himself with fearless "just roll tape" players where Alice Coltrane, Fred Neil, and Paul Butterfield comfortably reside in close proximity while feeding the collective inspiration. This is boundary-breaking stuff. Is it roots music? Does it matter? The result is so damn exhilarating it left me breathless. — Jim Brock 
Fantastic Negrito – Have You Lost Your Mind Yet?
Jamie Wyatt – Neon Cross
I have to pick two albums, different styles, equally awesome. They've been in heavy rotation since the summer. — Todd Gunsher 
Now, the photos.
---