THROUGH THE LENS: Molly Tuttle, Todd Snider, Mile Twelve, and Other Upcoming Roots Music Releases
---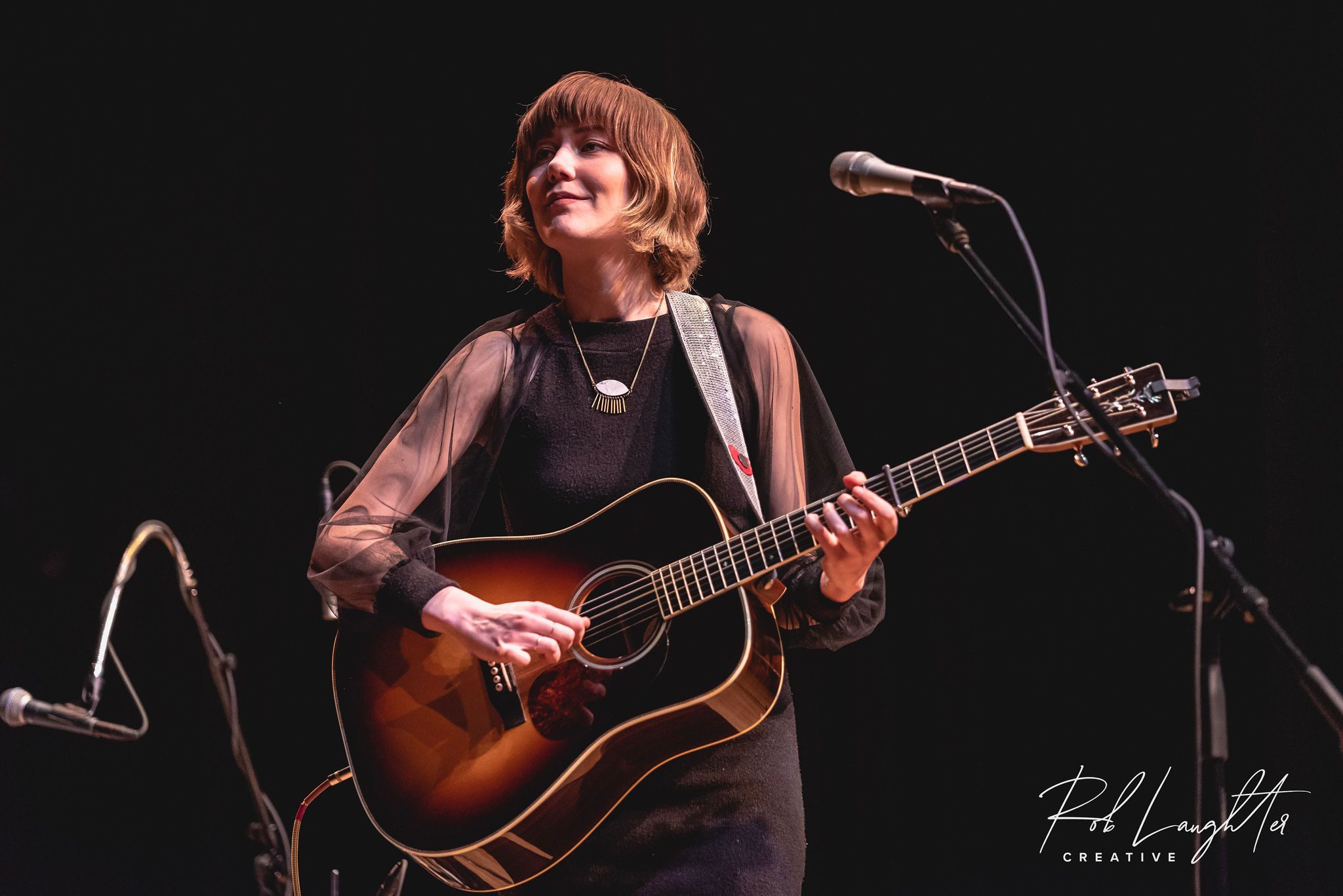 Molly Tuttle, West Jefferson, NC - March 15 - Photo By Rob Laughter
Just as there's always something new under the sun, there is always new music on the horizon. Here are six upcoming or recent releases that I am excited about, including a few Record Store Day releases that should be on your spring radar.
Molly Tuttle – When You're Ready (April 5)
Raised in California, Tuttle moved to Nashville four years ago, bringing not only her unique picking style, but also the distinct acoustic traditions her home state has long held. She quickly became part of the Nashville scene full of eager young players so willing to share and urge each other on. She has since won many awards, most notably IBMA's Guitarist of the Year, twice, and last year the AMA Instrumentalist of Year. Even with those accolades, this album will take a lot of people by surprise.
As with other instrumental virtuosos, from Eric Clapton to Alison Krauss, Tuttle's unbridled talent necessarily serves as a basis from which to evolve. While her incredible flatpicking is evident, it is the maturity of her songwriting — she wrote or co-wrote all eleven songs — and insightful presentation that is the wow factor here. Even though she's working with a full band, it underscores and highlights her melodies, most often sung in a hushed, lilting soprano that, counterintuitively it seems, draws you even deeper into the music.
And what music is it? That is a difficult question to answer directly as it defies genre; for once I am wordless, stupefied even, by the world Tuttle has created. Songs like "Don't Let Go," for instance, take you on a journey. While the lyrics may initially serve as a handle, the music dissolves any semblance of a door as you enter a room seemingly without walls. Tethered by Tuttle's sure-handed, painterly brush strokes, the Monets dissolve into Pollocks that dissolve into O'Keefes … and they linger. I'm not ready to call it the album of the year, but I'm close.
Todd Snider – Cash Cabin Sessions, Vol. 3 (out now)
Don't worry, you didn't miss anything, there were no volumes one or two, it's just one of Snider's tricks. But the album is no trick; far from it, it's perhaps his most mature set of songs ever. It was recorded as the Tennessee leaves were changing last year at the Cash family's Cash Cabin Studio, using some of the instruments belonging to the Man in Black himself, presenting Snider's songwriting talents in all their introspective glory. Snider also uses the banjo to great effect in "Blues on Banjo" as he explores and expands his storytelling repertoire of political and social takes on modern life.
The impetus for the album came after Snider visited the Cash Cabin in 2015 for a session with Loretta Lynn, where she recorded a song that they co-wrote. Snider says he then began dreaming about Cash. It inspired him to write "The Ghost of Johnny Cash," a story of a late-night dance between Lynn and Cash's ghost outside of the cabin. The other highlight is "Talking Reality Television Blues." Echoing Woody Guthrie and Bob Dylan, Snider traces the hypnotizing power of TV from Milton Berle to the orange glow that passes as a president. Snider has gone back to his roots as a folk singer to what the world is waiting to hear: a man, his guitar, banjo, and harmonica, and the truth. Here's ND's full review.
Mile Twelve – City on a Hill  (March 29)
I caught this IBMA Momentum Award-winning young band at ROMP last year and was quite impressed. This album impresses me even more. Opening with a marvelous cover of Richard Thompson's "Down Where the Drunkards Roll," prominently featuring fiddle and banjo, the band clearly stakes out its territory: We are bluegrass through and through, and we'll push the boundaries whenever we see fit.
They push them not just instrumentally, most notably the fiddle-mandolin interplay of the instrumental "Rialto," but also thematically. In "Jericho" they express a wisdom far beyond their years when looking at the hauntings of a one-time soldier; in "Barefoot in Jail" they explore the aftermath of a night on the town; and in John Cloyd Miller's "Where We Started" they expound on life in a small town. This album should settle the debate on why aren't there any extraordinary young traditional bluegrass bands anymore. They'll also be one of my picks not to miss at MerleFest this year in my column previewing that festival this time next month.
Allison de Groot & Tatiana Hargreaves – (self-titled) (March 22)
This duo's debut album demonstrates that Richie & Rosie are not the only purveyors of banjo-fiddle playing. However, with de Groot's clawhammer style you know they are going to be more traditionally grounded. Along with fiddler Tatiana Hargreaves (who's paid her dues with Laurie Lewis and others) they explore the many aspects of roots music. From tunes by the African American duo Nathan Frazier and Frank Patterson (also fiddle-banjo) to The Horseflies' Judy Hyman they create a sound that is adventurous and playful. In keeping their eyes and fingers firmly on the prize, they never lose sight of the spirit that enables the music not just to endure, but to prosper.
As expressed in the liner notes, they purposely reflect current conversations of race, gender, and class in their repertoire choices. In a note they said, "We are part of a generation that is questioning our roles within systems of power and in regards to old-time music — questioning our place and privilege within a music that is based in working class, largely rural, southern America: Black, Indigenous and white." While this predisposition may not be unique, the album weaves it all together into a wonderful cohesive whole, just as it should be. You will not be disappointed.
Terry Allen – Pedal Steal + Four Corners (March 22)
Legendary Texan artist Terry Allen occupies a unique position straddling the frontiers of country music and conceptual art; he has worked with everyone from Guy Clark to David Byrne to Lucinda Williams, and his artwork is in museums around the world. This album collects, for the first time, his radio plays and long-form narrative audio works — two and a half hours of cinematic songs, stories, and country-concrète sound collage. The "Pedal Steal" portion, originally composed in 1985 as a soundtrack to a dance performance, and "Four Corners" (Torso Hell (1986), Bleeder (1990), Reunion (a return to Juarez) (1992), and Dugout (1993)) is a suite of radio plays broadcast on NPR. The suite has never been released before, and "Pedal Steal" is on vinyl for the first time.
These haunting Southwestern desert dramas, which feature many fixtures of Texas music delivered in a deluxe gatefold edition, including one LP, three CDs, and a gorgeous insert containing an essay exploring this singular body of work, are accompanied by dozens of images of Allen's related visual art, and scripts for all five pieces. Even though I have been fortunate to have experienced some of Allen's art installations, and his other releases, this set brought me even a deeper appreciation of his work. If you think you know Texas, Allen continually shows that you have only scratched the surface. It's a magnificent achievement and very reasonably priced to boot.
Townes Van Zandt – Sky Blue (out now)
Released on the 75th anniversary of Van Zandt's birth, this album comes closest of all his posthumous albums to the young man I first heard in a New York club in summer of 1969. In full command of his monstrous talent, but unencumbered by the myth he later became (much of which was foisted upon him), he was both unassuming and more direct in his delivery. Van Zandt also had a plaintive side that often goes unrecognized. That is best represented here in Tom Paxton's heartbreaking folk standard,"Last Thing on My Mind."
While there are many other treats on this collection that was recorded in 1973, the highlight is, without a doubt, the straightforward telling of "Pancho & Lefty." Even though we have heard it a million times before, it's fresh here, not yet wearing the burden of being a "great" song or of its infinite repetition. In short, the album gives you an informal portrait of an artist before he became a legend.
Record Store Day (April 13)
While there are a lot of nice records on tap for this year's Record Store day, there are three that are listed as "regional" releases that I am excited about:  Joan Shelley's Rivers & Vessels, San Fermin's Live at the Fillmore, and David Byrne's three-LP Brazil 30th Anniversary Box Set. 
---