THROUGH THE LENS: Memories of the Philadelphia Folk Festival
Posted On August 10, 2020
---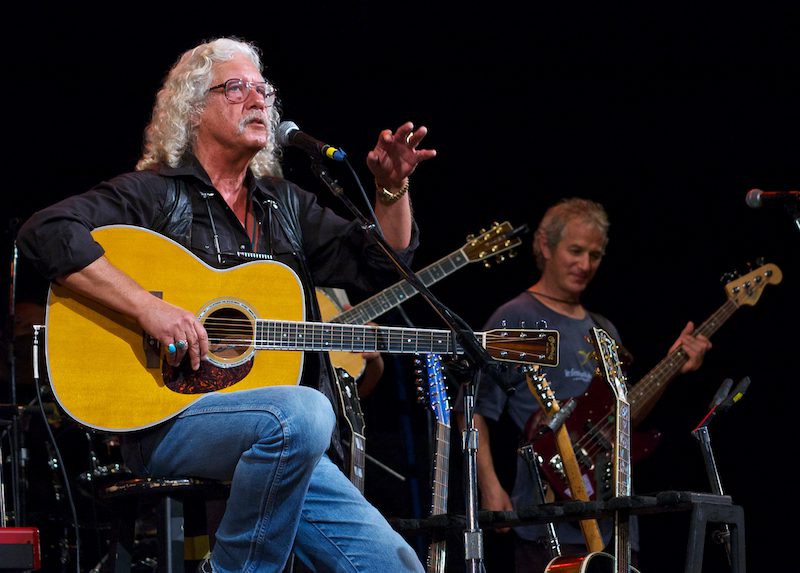 Arlo Guthrie - Philadelphia Folk Festival 2011 - Photo by Mark J. Smith
This Philadelphia Folk Festival has a special place in my heart as it was the first festival I ever attended, in 1969, just as I was beginning college. I got to see so many folks I had just heard on records, along with some new ones. Festivals are not only about music; they are also about connections. For example, during that 1969 festival, I finally got to see Jerry Jeff Walker, but I came away a bigger fan of who was with him, David Bromberg. The following year, I went to New York to hear Bromberg, who was again acting as accompanist, but this time for someone I had never heard of before. That someone was Emmylou Harris. 
As with other festivals, this year's event, which had been slated for Aug. 13-16, has gone virtual. The lineup, information on how to watch the fest, and tickets can be found at www.folkfest.org. As a bonus, ticket buyers will be able to watch it for a full week after the festival ends.
In past years this column has featured the Philadelphia Folk Festival experiences and photographs of Mark J. Smith, who has long attended that fest. But this year as he, nor anyone else, will be able to attend it in person, he shares with us his history with the festival, favorite moments, and photos. Mark, too, has made many musical connections through the festival over the years.
The Philadelphia Folk Festival and Me
After my discharge from the Navy in July 1970 I returned home to Philadelphia. I got my dream job selling advertising space for The Drummer, Philadelphia's version of Rolling Stone.  Shortly afterward, I started to hear talk around the office about the upcoming Philadelphia Folk Festival. Keep in mind this was the summer after Woodstock, so I was going for sure, and working for The Drummer gave me access.
I remember a lot of the performers that year, lots of big names and many up-and-comers. Utah Phillips, Jack Elliott, Paul Geremia, Dave Van Ronk, Bonnie Raitt, Buddy Guy, John Denver, and Fairport Convention. What a weekend.
For a few years, going to the Philly Folk Fest was hardwired to my calendar, but as time went on and my family grew, spending summer weekends at the shore interrupted my regular visits to the Olde Poole Farm for the festival. My attendance was off and on until 2004, when I got press credentials, and I have been there ever since.
The 2004 Festival
The 2004 edition had Kris Kristofferson, John Prine, Natalie MacMaster, Taj Mahal, Chris Smither, Eliza Gilkyson, Robin & Linda Williams, and Cindy Cashdollar, just to name drop a few. As this was my early days of photographing music festivals, I look back and wince at some of my photographs. Nonetheless, I was hooked, experiencing the music I loved, shooting up close from the photographers pit, and generally having a wonderful time.
Year after year absolutely great lineups of top names in roots music have performed for the dedicated fans who fill the hills in front of the main stage. The Martin Stage was the highlight, of course, but the showcases and workshops on the smaller stages drew knowledgeable crowds all weekend every year. 
I could go on listing names I have had the pleasure to hear and photograph. Okay, I will: David Bromberg, Rodney Crowell, Hot Tuna, Gandalf Murphy, Steve Earle, Justin Townes Earle, Larry Campbell and Teresa Williams, Chris Smither, Arlo Guthrie, Tom Rush, Marty Stuart, Los Lobos, Buffy Sainte-Marie, and on and on. Memories flood over me just rattling off their names.
The Past Sixteen Years
Two things stand out over the last 16 years. First is the community. The festival is run by the Philadelphia Folksong Society, but it takes hundreds of dedicated volunteers to make it work. For me, a key part of the community is the other photographers. We have grown together and I have made many friends, many of whom have been instrumental in my photography improving. Sitting in the hospitality tent between sets talking shop with some really excellent photographers is such a huge part of the fest for me.
The second is hearing many types of music in one place and seeing so many new artists that just plain knocked my socks off, such as Anderson East, Old Crow Medicine Show, Margo Price, Riders in the Sky, Molly Tuttle, and Valerie June. Another great memory was in 2011, the festival's 50th anniversary: David Bromberg jammed with just about everyone who hit the stage.
Yes, I am going to miss being there in person this year, and I'm really going to miss Gene Shay, who was a founder and emcee for 57 of the last 58 years. Gene passed away this year from COVID-19 complications.
I hope you all can join us online for the 59th Philadelphia Folk Festival, Aug. 13-16.
Below is a sampling of Mark's impressive photos from the fest over the years. For even more photos, and information on Mark, check out his website, www.photosmithdigital.com.
---