THROUGH THE LENS: Meet Roots Music Fest Photographer Peter Dervin
Posted On January 17, 2023
---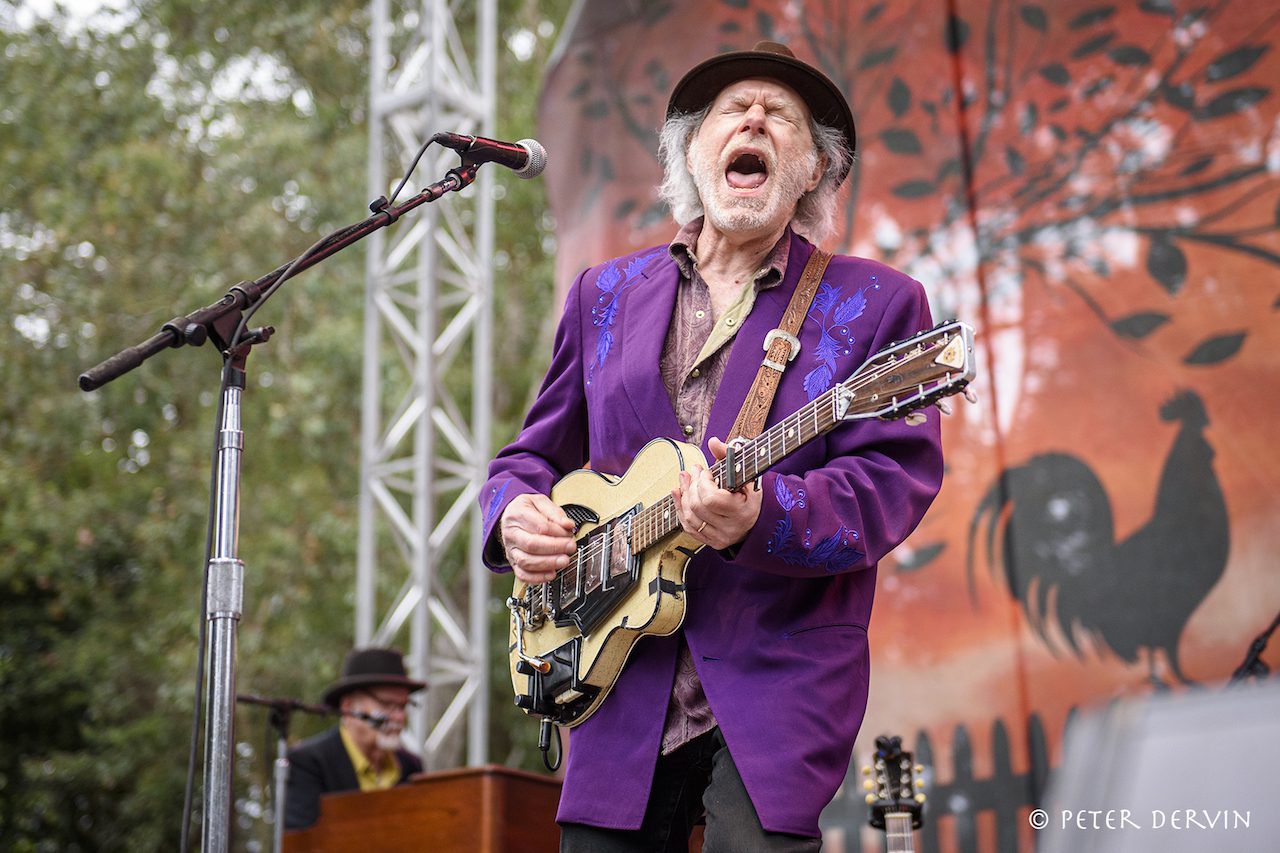 Buddy Miller - Hardly Strictly Bluegrass 2022 - Photo by Peter Dervin
As regular readers of this column are aware, we cover a lot of festivals throughout the year. As we get ready for the new season it's an opportune time to feature the column's most prolific roots music festival photographer, Peter Dervin, who's based in Washington State. In this week's column, Peter shares with us his love of roots music fests, the preparations he makes before hitting the road, and where 2023 will take him. The gallery below includes photos from the festivals he attended last year. While numerous photos from those events were featured in previous columns, nearly all of these photos are new, including some of Peter plying his trade, so I urge you to scroll though them all.
Peter Dervin
Only after looking back on 2022 did I realize that it was one of my busiest years for covering festivals. It would not have been possible without the love and support of my wife and family, who enable me to spend so much time away so I can share so many musical moments through my photography. At home, I make every effort to do the same for them. I am also very fortunate that my full-time job often allows me to coordinate musical trips with my work.
As my travels take me to numerous out-of-state events, preparation is everything: vehicle preparedness, lodging, travel time, and packing enough clothes to deal with a variety of weather conditions. Perhaps most important of all is a good pair of shoes that will take all the pounding on many different types of terrain while protecting my feet and ankles.
I also make sure that my photography gear is in good working order, including software and firmware updates, maintenance, new memory cards, necessary external hard drives, and other items needed to transport, carry, and protect my cameras, lenses, and other gear.
But all of that preparation would be for naught without an effective and trusting relationship with the media and publicity representatives for these festivals, some local and some via national public relations firms. I have been fortunate to develop some very nice partnerships with quite a few of these folks. I'm also happy to say that many have become friends. I admire the work they do to ensure a successful experience for everyone.
If you are lucky enough to be down front at a festival stage, you witness us photographers in action. While it may appear that we are constantly jostling for position in the pit to get the most out of limited time (usually the first three songs), we are also trying to stay out of each other's way so that everyone can get some good pictures. We also understand the musicians are there to give a great show for the audience, which we want to document, so we try not to be too distracting.
At some festivals I have become a photographer for the fest itself, and I greatly appreciate being part of those teams. For example, I have been working with the Winthrop Rhythm & Blues Festival for several years and they have submitted my images for consideration to the Washington Festivals and Events Association annual Summit Awards. I am proud that my photographs have won Best Event Photo in 2019, 2020, 2021, and 2022. It is always nice when one's work is recognized by industry professionals, and I am so grateful.
As I kick off 2023, I'm planning to return to many festivals that I have covered in years past. They include Treefort Music Fest in Boise, Idaho (my 10th in a row) in March; Stagecoach in April; and Jackalope Jamboree and Brandi Carlile's Echoes Through the Canyon, both in June. There are also four successive weekends of fests in July: Waterfront Blues Festival, Dead & Company, Under the Big Sky Festival, and Winthrop Rhythm & Blues Festival.
My annual pilgrimage to Hardly Strictly Bluegrass in San Francisco wraps up my festival season in October. It is an ambitious schedule, but I'm excited to be on the road again and to share so many of those special moments with No Depression readers.
Click on any photo below to view the gallery as a full-size slideshow. 
---