THROUGH THE LENS: March Comes Roaring In With Four Exciting Roots Music Releases
---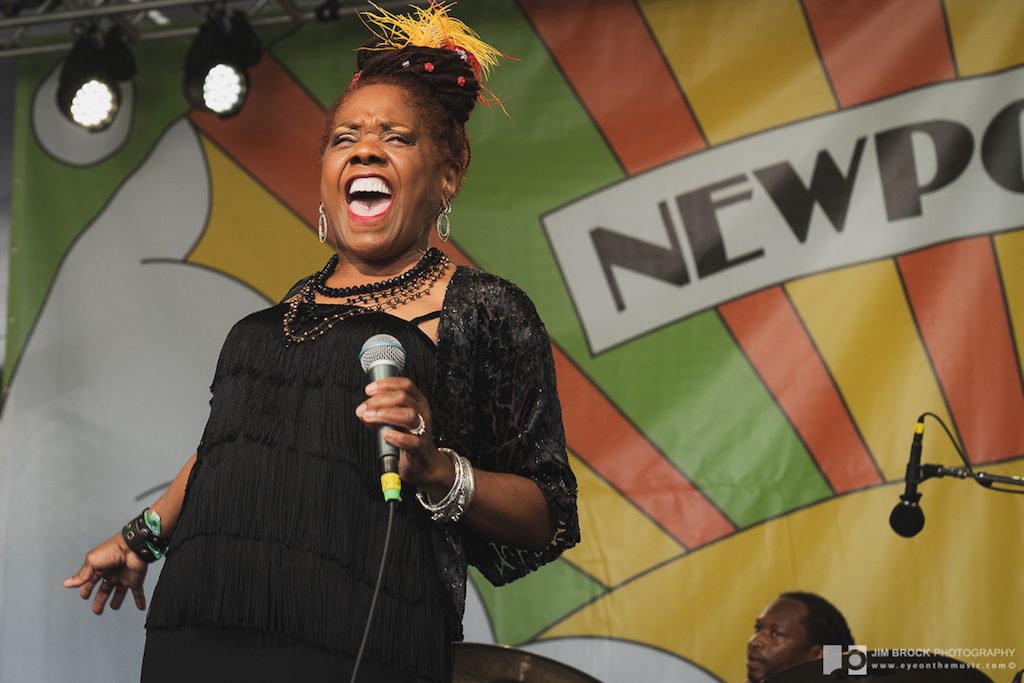 Catherine Russell - Newport Jazz Festival - Photo by Jim Brock
They say that March comes in like a lion and leaves like a lamb, but of late I am less interested in the weather than in being wrapped up in four new albums coming our way in the coming weeks. While each is decidedly different from the others, they're all becoming personal favorites of mine.
Karen Dalton – In My Own Time (50th Anniversary Edition)  (March 25)
Of all the masterpieces released in 1971, Dalton's In My Own Time was the one that was criminally overlooked. Armed with a long-necked banjo and a 12-string guitar, she was firmly entrenched in Greenwich Village's folk revival scene, performing mainly traditional material, blues standards, and the songs of her contemporaries, most notably Fred Neil. But what set Dalton apart from her peers was her world-weary vocals. Once you hear it, you can never forget her voice; distinctive is an inadequate word to describe it. In Chronicles, Vol. 1, Dylan said, "She had a voice like Billie Holiday and played the guitar like Jimmy Reed."
While Dalton has become one of the most influential artists, roots or otherwise, since her passing in 1993, she was a most mysterious, enigmatic presence during her lifetime. Uninterested in the record industry, she was equally uncomfortable with the recording process, and onstage she rarely interacted with audience members. Not a recipe for commercial musical success. She released only two albums in her lifetime, the first being 1969's It's So Hard to Tell Who's Going to Love You the Best, which was captured on the sly when Dalton thought she was rehearsing some songs. 
When approached to record a followup, she was skeptical. But with friend and confidant Harvey Brooks (a bass player who had played with everyone) acting more or less as a guiding spirit, In My Own Time was recorded, over a six month period, at the Bearsville Studio in Woodstock, New York. The result was an album unlike anything before, or after, in all of roots music. I distinctly remember, after all these years, when I first played side two and heard her versions of Richard Manuel's "In a Station" and George Jones' "Take Me," back to back. It was such an emotionally draining experience I sat comatose-like in my chair for quite some time.
Both albums have been reissued previously, but this set is pulling out all the stops: The 50th Anniversary Super Deluxe Edition contains a 20-page booklet, bonus tracks, and much more.
Catherine Russell – Send For Me (April 1)
Russell may be best known in the world of roots and rock for her work with Steely Dan, David Bowie, Rosanne Cash, Levon Helm, and many others, but in other circles she's considered to be the most complete jazz vocalist of her generation. This, her eighth solo album, appears to my ears to be a selection of the best jazz vocal music of the past 80 years or so, and — to paraphrase Johnny Mercer — the accent is definitely on the positive. With her regular touring quartet in support, Russell swings as easily as an eagle gliding effortlessly in a crystal blue sky.
The title track, after a definite Steely Dan intro, is a blues on the slow side that was a hit for Nat King Cole in 1957. On "East of the Sun" Russell adds an uptempo sheen to the song that's absent from the better-known version by Lee Wiley, and merely hinted at in the way Ella Fitzgerald does it. This is a luscious album, clear and distinct in its delivery, upbeat in tone, one that's just at home as the early dinner set at Birdland as it would be at an after-hours club. If you want to hear Russell in a larger ensemble setting, check out Steven Bernstein's 2022 release, Good Time Music, on which she's the featured vocalist. Both recordings find Russell at her peak.
Aldous Harding – Warm Chris  (March 25) 
Following up 2019's stupendous Designer, Harding has become more straightforward in her delivery, simultaneously evoking Lou Reed and Aimee Mann. On the previous album you found yourself getting lost in a sound that was swirling around her oblique lyrics. On Warm Chris, while the lyric style has remained gloriously unchanged, the leaner, yet still intriguing musical accompaniment is more of a caress. After all, who cannot fall for lyrics such as these, from "Fever:"
I still stare at you in the dark
Looking for that thrill in the nothing
All my favorite places are bars
Lover. Don't you run at the easy part now
The weather opened up like a birthday card.
Cowboy Junkies – Songs of the Recollection  (March 25) 
The Junkies could have lived forever on the success of 1988's Trinity Sessions, but instead chose a far wider-ranging future for themselves. Now, after 17 albums traveling roads of their own making, they're releasing a collection of songs by others that inspire them. From David Bowie to Vic Chesnutt, the Junkies do not cover their songs so much as create riveting dialogues within them. 
My faves are a late masterwork by Dylan, "I've Made Up My Mind to Give Myself to You" that's a staple of his current tour, and Laurence Andrew Tolhurst's (of The Cure) "Seventeen Seconds." On the former, Margo Timmins' vocal underscores the wanderlust we often willingly give up when we arrive at the end of an adventure. On the latter, the band's ability to pull you into that whirlpool sound they are so famous for is the highlight. In those last seconds they still hold onto the search that led them there in the first place: 
The dream had to end,
the wish never came true
And the girl starts to sing.
Click on any photo below to view the gallery as a full-size slideshow. A special thank you to the estate of Karen Dalton for permitting us to use her photos.
---