THROUGH THE LENS: Luck Reunion and Treefort Music Fest
---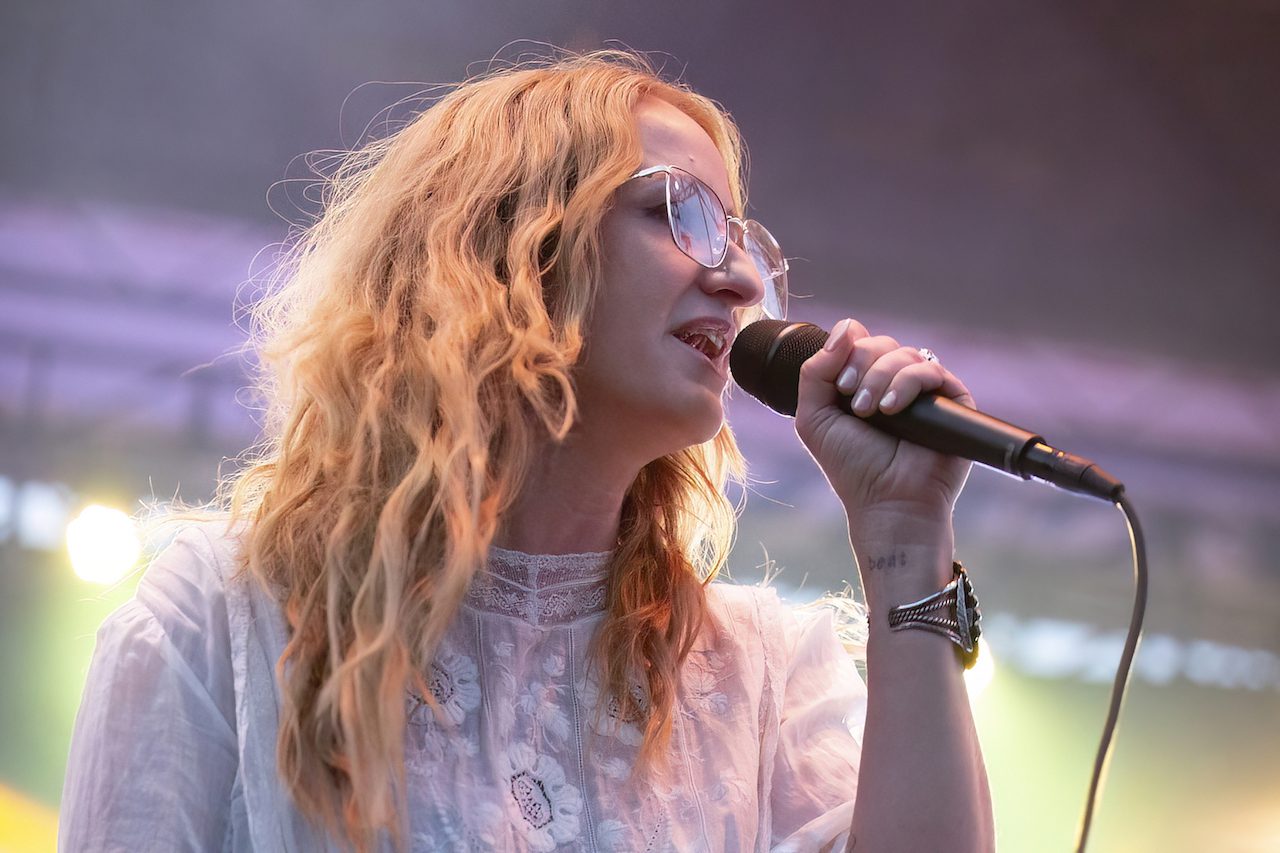 Margo Price - Luck Reunion 2023 - Photo by Justin St. Clair
This week the Through the Lens column plays catch-up with two March festivals sharing this space, the Luck Reunion in Texas and the Treefort Music Fest in Boise, Idaho. Their respective locales could not be more different. The Reunion is a one day, self-contained event held on Willie Nelson's ranch in the Texas Hill Country, where his 1986 movie Red Headed Stranger was filmed. Treefort, a five-day fest, occupies not only a park in the state's capital city but also more than 30 other venues spread all over town. However, what they have in common is their dedication to presenting roots music to  ever-increasing audiences.
We are fortunate to have had Justin St. Clair at Luck and Peter Dervin at Treefort. Here are their reports, with fabulous photos in the gallery.
Luck Reunion by Justin St. Clair
For those fortunate enough to land tickets, Luck Reunion is always one of the early highlights of the festival season. It not only provides a bit of respite from the hustle-and-bustle of SXSW but it also offers attendees one of the most unique concert going experiences around. 
With five stages strategically tucked around the grounds, the one-day event always features an expansive lineup of roots musicians, from up-and-comers and cult favorites to established headliners and living legends. Despite inclement weather that caused the Reunion to be pushed back a day, this year's selection of performers was no exception. 
The tiny Chapel played host to numerous outstanding acts, including the inimitable Tami Neilson and cult favorite Willis Alan Ramsey. The Barn Stage included sets from the likes of Bob Schneider, The Heavy Heavy, Michael Martin Murphey, and The War and Treaty. Bella White kicked things off in the Saloon with a dazzling set. Texas legend Jimmie Dale Gilmore closed down the Revival Tent with an exhilarating performance.
On the main stage were Sierra Ferrell, Margo Price, Angel White, Devon Gilfillian, Spoon, and the festival's inevitable closer, Willie Nelson. The main stage also featured two of the day's most notable performances: 1) a spectacular set by another legend, Terry Allen and the Panhandle Mystery Band; and 2) a show-stopping tribute to Leon Russell, hosted by Beau Bedford and Robert Ellis and featuring a revolving cast of performers such as Charlie Sexton, Zella Day, Ferrell, Price, and longtime Russell collaborator Marc Benno.
Treefort Music Fest by Peter Dervin
Treefort Music Fest is the beginning of my music festival adventures every year. This year was my 10th in a row, and I only missed Treefort's inaugural festival in 2012 because I didn't know about it. I have been telling folks for years now that this is one of the finest events of the year. It's a five-day fest, but I had to hoof it home after the first four.
Due to the booming development that is taking place in Boise, the Main Stage was relocated to the Julia Davis Park, which is sandwiched between downtown Boise and Boise State University. The park, created in 1907, has a variety of fully mature trees that accentuate Treefort's rootsy vibe. Transforming a former office supply store into the beautiful Treefort Music Hall was another exciting change.
My Treefort kicked off with some indie music from Dublin and London, respectively. Aoife Nessa Frances brought a cool vibe that set an atmospheric vibe to the Bandshell stage. Espousing themselves as a Black feminist punk band, Big Joanie made a big impact with the crowd by blasting their unique sound from the Hideout stage.
Dinosaur Jr. was the headliner on the Main Stage and did not disappoint with their sonic assault. To see J. Mascis rippin' it in front of six Marshall amps says it all! At the Knitting Factory I caught Caitlin Rose's lovely set of acoustic songs before the Old 97s completely rocked it out with a high energy set. Capping off the evening was The Country Club, one of Boise's local favorites, at Pengilly's Saloon.
On Day 2, I stumbled upon Mightmare at the Boise Brewing stage, and did a double take to find it was Sarah Shook's alter ego band, and they were fantastic. That night, I caught Shook and the Disarmers, and they ignited the night with a honkin' tonkin' firestorm. 
Cruising over to the Music Hall for the first time I saw Sistemas Inestables, from Santiago, Chile, for an electronic ambient soundscape, perfect with the neon blue and purple lighting in this very cool venue. There was buzz about Dusty & Stones from Mooihoek, Swaziland. Decked out in cowboy hats and boots, their mix of originals and covers were a lot of fun.
The bone-chilling third day began with book readings: Nabil Ayers reading from My Life in the Sunshine, about growing with an MIA father, Roy Ayers, and Margo Price talking about Maybe We'll Make It, her memoir reflecting on her many life and career challenges.
As Jeremy Ivey has not regularly performed his solo material, it was gratifying to hear him with just an acoustic guitar. It was extra special when Price, his wife, joined him. It was like hanging out with your friends in the backyard. Later, with temperatures in the low 30s, Price wrapped up the evening and warmed our hearts with songs that hit hard, backed by a kick-ass band.
Among the unique and impromptu venues in Boise was an outdoor pop-up stage at the Modern Hotel. The Hurdy Gurdy Girls from Hailey, Idaho, kicked things off with their fiddle, guitar, and stand-up bass country tunes. Then serendipity happened: I met Spike Coggins, who invited me to a private recording session that would be taking place in one of the adjacent hotel rooms. The Hurdy Gurdy Girls began that session, followed by Marty Chandler and his guitar tunes, and then some banjo tunes from Coggins. It ended with all the musicians encircling the hotel bed and performing in unison. It was a one-of-a-kind experience.
After spending the early afternoon at the Modern Hotel, I headed off to catch a singer-songwriter whose music I have really enjoyed now for several years, Lee Penn Sky, a local musician. His album Lean into The Letter was my favorite album of 2019, and he continues to share heartfelt, soul-touching stories in his songs.
My two do-not-miss sets that evening were Ani DiFranco and Leyla McCalla. DiFranco's work and words have been quite significant for many years. Her set filled the park with many fans who embraced the moment. McCalla was the only member of Our Native Daughters I had yet to see. Playing guitar, banjo, and cello, her songs, with inspirations from New Orleans and Haiti, weave a hypnotizing sound that transports you to another world. It was an astonishing way to wrap up my Treefort 2023.
Click on any photo below to view the gallery as a full-size slideshow.
---