THROUGH THE LENS: Let's Go to Luckenbach, Texas … With Jerry Jeff Walker, Bobby Bare, and More
---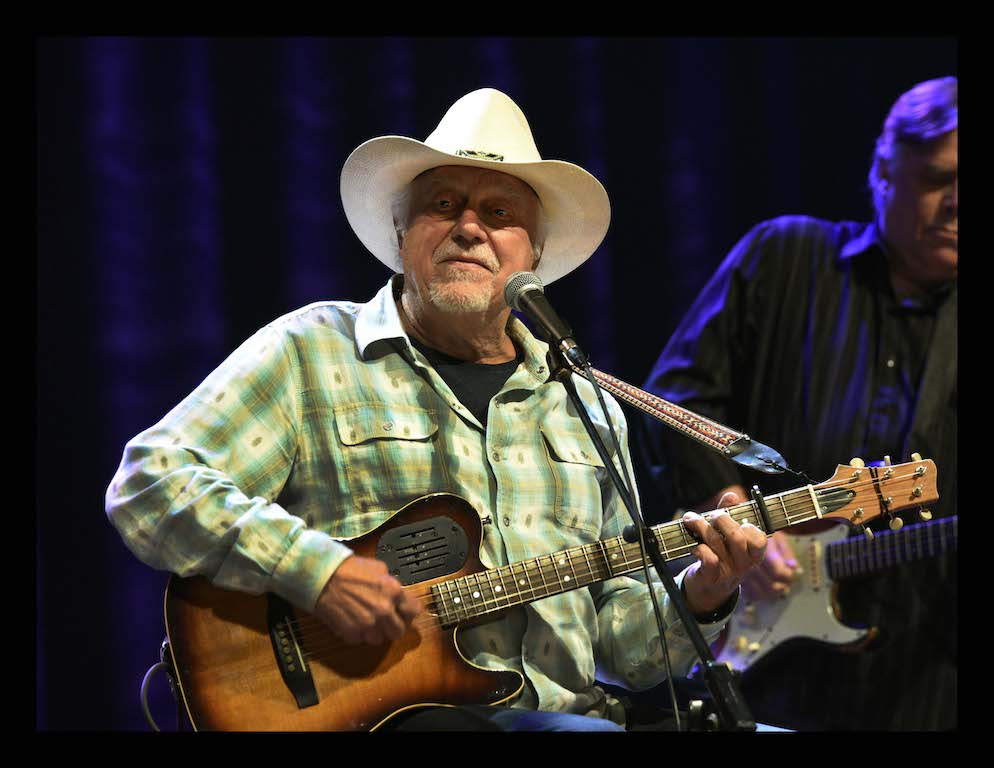 Jerry Jeff Walker headlining the 2017 Nashville Boogie at the Grand Ole Opry. (Photo by Kevin Smith )
Serendipity happens. In response to the Through the Lens column of two weeks ago that included Jerry Jeff Walker's influential album ¡Viva Terlingua! that was recorded at the Luckenbach Texas Dance Hall, I got a note from contributing ND photographer Kevin Smith saying that he had visited the venue a couple years ago, got some photos, and had some stories to share. After some emails, this germ of an idea came together as this week's theme. 
Kevin is no stranger to ND's readers, as last year he reported on 2019's Nashville Boogie (a rockabilly festival held annually in Nashville) for this column. He is also a regular contributor to the rockabilly print journal Blue Suede News and the website Saving Country Music. So, as if continuing on the themes of the past two weeks, here are Kevin's stories, and photos in the gallery that follows.
The Luckenbach Texas Dance Hall
Today, the Luckenbach Texas Dance Hall remains a vibrant and bustling concert venue and dance hall. Tourism is strong there, due in no small part to the Waylon Jennings hit song written by Bobby Emmons and Chips Moman, "Luckenbach Texas (Back to the Basics of Love)." While Willie Nelson has played there countless times, interestingly enough, Waylon only played it once! The original dance hall still stands proudly, virtually unchanged. A banner with Jerry Jeff Walker's name is displayed on the lower right of the stage front. Nelson still occasionally plays there, as do many others, like Dale Watson and Asleep at the Wheel. Watson even wrote a tribute song, "Everybody's Somebody in Luckenbach, Texas." Typically, musicians and pickers gather outside playing virtually anytime night or day, and  numerous concerts throughout the year that take place in the dance hall itself.
At the 2020 Ameripolitan Music Awards (held in February, before everything shut down), the Luckenbach Texas Dance Hall was named Venue of the Year, with its owner, Cris Graham, happily accepting the award.
Cris Graham and Her Jerry Jeff Walker Story
I first meet Cris Graham, daughter of Dance Hall founder Hondo Crouch, at the 2019 Ameripolitan Music Awards. Prior to the awards ceremony I was backstage getting photos of artists when she complimented me on my Luckenbach Texas shirt. She said, "Hey, thanks for wearing my shirt!" I said, "Your shirt?" She laughed and introduced herself.
We had a fantastic conversation that night and I told her how I'd recently been to her little town and how much I enjoyed it. I also mentioned I had recently photographed Jerry Jeff Walker in connection with the Nashville Boogie event. She leaned in and said, "I've got a story for you!" Cris noted, as many know, Jerry Jeff had battled throat cancer and faced a rather serious surgery in 2018. He told the surgeon, "Doc, I just want to be able to sing again, can you do this for me?" The surgeon optimistically told Walker that not only would the surgery be a success, but he practically guaranteed Walker would keep his singing voice. 
The surgery was indeed successful and not only did Walker sing again, he also recorded a new album afterward. The surgeon had one more surprise though: He revealed that he had been at Luckenbach Dance Hall in 1973 when Walker recorded ¡Viva Terlingua! So the man who saved Walker's life was also a huge fan! 
Jerry Jeff Walker, Bobby Bare, and Gary P. Nunn
I had the opportunity to photograph Walker in 2017 when he headlined Nashville Boogie on the Grand Ole Opry stage. Seated for most of his lengthy set, he was in fine form. He played all the crowd pleasers, including Guy Clark's "LA Freeway," Ray Wylie Hubbard's "Up Against The Wall Redneck Mother," and much of his own work, including "Mr. Bojangles," and "Trashy Women." He told stories of his life and paid tribute to departed friends in song, including a touching version of Clark's tribute to his wife, Suzanne, "My Favorite Picture of You." The evening closed with Gary P. Nunn's "London Homesick Blues," the famous Austin City Limits theme song. 
Bobby Bare, who has not only been a great artist for the past 50+ years, but an inspiration to many, opened for Walker that evening, doing many of his hits, "Detroit City," "Streets of Baltimore," and of course, "The Winner."
The same night I met Graham, I was able to photograph Texas outlaw legend Gary P. Nunn. Appearing on six Jerry Jeff Walker albums, Nunn made quite a name for himself as both a recording and touring member of the famed Lost Gonzo Band. The same band would also back up Cosmic Cowboy Michael Martin Murphey, with Nunn going on to additional fame as a songwriter. His songs have been recorded by David Allan Coe, Willie Nelson, and more recently Chris Stapleton. He remains a crowd favorite in his home state of Texas.
Below are Kevin's photos of the Dance Hall, Jerry Jeff Walker, Bobby Bare, Gary P. Nunn, and artists who performed at the Ameripolitan Music Awards, including Tanya Tucker, Whitney Rose, Charley Crockett, Cris Graham, and others.
---