THROUGH THE LENS: July Brings Three of the Best Roots Music Albums of the Year
---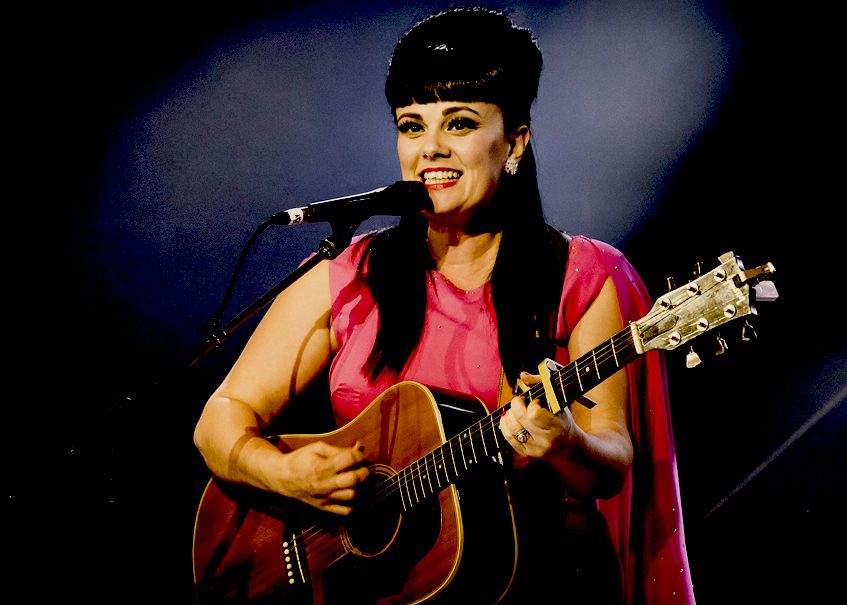 Tami Neilson - Mod Club, Toronto, Canada - Photo by Angel Marchini
When I submitted my list of best albums of the year (so far) for ND's list, there were only a couple I felt strongly about. Had it been just a few weeks later, all three of the albums below, to be released this month, would have been at the top of that list: Tami Neilson, Megan Bee, and John Moreland. They also have something that's been in short supply these past few years: They make you feel alive.
While I urge you to read full reviews, be they in ND or elsewhere, here are my quick takes.
Tami Neilson – Kingmaker (July 15) 
Two years ago, my review of Neilson's previous release, CHICKABOOM!, said this: "Who else can evoke Screamin' Jay Hawkins one moment, sublimely slip into a Patsy Cline martini, then channel both Everly Brothers at once?" That was an understatement then, as it is now. Neilson is all of those things but also a complete original in a world of wannabes, and as the new album demonstrates, an artist in full command of her considerable powers in both her vocals and her writing; an artist who's fierce, tender, or wistful depending on the moment. 
The new album is a sweeping, forceful testament, cinematic in scope, of the strength of women in country music. I make no bones about it: Neilson is at the forefront of the women who are taking back country music. This rings especially true in the autobiographical "King of Country Music" when she asks, rhetorically, "Can the King of country music be the daughter not the son?" Kingmaker is a royal flush of songs that, to paraphrase a lyric from the album's duet with Willie Nelson, takes you to places beyond the stars. Tami has taken the baton from the other Queens of Country Music who are also known by their first names: Kitty, Patsy, Tammy, Loretta, and Dolly. She is the embodiment of where country music has been and where it should have been heading lo these many years. Even in midsummer I know this is the album of the year.
Megan Bee – Cottonwood  (July 22) 
No one has a greater sense of place than Bee. Whether in her native Athens County, Ohio, or along the road, her observations of the commonplace, the ordinary, the taken for granted are without peer. She weaves those sights and sounds into songs so fragile, so quietly indelible, that it takes a moment or two to realize that what you've been privy to is the world in miniature. A perfect example is the opening track, "Cottonwood Leaves," where, on a summer walk in the woods, she likens her fleeting thoughts to dragonflies skipping across a stream, spying the connection between cottonwood leaves in the breeze with her shaking knees, all while floating on a wave of anticipation, "scanning the sky for a hesitation."
Winter also gets its due in "When the Beach Is Asleep" about the lives of locals in a seaside town after the tourists have gone, taking a deep breath and beginning to dream. In "Ecstasy" Bee reminisces about experiences with a friend who eventually got lost in too many good times, wanting to do it all over again, minus the drugs. These are just three of the 14 superb vignettes sung in an unforgettable quiver of a voice.
John Moreland – Birds in the Ceiling  (July 22)
If you think you know Moreland, think again. Overall, the album's sound is reminiscent of John Martyn's masterpiece Solid Air, taking its cues from Americana instead of English folk. The Oklahoma-based artist continues to write exquisite mediative explorations on the emotional canyons of our existence, and with a sonic finesse that leaves other, more highly regarded male artists wanting. Yes, I'm talking to you, Jason Isbell.
In press materials for Birds in the Ceiling, Moreland says, "These songs are questions … I'm comfortable with the mystery of it all." They're also questions you can get lost in, like the swirling stars in a Van Gogh painting. While all the album's songs are all memorable, there is one I keep returning to, "Neon Middle June," about how the connection between Moreland and his wife that deepened during the pandemic. But it's the song's minute-long coda, a somewhat abstract solo by John Calvin Abney on an upright piano that adds a haunting patina to the song as well as the lived-in feeling of the entire album.
Click on any photo below to view the gallery as a full-size slide show.
---