THROUGH THE LENS: Joni Mitchell, Allison Russell, and Other Great Roots Music Photos of 2022
Posted On December 13, 2022
---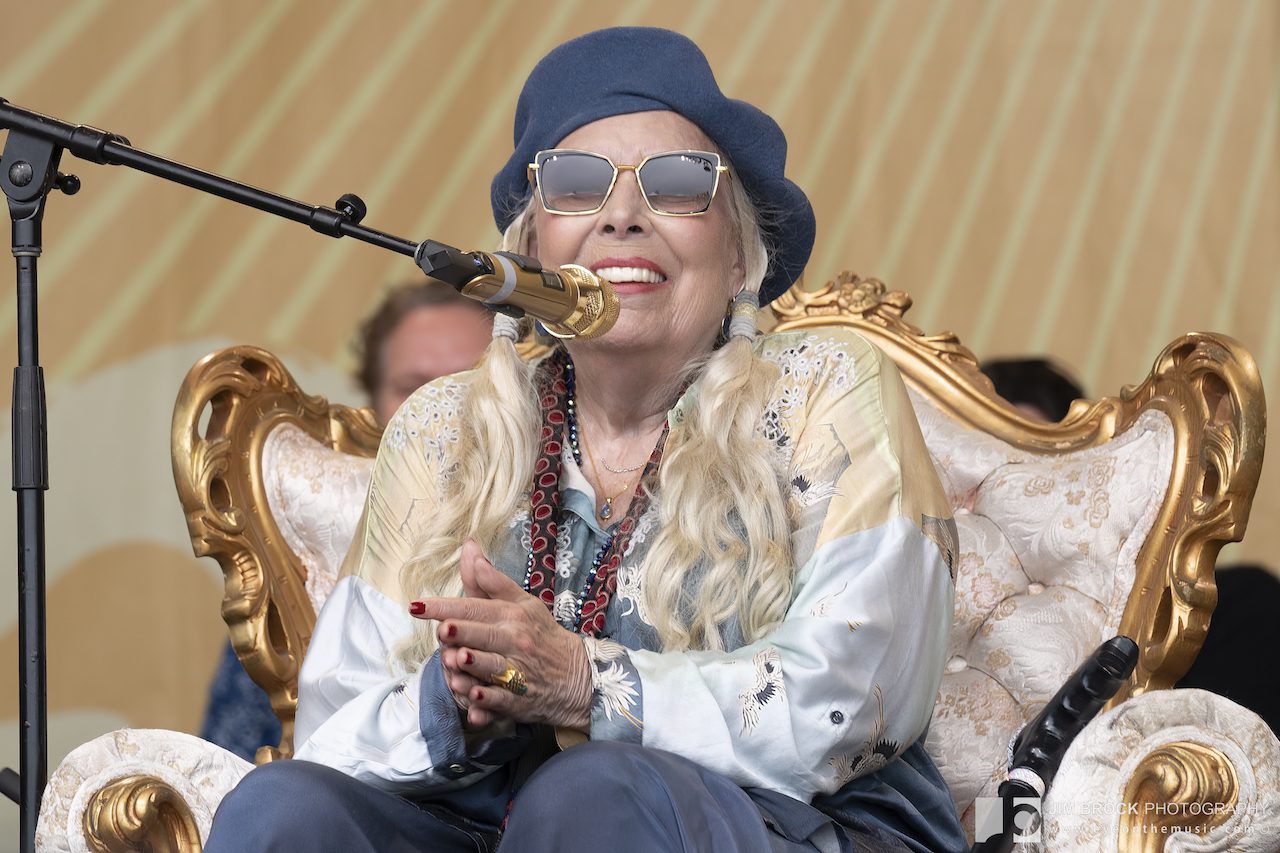 Joni Mitchell - Photo by Jim Brock
This week's column features just a few of the many outstanding photos taken this year by 37 ND photographers. From New York to Australia, the 57 photos in the gallery below are representative of each photographer's work as well as the many branches of roots music. You will not find a more encompassing, more vibrant group of photos of musicians anywhere, regardless of genre. Quite a few of them have been featured in this column throughout the year, but, as many have not, I urge to take your time when viewing them, ideally via the slideshow option.
In lieu of talking about the photos generally, I'll concentrate on two artists whose photos are included below and who have shared with us so many captivating musical and life stories during their unique and invigorating journeys: Joni Mitchell and Allison Russell.
Joni Mitchell
There is a scene in the pseudo-documentary Rolling Thunder Revue: A Bob Dylan Story by Martin Scorsese in which Mitchell performs a then-new, unreleased song, "Coyote," in Gordon Lightfoot's home. Dylan sits off to one side, sheepishly, not just because he's no longer the center of attention but because he's in the presence of his only equal at the height of her powers, someone he could not cajole or intimidate. 
I submit that during the 10-year run from 1970 through 1979, no one bettered Mitchell in terms of: 1) quality of recorded output through nine albums; 2) musical exploration that ranged from the Appalachian lap dulcimer to the jazz stylings of Charles Mingus; and 3) enthusiastic touring. 
However, as the musical landscape changed over the years, Mitchell and her impact on modern music had been largely forgotten. That began to change when, in 2017, NPR Music selected Blue as the greatest album ever made by a woman. So, as if serving as an exclamation point on that renewed spotlight, it was extremely satisfying to see Mitchell's triumphant return to the Newport Folk Festival last summer, where she gave her first public performance in many years.   
As Anthony Mulcahy wrote in the Aug. 2 edition of this column, "Words are inadequate to describe how fans lost their minds when Brandi Carlile welcomed Joni Mitchell to the stage on Sunday night. It had been over 20 years since Mitchell's last performance before an audience and 53 years since she was last at Newport. At 78 years of age and being in poor health for some years it was expected that she would take a seat and sing a few songs. That was not the case. 
"During her 13-song set Mitchell gave us songs, stories, and, rising from her chair, treated us to one of her patented guitar solos during "Just Like This Train." Longtime fan Wynonna Judd (who also performed at the 2000 tribute to Mitchell) later joined her for "The Circle Game." No one could truly fathom what we had just experienced; there was not a dry eye anywhere on the grounds."
The photos below by Mulcahy and Jim Brock capture Mitchell in that moment, in all her regal splendor.
Allison Russell
While she remains a member of Birds of Chicago and Our Native Daughters, Russell's most notable impressions and honors have come since going solo last year. In addition to Outside Child being chosen as ND writers' 2021 album of the year, the album also received awards from the Americana Music Association (AMA), Folk Alliance, Juno Awards, and UK Americana Music Awards.
Russell's performances this year, both with her own all-female band and guesting with others, have been beyond memorable. They resonate with a warmth, inclusion, and humanity that is quietly overwhelming. Her performance of "You're Not Alone" with her band and Brandi Carlile at this year's AMA Honors and Awards show was many people's singular highlight of the night, including mine. 
But that performance was just one among many highlights from Russell in recent years. Her showcase at the 2021 AmericanaFest was my personal favorite of that week, and her evening Cabin Stage set, in near total darkness, at MerleFest this past spring was my show of the year. The MerleFest audience was so reverential, and in some instances downright stunned, you could hear a pin drop.
Three of the photos in the gallery below are of Russell, more than any other artist. Two are solo, one by Mary Andrews and one by Jim Brock, and the other is with Lukas Nelson, by Kim Reed. Together they capture just a tip of the iceberg that is Russell's joyous, riveting talent.  
Click on any photo below to view the gallery as a full-size slideshow. So many thanks to each and every one of our photographers for their contributions this year. 
---