THROUGH THE LENS: Jacob Blickenstaff's Photography Lends a Hand to Roots Musicians in the Time of Coronavirus
---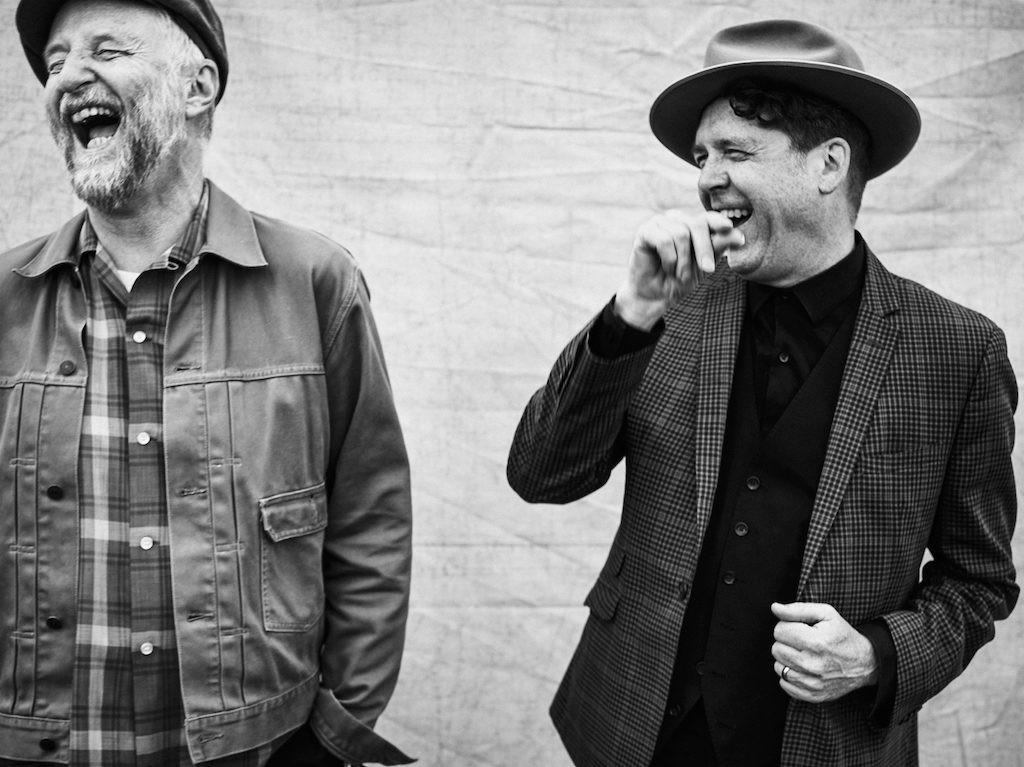 Billy Bragg & Joe Henry - Newport Folk Festival - Photo by Jacob Blickenstaff
The entire roots music community has been hit hard by the coronavirus: record labels, PR firms, venues, record stores, writers, photographers, publications, and, most of all, the working artists without whom the others wouldn't exist. Even amid the hardship of stalled tours, empty booking calendars, delayed album releases, and more, members of the roots music community have been doing the best they can to help each other pay bills and stay afloat. 
This week the Through the Lens column is doing its bit by featuring some of the photographs of Jacob Blickenstaff. Blickenstaff is selling prints of the photos, with 50% of net proceeds going directly to the artists shown or to critical organizations they support. Some of the prints are signed by the artists, and some by Blickenstaff. For Lens column readers, Blickenstaff will also include a bonus gift: a 7-inch square sleeve with Sharon Jones on the cover, with square postcard prints of Blake Mills, Robert Glasper, and Daniel Lanois inside. Just leave a note during checkout saying you read about the sale in No Depression. Supplies are limited.
Blickenstaff is a New York-based photographer (and sometimes writer and filmmaker) who has devoted his creative career to examining the places where music and image intersect. He has worked with recording artists and record labels on over 50 album projects, including nine album covers for Daptone Records (notably for Sharon Jones and The Dap-Kings), and other projects for Natalie Merchant, Joe Jackson, Joe Henry, The Marcus King Band, and Valerie June. Blickenstaff has also had photo features in Rolling Stone, The New York Times, NPR Music, and Mother Jones.
Prints can be purchased at www.alltogetherprints.com. That site also provides additional information, prices, sizes, and ordering instructions. Be patient — with so many options for signings and shipping it may take several weeks to get your print. A sampling of the photographs available are included in the gallery below. Now let's hear from Blickenstaff himself on the prints being offered and his journey in photographing roots musicians.
Jacob Blickenstaff on the Print Sale
So far, $4,500 from print sales has gone to the artists directly and to organizations, primarily the Recording Academy's MusiCares COVID-19 Relief Fund, as well as to North Shore Animal League, National Bail Out, FoodCorps, and World Central Kitchen.
The sale also includes artist-signed prints from incredible musicians like Marcus King, Dawes, Yola, Blake Mills, Pokey LaFarge, The Cactus Blossoms, Phosphorescent, and more. I'm extremely touched that these folks were willing to put their signatures on these. Because getting them signed is logistically very difficult, those are limited to editions of 10 or fewer.
I've been working hard to get those made and shipped to the artists for signing. About half are back in my hands, and the rest are crisscrossing the country via FedEx. Those are expected to ship within the next couple of weeks, but it varies artist by artist. Non-signed prints take about two weeks to make and ship.
Jacob Blickenstaff on His Work
Over the past 15 years, I've dedicated my work as a photographer to making meaningful images of music.
There was always a tingle on my neck that said: "This show, this moment, this tour, this festival, is a part of our collective music history … book the plane ticket, summon the Uber, buy the film."
Before the coronavirus set off a wave of cancellations, I was planning on flying to Austin for the Luck Reunion and then Knoxville for the Big Ears Festival. There were also important shows for bands like Black Pumas, who had sold out several nights at Stubbs, and Yola and Marcus King would be making their stadium debuts with Chris Stapleton that I had my eye on.
When the musicians' world went "poof!", so did mine.
With the opportunity to experience music communally temporarily gone, the All Together Print Sale was launched to see if the photographs could fulfill their higher purpose: to preserve and share the magic of the musical encounter and create some value that could be directed back to the music community.
For a musician on tour, a run of shows may be a blur; there are good nights and off nights, inadequate green rooms, long drives, and monotony. But there is always the possibility for a moment of beauty, either in the quiet moments of soundcheck or preparing backstage, or when the musicians and audience merge at the apex of a show. The shows are the special places where music can fully express itself in a meaningful way for the artist and the fans, a place where the artist and fan experiences cross and connect.
All Together includes moments from shows big and small: Marcus King's debut performance at the Beacon Theater in New York, the iconic venue where his progenitors, including The Allman Brothers and Gov't Mule, had historic residences. Joan Shelley at an intimate concert at a church in Brooklyn. Portraits and performances at Newport Folk Festival, where proximity and shared purpose lead to special collaborations, and where the energy of artists backstage is charged.
I like being there for the musicians, seeking out opportunities to acknowledge their labor and celebrate their milestones and successes. As with making music itself, there's no easy or immediate payoff, but you do it because you know it's important.
---