THROUGH THE LENS: Bluegrass Rules Inside or Out at IBMA's Big Event
Posted On October 4, 2022
---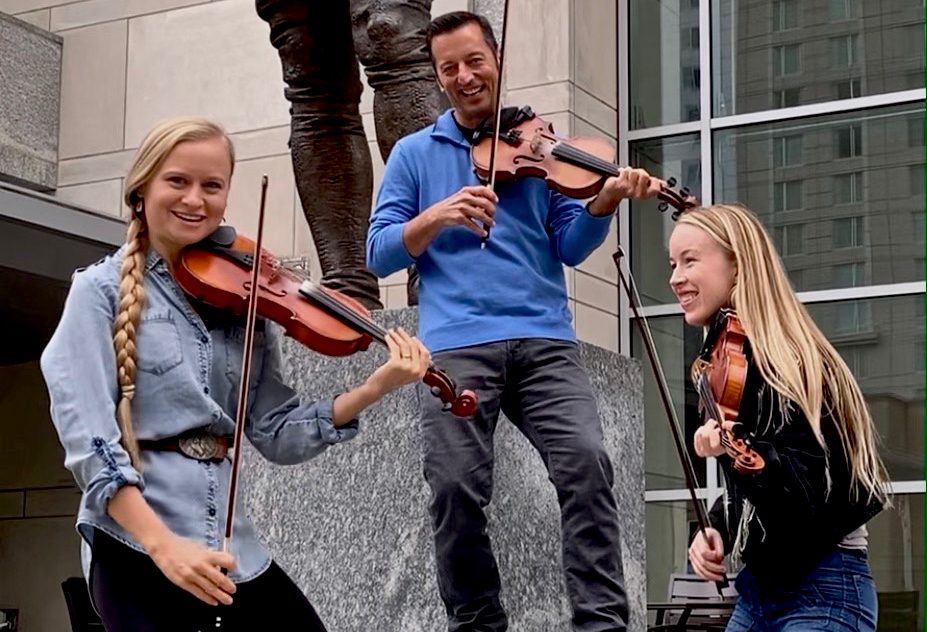 Hillary Klug, Jason Carter & Bronwyn Keith-Hynes - IBMA World of Bluegrass 2022 - Photo by Andy Rubin
This week bluegrass takes over the column, just days after the International Bluegrass Music Association's annual takeover of Raleigh, North Carolina, with its World of Bluegrass festival. The fest demonstrated two things to me: 1) bluegrass just keeps becoming more vibrant every day; and 2) a shining new talent is on the horizon, Hillary Klug. 
IBMA World of Bluegrass
The festival portion of IBMA's World of Bluegrass, called IBMA Bluegrass Live!, is usually a combination of street stages and indoor concerts, but this year due to Hurricane Ian all shows and vendors were moved inside the Raleigh Convention Center. The impromptu street corner jams might have required a little more planning, but pickers found nooks and crannies in hallways and rooms to keep the music and fellowship going.
Awards night saw masters Del McCoury and Doyle Lawson winning individual awards, and Peter Rowan being inducted into the Bluegrass Hall of Fame, but the rest of the night belonged to the youngsters, most notably Billy Strings, who just a few weeks ago won the Americana Music Association's Artist of the Year award. He took home two IBMA awards, including the coveted Entertainer of the Year crown. Molly Tuttle (omnipresent during the awards show performances), who had previously won two Guitar Player of the Year awards, was named Female Vocalist of the Year, and Bronwyn Keith-Hynes, who's in Tuttle's Golden Highway band, won Fiddle Player of the Year. Sierra Hull took home her fifth Mandolin Player of the Year award. In the middle (age wise), banjoist Béla Fleck was the big winner of the night, taking home four awards. Over the years Fleck has stretched the banjo into genres previously unexplored, including jazz, classical, and world music. His return to bluegrass has been met this past year with great enthusiasm. More on the awards show, including winners and nominees, can be found here. A full list on the winners can be found here.
Fleck, Rowan, Strings, Tuttle, Hull, and so many others are not just expanding the limits of bluegrass, but they are, perhaps even more significantly, bringing into the fold both new fans and additional artists. In so doing they enable bluegrass to continue to be a viable genre and one that is alive with growth, opportunity, and inclusion. The circle remains unbroken, and it is expanding exponentially as well.
The Rising Talent of Hillary Klug
Speaking of new artists, Hillary Klug is certainly a name to watch. While she had attended the IBMA festivities several times before, she did so unofficially, playing on street corners and countless impromptu jam sessions. However, this year, taking a break from a regular gig at Silver Dollar City in Branson, Missouri, the buck dancing fiddler came in as a Bluegrass Ambassador, a program that sends musicians around the world to both spread the music and soak in new sounds. On the several occasions I've seen her, I've been drawn in both by her music and her ability to engage so many fans, regardless of age, with her effervescent personality and viral fiddle/dance videos.
With 1.3 million followers on Facebook, 202,000 on TikTok, 135,000 on Instagram, and 117,000 subscribers to her YouTube channel, and with 450 million video views across all platforms, Klug has a staggering presence and influence. So it came as no surprise that during the conference portion of IBMA, she spoke on social media strategy.
Klug also had two standalone performances, an official showcase at Jimmy V's and another show on the Virginia Is for (Music) Lovers stage. Playing to her strengths, Klug was a video-producing machine during the fest, doing popups in hallways, on escalators, in stairwells, and outdoors with many well-known bluegrass and traditional musicians, including Jason Carter, Bronwyn Keith-Hynes, Dom Flemons, Jim Lauderdale, Becky Buller, Nefesh Mountain, and Trey Wellington.
Remember, you heard it here first.
Photos by Todd Gunsher, Willa Stein, and Andy Rubin, including some taken on the Awards Show red carpet by Willa. Click on any photo below to view the gallery as a full-size slideshow.
---