THROUGH THE LENS: Inside a Creative Collaboration with Robert Vincent and Ross Wilson
---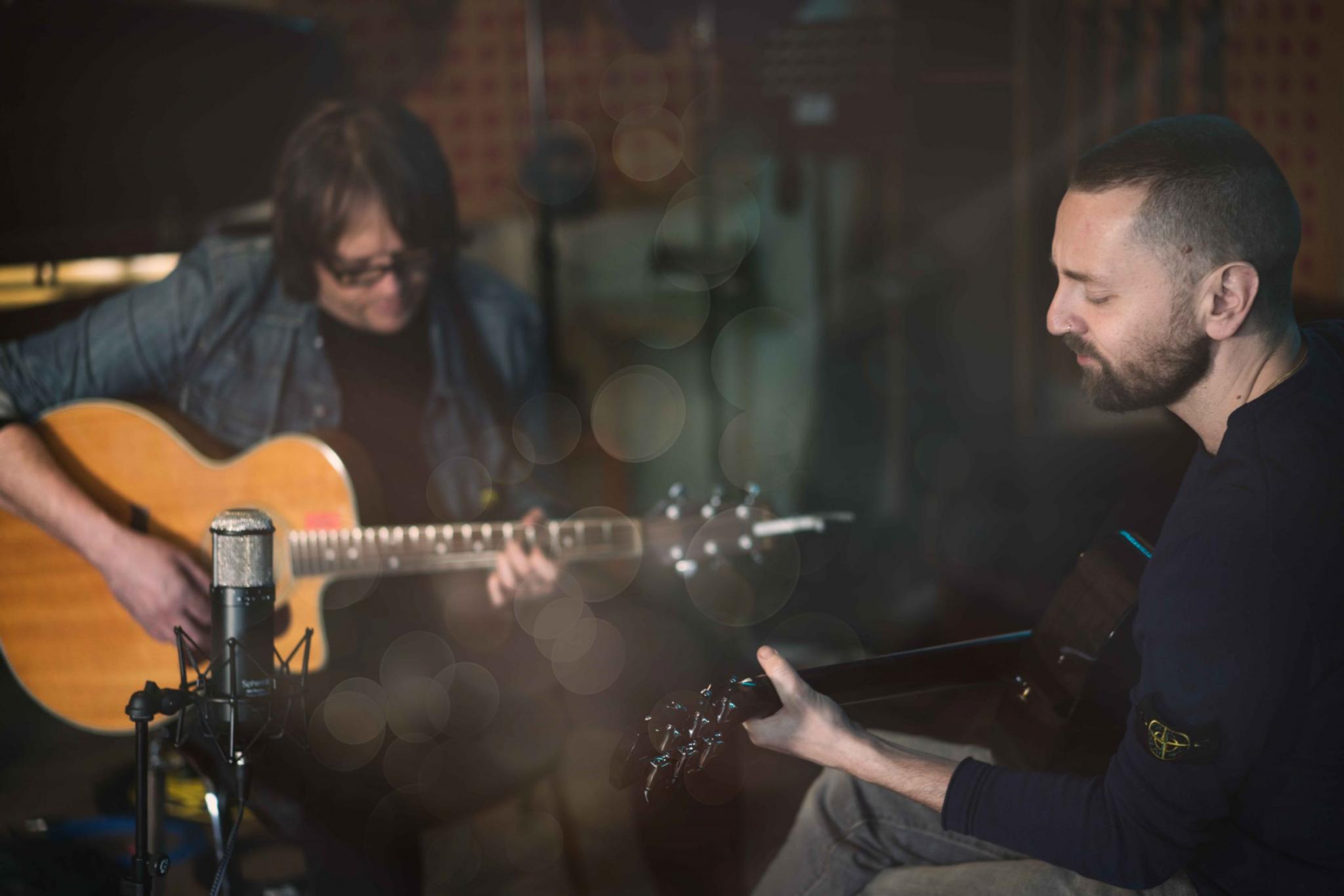 Robert Vincent and Ross Wilson - Photo by Carol Graham
Have you ever wondered how a music collaboration works? What it sounds like? What it looks like?
In this week's column, our Scottish correspondent and my number one AmericanaFest partner-in-crime Carol Graham takes an in-depth look at just that. She was in the studio recently with Robert Vincent and Blue Rose Code's Ross Wilson as they recorded a song for their new EP. While there, she interviewed the artists and took some photos, and she shares her thoughts with us below. One of her photos was used on the EP's back cover.
Vincent and Wilson also provided us with the song they recorded during Carol's visit: 
Here's Carol's report:
When Artists Collaborate
One of the greatest pleasures of live music is hearing the sparks of musical genius generated when artists collaborate. Often these musical collaborations are fleeting and captured only in memories from festivals, but sometimes they add so much value that they become long-lasting partnerships. 
I'm With Her is such an example. Sara Watkins, Sarah Jarosz, and Aoife O'Donovan began their collaboration at the 2014 Telluride Bluegrass Festival, when they were asked to sing together. They went on to perform as a group for the first time at the 2015 Celtic Connections festival in Glasgow – and are now nominated for 2019 Group of the Year by the Americana Music Association. But how do these collaborations come about? What does it feel like for artists to collaborate for the first time? 
Two of my favorite UK artists — Robert Vincent and Blue Rose Code's Ross Wilson — recently arranged to meet for the first time at a remote recording studio (Gran's House Studio) in Scotland. Vincent, from Liverpool, was 2018's recipient of the UK Americana Music Association's UK Album of the Year for I'll Make the Most of My Sins. 
Edinburgh-born Ross Wilson is the singer-songwriter behind Blue Rose Code, whose last album, The Water of Leith (see ND's review here), won a Scottish Album of the Year award. Both artists are on upward trajectories with successful and distinctive solo careers, so how did they end up miles from nowhere deep in the Scottish countryside? 
"I had been aware of Ross and his music and had become quite a fan," Vincent told me. "What attracted me to his music was the anonymity of it all. It seemed to come out of nowhere, and that made me want to jump on board and find out more. I love it when an artist or a band just lets the music speak for itself. Ross had initiated the contact on a Monday morning saying he was listening to my album, we spoke on the Tuesday about a song he had written that he wanted me to sing on, and by the Thursday we were sitting in his car on the way to Gran's House having a laugh and talking about music. It was very spontaneous. The way it should be. We instantly became firm friends." 
As Wilson tells it, "It was through a collaboration with Beth Neilson Chapman that I first discovered Rob. He is some chanter and I heard him do a couple of live things for Bob Harris' Under the Apple Tree. I just loved his energy and, from a technical point of view, his range and ability. I felt that our voices were sufficiently different to be complementary. I went to bed on the Sunday night, woke in the morning with a song in my head. I wrote it over the day and I tweeted at Rob to say, 'Hi, I'm Ross, big fan and I've got this song … .' Wednesday I recorded it on my phone and sent it over and Thursday he drove from Liverpool to Manchester to meet me and we drove up to Scotland together to record."
That song, "Don't Want to Take A Chance," was recently released on a limited-edition EP. "The song has a beautiful simplicity about it, the way I like songs and like to write them," Vincent said. "Ross had a definite idea about how he wanted me to approach it. We made no plans to rehearse as we knew we would just capture what we needed on the day."
Wilson adds, "We only had a short time to record. I felt really confident that we could deliver something raw and fun, and I think we did."
As a photographer, witnessing this new collaboration from a fly-on-the-wall perspective was spine-tingling. Gran's House Studio — owned by producer Angus Lyon and located at the end of a long, winding farm track in the Scottish Borders beside the River Clyde — was the perfect setting. 
There was so much creative energy and synchrony between the two of them. At one point I just sat and listened to them spontaneously playing and harmonizing on several Van Morrison songs, taking no photographs for fear of spoiling the perfect moment. Afterwards, of course, I wished I had captured it all on video. 
More to Come?
So what's next? Was it just a fleeting collaboration or is more planned? 
"There's a creative spark there, for sure," Wilson told me. "We'll have to see what happens, but I've already invited Rob to join me and my band for a big show at the Edinburgh Festival in August ('This Is Caledonian Soul'). We'll be playing with a big band and string quartet."
Vincent continued, "I would love to record with Ross and the guys again, it was a very fun process. I'd like to sit down and get a nice EP's worth or more of songs with Ross, writing together and really crafting something. I think our approach together could be very special. Plus, I think I get where Ross comes from as a songwriter, he's honest and I love that. I can't help being honest within song writing, it's a must."
Their respective styles are hard to pin to a specific genre, but both have roots music influences and are fans of Americana. Wilson had his first showcase at AmericanaFest in 2012: "I was lucky to be taken to Nashville by Bob Harris and the BBC, and the place left such mark on my heart. Reminds me of London, there's an almost palpable creative hunger, an energy and appetite for writing and connecting. I was suffering quite badly with jet lag and I remember running out of my hotel and along the Cumberland river just as the sun was rising. I definitely plan to be back there soon."
Vincent will be returning to AmericanaFest this September: "I really think the surge in Americana has been a great thing. It certainly helped me have somewhere to hang my hat! I don't really see any boundaries in music, I think there is always an opportunity to cross over. I've always been a huge Pink Floyd fan: "Wish You Were Here" is a country/Americana song at heart and the band were influenced by Neil Young, and most notably John Prine. So I think these things are always interchangeable between genres of music. The only worry I ever have with any music genre is that it would lose its roots and honesty, I really hope Americana continues to promote that."
Vincent's parting words resonate with me still: "Americana for me is the grit in-between the clean areas of the music industry, it's the rub that reminds us that music is to be cherished and uncomplicated."
I reckon that it's also the grit and the uncomplicated nature of spontaneous musical collaborations that creates the exciting sparks and the magic that I witnessed that day at Gran's House Studio. 
---