THROUGH THE LENS: IBMA's World of Bluegrass Goes, Well, Like Everything Else, Virtual
Posted On September 22, 2020
---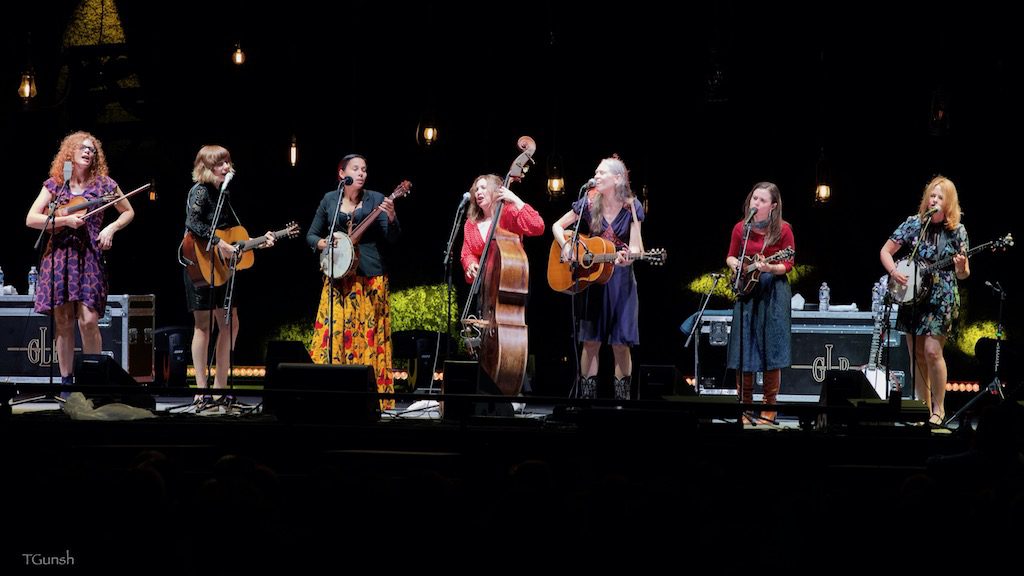 First Ladies of Bluegrass, Gillian Welch & Rhiannon Giddens - IBMA 2019 - Photo by Todd Gunsher
Virtual is a word I have grown to dislike. A lot. However, the music portion of this year's virtual World Of Bluegrass conference and festival offers plenty to get excited about. The International Bluegrass Music Association's (IBMA) annual event, usually held in Raleigh, North Carolina, will take place online Sept. 28-Oct. 3 and feature sets from notable bluegrass artists and as well as those not so well known, all available to view for free. Among others, we'll get to see Molly Tuttle and Sierra Hull, Twisted Pine, The Kruger Brothers, Jerry Douglas and Odessa Settles, Dom Flemons, and a performance from Lindsay Lou, Phoebe Hunt, and Mimi Naja. The full lineup can be found here.
The free music pass includes access to those performances as well as to IBMA's Bluegrass Music Awards show that will be held on Oct. 1. For complete information on how to catch the events and performances from World of Bluegrass this year, go to worldofbluegrass.org.
While our usual correspondent, Todd Gunsher, will not be reporting from the festival this year, below are some of his favorite moments and photos from previous years of World of Bluegrass. Many thanks to him for his contributions.
Todd Gunsher on IBMA's World Of Bluegrass
"Don't it always seem to go, that you don't know what you've got 'til it's gone." — Joni Mitchell (Big Yellow Taxi) 
Since 2013, the last week of September in my adopted hometown of Raleigh, North Carolina, has meant IBMA's World Of Bluegrass. It quickly became the city's biggest event, with three days of conferences and showcase gigs downtown, the awards ceremony, and two more days of street stages and major acts in the downtown amphitheater that brought tens of thousands of music fans into the city.
While the conference workshops and meetings will be held online, the streets will be quiet this year. But the music will move online, as bands have been filming sets that will be streamed throughout the week. Included below are a few photos from the video shoots for the Kruger Brothers and Chatham County Line that I was fortunate enough to experience as part of the crew.
Since there won't be any festival shots this year, here are some of my favorite moments from the past seven years of World of Bluegrass.
Favorite Moments 
I especially love the collaborations World of Bluegrass serves up: Bruce Hornsby and Ricky Skaggs; The First Ladies of Bluegrass joined by Rhiannon Giddens and Gillian Welch; Branford Marsalis with the Kruger Brothers; Steve Martin with the Steep Canyon Rangers; everyone jamming with Del McCoury (last year's Delebration was a set for the ages); Sam Bush and Jerry Douglas jamming with everyone; and Jim Lauderdale … he seems to be everywhere. At one point or another, I've seen him at every possible location in this town, from the street to the stages. People forget that before he became Mr. Americana, Lauderdale recorded his first album with bluegrass legend Roland White, and a later album with Ralph Stanley.
IBMA has introduced me to some of my favorite younger, contemporary artists such as Front Country, Molly Tuttle, Billy Strings, and Che Apalache. The kids are definitely alright. I've also heard thought provoking keynote speeches from Béla Fleck and Rhiannon Giddens and sat in on a variety of interesting seminars and workshops.
The Hillbenders Do The Who's Tommy 
What might be my favorite memory over the past seven years happened in 2015. A week of rain, plus a hurricane coming in from the coast, forced the organizers to move the entire event indoors — all the stages and street vendors somehow fit inside the convention center. After listening to Marsalis and the Krugers, I had to make a decision between Alison Krauss in the big room downstairs and The Hillbenders playing Tommy in one of the ballrooms. For a rocker who started playing electric guitar because of Pete Townshend, that was a no brainer (sorry Alison). The energy in the room by the end of the set was off the charts. 
What We are Missing and What We Can Do
Ultimately, that's what we're all missing the most these days, sharing some great music in a room full of fellow travelers, those festival friends you only see once a year, listening to new bands who then become favorites, all the things that come with live music.
We can't lose sight of the fact that everyone in the industry is hurting — musicians, songwriters, crews, venues — we need to do what we can to ensure they'll be able to come back as soon as it's safe so we can all do this thing again. So if you are able to, give some support: Buy recordings or merch from your favorite bands; if you watch a livestream, leave a tip; check out organizations like the National Independent Venue Association (and see what you can do to support your local venues); see if there are any organizations in your area helping out artists (here in North Carolina we have the Artist Relief Fund and PineCone, which does so much to put on the World of Bluegrass, along with shows and other programs all year).  
Friends, this is only an intermission. I'll see you all in Raleigh next year.
Below are some of Todd's photos from previous years, and, as mentioned above, from some of the sets that will be streamed this year.
---