THROUGH THE LENS: IBMA World of Bluegrass Returns the Joyful Noise to Raleigh
Posted On October 5, 2021
---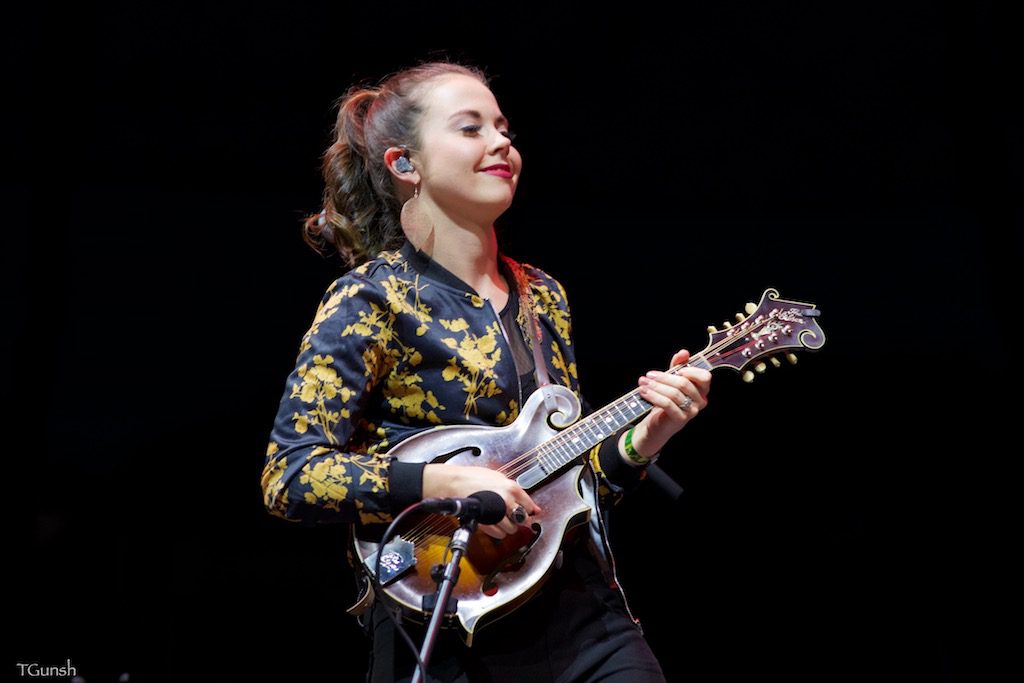 Sierra Hull - IBMA World of Bluegrass 2021 - Photo by Todd Gunsher
Following last year's virtual conference and festival, the International Bluegrass Music Association (IBMA)'s World of Bluegrass once again took over the streets of downtown Raleigh, North Carolina, last week.
However, due to COVID-19, certain health and safety adjustments were mandated: proof of vaccination, without exceptions, was required for attendance at any activity requiring registration and ticketing, including the IBMA Business Conference, Bluegrass Ramble (showcases held inside downtown venues), awards show, and the Main Stage at Red Hat Amphitheater during the IBMA Bluegrass Live! festival. Proof of vaccination was not required to attend the IBMA Bluegrass Live! StreetFest performances and activities, although all performers and stage crews were required to be vaccinated. Masks were encouraged, but not required.
The Awards
Show
By now you should have read Stacy Chandler's article on this year's award winners, as well as her interview with, and appreciation of, Alison Krauss, one of the 2021 inductees to the Bluegrass Hall of Fame.
On stage at the awards show were quite a few spirited performances — including from The Del McCoury Band, Sister Sadie, Balsam Range, The Po' Ramblin' Boys, and hosts The Infamous Stringdusters — plus special musical performances in honor of the Hall of Fame inductees. Krauss thanked everyone for her induction via an audio recording. But Roni and Donna Stoneman (of The Stoneman Family) stole the night with a melange of "House of the Rising Sun" with "Amazing Grace" and  "Bluegrass Breakdown" and plenty of hilarious banter and quips. 
Bluegrass in the Streets
Once again, ND photographer Todd Gunsher was there, on the streets and in performance halls, to capture the magic that is bluegrass music heard as it should be: live.
Béla Fleck's My Bluegrass Heart, featuring a who's who of modern bluegrass, without a doubt won many hearts with Fleck's full-fledged return to the genre. His current tour supporting the My Bluegrass Heart album is his bluegrass tour in 24 years. 
Colorado trio The Sweet Lillies stay true to their stringband soul but also explore the more progressive corners of their distinct musical experiences. They do it in such a delightful yet disciplined manner that at first you can't tell if you should listen intently or get up and dance. Sooner or later, you'll definitely be out on the dance floor, where, as Steve Martin would say, you'll find your happy feet.
Another standout was Twisted Pine, a Boston-based quartet that embraces bluegrass earthiness but also reaches out further, fearlessly venturing into new territory just as Punch Brothers and Crooked Still did.
Speaking of expanding boundaries, Hubby Jenkins, Sister Sadie, and Jake Blount were also on hand making their own distinctive marks in the ever-evolving world of bluegrass.
Now, Todd Gunsher's photos, including many artists not discussed above. Click on any photo below to view the gallery as a full-size slide show.
---