THROUGH THE LENS: From AmericanaFest to Thriving Roots — Americana's Main Event Reinvents Itself for 2020
Posted On September 14, 2020
---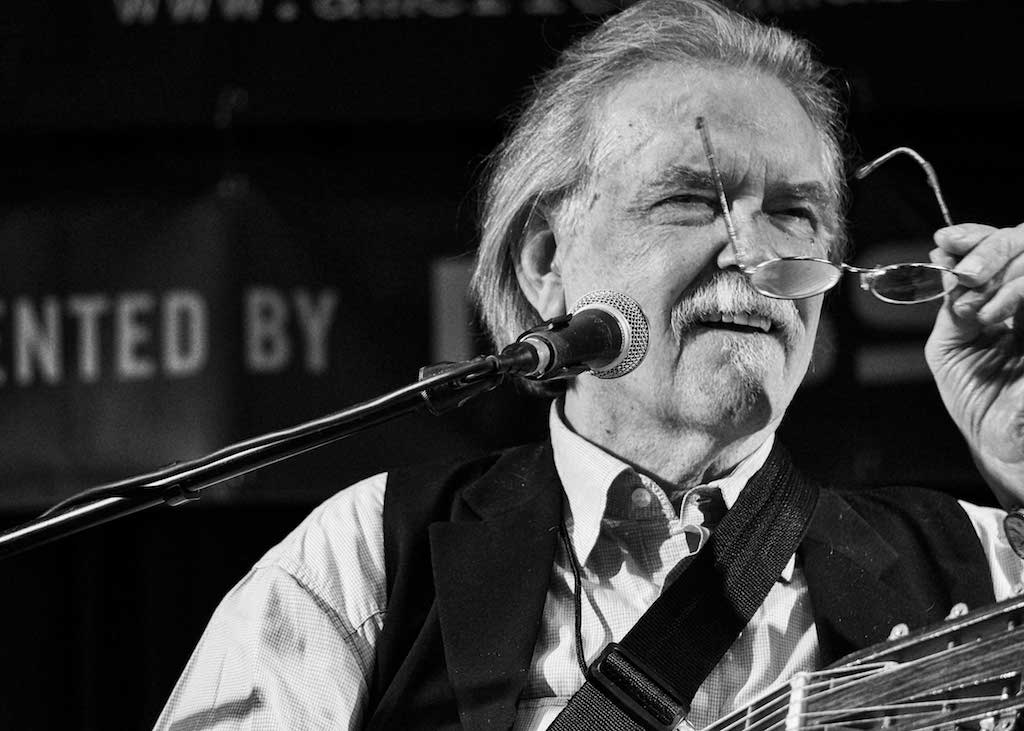 Guy Clark - AmericanaFest 2012 - Photo by Carol Graham
The Americana Music Association describes itself as a "professional trade organization whose mission is to advocate for the authentic voice of American Roots Music around the world." Having been an active participant during the past decade, not only could I not agree more, but also I can attest that the Association has admirably achieved its lofty goals and continues to raise its already high bar. Its work throughout the year culminates in a weeklong series of activities each September: the Americana Music Festival & Conference and its Honors & Awards show. Collectively, it is commonly referred to as "AmericanaFest."
However, as with everything else this year, AmericanaFest has had to reinvent itself. First, it's gone virtual. Second, it's scaled down from six days to three. Third, there will be no Honors & Awards show at the Ryman this month. Fourth, and this one hurts the most, Nashville will not be overrun by tens of thousands of roots music lovers from all over the world to hear over 300 artists perform over 1,000 sets in dozens of venues around town, from noon to way past midnight.
THRIVING ROOTS
This year, the Association offers us "Thriving Roots: A Virtual Community Music Conference." While it may be light on live music (though there will be quite a few "music breaks" throughout each day, with one evening of music scheduled), this year's conference lineup is the most artist and music-lover friendly I have ever seen. Yes, there are sessions that are more "industry" oriented, but more than ever there are music and artist sessions that are extremely appealing. Panelists including Rhiannon Giddens, Emmylou Harris, Brandi Carlile, Rosanne Cash, Bonnie Raitt, Chris Thile, and Lucinda Williams, and Angela Davis, among many others, are by themselves worth the scaled-down registration fee. Tickets are still available and well worth it as we'll all get the best seat in the house. 
A DECADE OF MEMORIES
AmericanaFest is about the only time I get to see and hang out with many people I have grown close to over the years. From Rob Dickens from Australia to Scotland's Carol Graham, who's a regular contributor to this column, and everyone in between, I am going to miss everyone so much this year. I'll also miss: the lack of sleep, scurrying around all over town trying to find a parking space, lugging my camera equipment from venue to venue, the heat of last year, losing 10 pounds, and writing up my yearly wrap-up article while running way past empty. It's a drug-free weeklong high.
In lieu of my annual preview, here are some indelible memories from years gone by.
Individual Sets 
Robert Plant and Band of Joy (The Ryman, 2010)
Following the 2010 Honors & Awards show it was announced that folks might want to stick around for a special performance. Nearly all did, and what a way to end the night and begin a festival.
Hard Working Americans with Todd Snider and Elizabeth Cook (The Cannery, 2014)
This set still divides people. Snider and Cook had performed earlier that evening at the Honors & Awards show, but Snider was noticeably upset about something, leaving the stage before his song was over. Their scheduled set after the show started over an hour late, and the audience was getting restless, and apprehensive. Snider walked out on stage in the same "wife-beater" T-shirt he wore earlier, but with "Will Fuck For Trophy" written on it. What happened next was performance art — pure theater, not of the absurd, but one where Snider acted like a shaman, with Cook and band using every conjuring trick in the book to rile us, outrage us, seduce us. It was as though we were watching Hendrix coax the flames from his burning guitar to rise higher and higher, brighter and brighter until we became the flame.
Amy LaVere (Mercy Lounge, 2011)
I had seen LaVere earlier in the day on a panel about life on the road. Her Dali-inspired, Memphis swinging, rockabilly set later that evening was just the beginning of a beguilement that has continued unabated.
Lucinda Williams (3rd & Lindsley, 2013)
To commemorate the 25th anniversary of her Rough Trade album, Williams and her band (including an adoring Jim Lauderdale, who'd played on that album) performed it with grace and gratitude, with nary a trace of nostalgia. It's as though the demons had let go of her, and she had let go of them. 
Rosanne Cash (3rd & Lindsley, 2013)
Months before the release of The River & the Thread, Cash and the biggest band I have ever seen her with performed the album with such a bluesy, rocking intensity that it sucked the air out of the room. 
Margo Price (Nashville Palace, 2016)
The 2016 festival was Margo's: she was everywhere, and after over a decade of trying to make it, she had arrived. I caught her every set and mini-set, but this one, where she busted a guy texting on his cellphone, was the one to remember.
Annual Events 
Hillbillies & Hot Dogs (Compass Records)
Even before No Depression began co-hosting this event, I started every Wednesday at AmericanaFest feasting on the best dogs in town and watching from just a few feet away a slew of the label's artists, including Molly Tuttle, Colin Hay, and of course, label co-owner Alison Brown.
The Honors & Awards Show (The Ryman)
The hottest ticket in town always has some special moments, including Our Native Daughters' "Black Myself" that opened last year's show and some things we will never see again: John Prine and Bonnie Raitt's "Angel From Montgomery;" Robert Hunter's "Ripple;" Gregg Allman's "Melissa;" and Guy Clark's "My Favorite Picture of You." And you never know who you're going to be seated next to. In various years, I've found myself alongside fellow ND contributors Chris Griffy and Henry Carrigan as well as Tamara Saviano and Ann Powers.
The Backyards of Nashville 
This is where it all begins, on front porches, in living rooms and backyards. You do not know what it is like to catch folks such as Molly Tuttle, Yola, Erin Rae, Margo Price, and so many more in such informal settings.
The Aussie BBQ & Sounds Australia (Various locations)
Can you believe that the Australian government sponsors a dozen or more of their artists to spend a week in Nashville promoting their work? The past few years they've raised the bar by offering daily events. One year I closed the fest down hanging out with Kasey Chambers and All My Exes Live in Texas after their 5 Spot shindig.
Bloodshot Records (The Groove)
This insurgent country label from Chicago offers up the best they have to offer, from Ruby Boots to Sarah Shook. If you want to be on the cutting edge, this has been the place to be.
Now, photos from previous years by Aaron Caleb Fishbein, Boom Baker, Brenda Rosser, Carol Graham, Chad Cochran, Jill Kettles, Kim Reed, Larry John Fowler, Rick Davidson, and Ross Nickow. You will not see a wider, deeper selection anywhere.   
---