THROUGH THE LENS: Festival Season in Full Swing in Arizona
---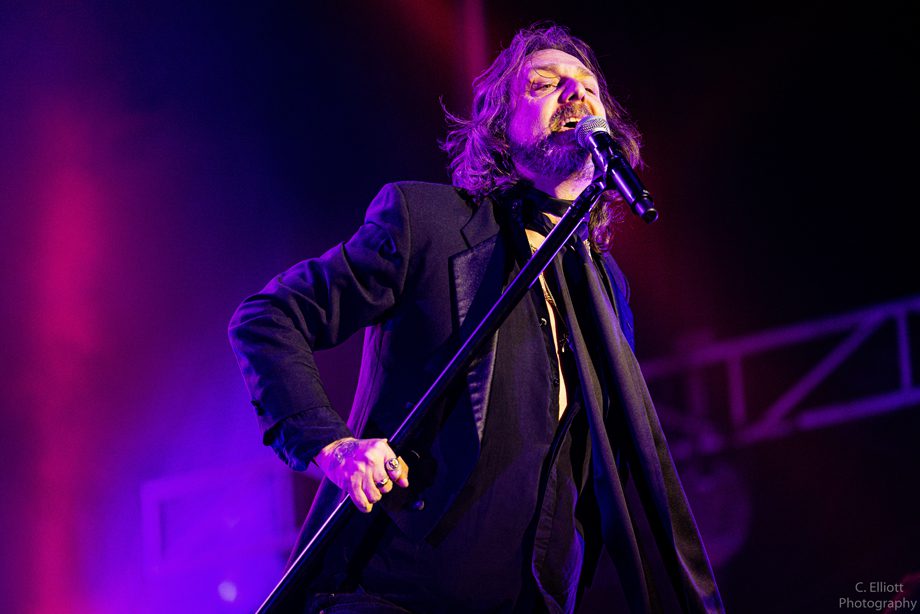 Chris Robinson of The Black Crowes - Innings Festival 2023 - Photo by C. Elliott Photography
Our Arizona correspondent C. Elliott once again covered two Arizona roots festivals that took place on back-to-back weekends recently. The first, Innings Festival, was held Feb. 25 and 26 in Tempe, Arizona, and the second, M3F, formerly known as the McDowell Mountain Music Festival, on March 3 and 4, just a few miles down the road in Phoenix.
While both festivals stretch the meaning of a roots music festival, their respective cores feature artists whose claim roots as part of their heritage. It will be interesting to see where their promoters, and fans, take them in the next few years.
Here now are C. Elliott's reports and, as always, photos in the gallery below. So many thanks to her for going above and beyond the call of duty.
Innings Festival
Now in its fifth year, this two-day festival takes place during Major League Baseball's spring training. Combining baseball with live music diversifies the fan demographic and continues to make this festival a grand slam. Even the weather was a winner as the days were warm and the evenings were pleasantly cool.
There are three stages, appropriately named Home Plate, Right Field, and Left Field, which in addition to music also featured appearances by MLB legends such as Ryan Dempstra, Matt Williams, Jake Peavy, and "The Big Unit" himself, Randy Johnson. Music-wise, there is no seventh-inning stretch, because as soon as one band is done on one stage, music on one of the other stages is already going on.
By my estimate, the audience was heavy on Gen X, many with their kids in tow. They seemed to be cutting loose and reliving their glory days. Most notably via a performance from Green Day, who combined their brand of punk with a pop sensibility that appealed to an angst-riddled youth. Black Crowes frontman Chris Robinson, strutted and swaggered around the stage while twirling the mic stand. David Shaw of the rock and blues band The Revivalists also put on an energetic and fiery performance. Marcus Mumford played an acoustic set of old and new songs, and many in the audience sang along with and swayed to them. Eddie Vedder also performed on an acoustic guitar that he didn't smash onstage, and a ukulele that he did.
Innings Festival knocked it out of the ballpark again!
M3F
M3F, launched in 2004 as the McDowell Mountain Music Festival, was held the following weekend in Phoenix. As a nonprofit organization, it has donated $4.4 million to local charities for arts, education, environment, and community welfare. Conveniently located tents on the festival grounds contain receptacles for trash, compost,  and recycle, and attendees are diligent about using them. 
The festival's model is built on a horizontal system of volunteer networks, charity sponsors, and labor swapping — about as close to communal bartering as you can get in this day and age. Local fencing and staging companies donate free materials for festival staff to manage or offer up company volunteers. Brand partners and nonprofits supply additional services, labor, and products. 
The aim is to reduce expenses and ensure that the majority of the festival's revenue, whether derived through ticket sales, concessions, or merchandise, goes to its nonprofit beneficiaries, not operations or overhead. This long-running festival has evolved from a jam- and indie-band lineup to one that's heavy on electronic dance music. My observation is that appealing to a younger audience has allowed the fest to thrive and continue. 
As with Innings Festival, there are also three stages. However, with at least two of them going at the same time there was quite a bit of sound spillage. So in addition to needing to select which act to catch, and whether to stay for an entire set or just a portion, my sensory perceptions were also in conflict. 
Technical difficulties shortened Neal Francis' set to, as he put it, "a cozy 18-minute set." Despite the brevity, this funk revivalist and his band were my favorite of the day. My other highlights were St. Terrible, a musician, visual storyteller, and performance artist from Boise, Idaho, who entertained his fans to a great set of psych-folk and Becky Hill, a contestant on The Voice UK who got the crowd up on their feet and dancing throughout her entire set. While I was unable to stay for the entire weekend, what I did catch was quite wonderful. 
Click on any photo below to view the gallery as a full-size slideshow. 
---