THROUGH THE LENS: Festival Fun at High Water and Stagecoach
---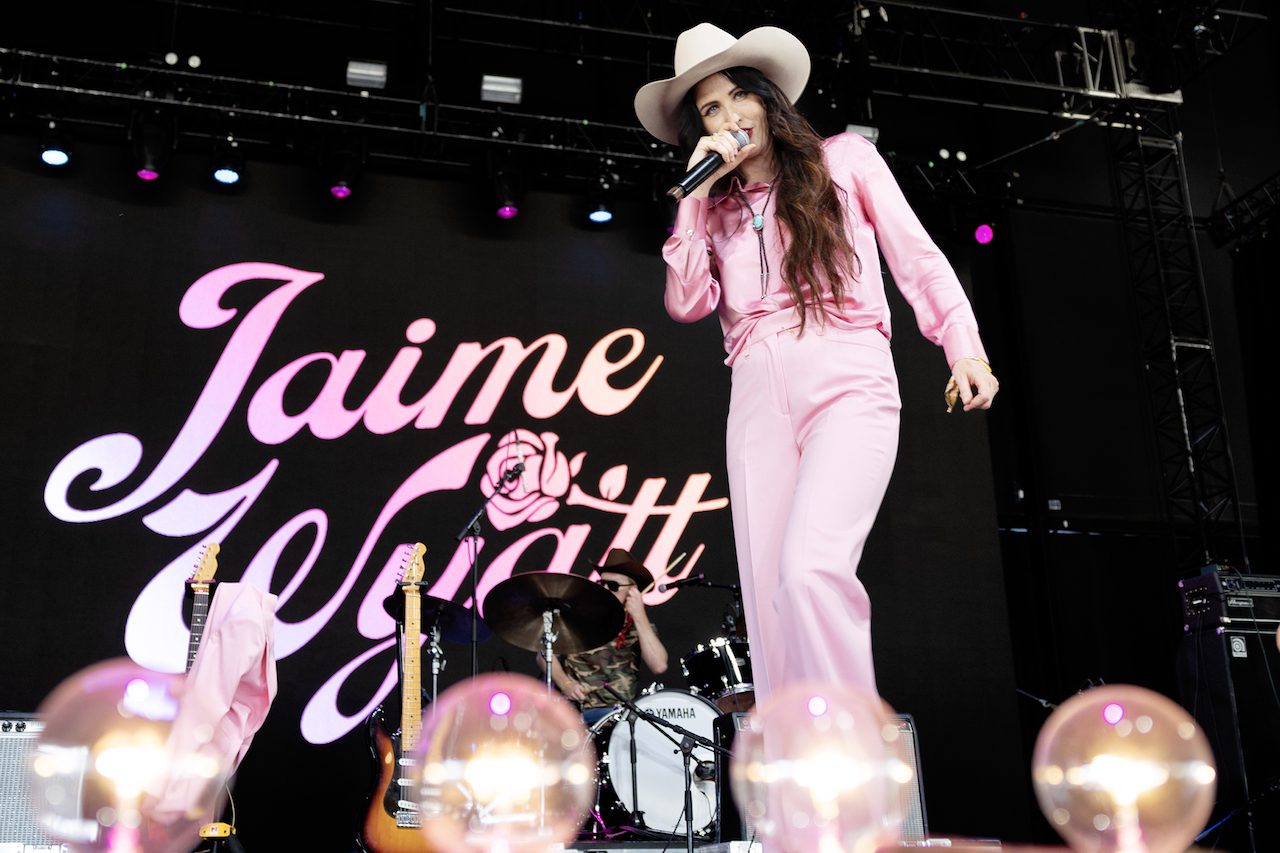 Jaime Wyatt - Stagecoach 2023 - Photo by Liza Orozco
This week the column reports from two roots festivals held last month in opposite ends of the country: High Water in North Charleston, South Carolina, and the Stagecoach Festival in Indio, California.
High Water took place at the picturesque Riverfront Park, filled with old oak trees draped with Spanish moss, while Stagecoach, sitting 22 miles southeast of Palm Springs, makes its home at the spacious Empire Polo Club. As you may recall, the column covered Stagecoach last year, but High Water is a first.
Besides roots music, the two fests have in common the second most important thing festival organizers can offer: sumptuous food and drink. Stagecoach prides itself on offering a variety of BBQ styles from across the country, and High Water, being next to the Atlantic Ocean, specializes in seafood. Both fests also provide numerous craft beers and a wide variety of cocktails. For instance, if you, like me, feel there are few things in life more satisfying than soft shell crabs, a well mannered martini, and roots music, High Water is the place for you.
ND photographers Justin St. Clair (High Water) and Liza Orozco (Stagecoach) were in place to catch the action. Here are their respective reports, and lots of photos in the gallery.
High Water 2023 by Justin St. Clair
Curated by the locally based duo Shovels & Rope, High Water, held in April, is extensive without being overwhelming. Two comfortably spaced stages allow fans to catch every act — 21 this year — if they so choose. However, most folks seem to make time to take frequent breaks to indulge in the plentiful food and drink. 
While the crowds were robust on both days this year, onsite services were efficient and lines were manageable. One of the most notable aspects of the fest was its upbeat, convivial atmosphere. Many attendees commended the organizers' extra efforts. Other festivals should take note.
High Water's emphasis on diversity and inclusion should also be noted: It offered a gender-balanced lineup that not only featured numerous LGBTQ+ performers, e.g., S.G. Goodman, Rainbow Kitten Surprise, She Returns From War, Angel Olsen, and Orville Peck, but also Black voices including Tré Burt, Kyshona, and the Black Opry Revue.
My personal highlights included two 2023 nominees for Americana Honors & Awards: S.G. Goodman (with her crackerjack band) and the ever-enchanting Sierra Ferrell. They dazzled longtime fans and made new ones of everyone else. The Black Opry Revue, featuring Aaron Vance, Tylar Bryant, Nikki Morgan, and Roberta Lea, Black Opry Revue was also outstanding. Closing out the fest were Wilco, Shovels & Rope, and Beck with three spectacular sets, a fitting conclusion to an extraordinary weekend of music.
Stagecoach Festival 2023 by Liza Orozco
Billing itself as country music's biggest party, Stagecoach Festival also offered a slew of roots musicians who made it worth my while. While there were many memorable moments during the last three-day weekend in April, these are just a few of my takeaways. 
Bella White kicked the fest off at the Palomino Stage with her charmingly sweet voice and songs off her new album, Among Other Things (ND story). Melissa Etheridge then blew the roof off with an undeniable rock-star power performance. Ending my first night was the legendary trio ZZ Top. They played to a packed crowd of super enthusiastic fans who sang along with songs such as, of course, "Sharp Dressed Man."
Speaking of sharp dressing, high fashion was also on display. Jaime Wyatt sounded as good as she looked in a fabulous pink suit. Not to be outdone, fashion plate Nikki Lane brought vintage clothes from her East Nashville High Class Hillbilly boutique to sell in the fest's Stage Stop Marketplace. Can there be any sharper dressers than Marty Stuart and His Fabulous Superlatives? Featuring Kenny Vaughan, their set featured a spirited country/bluegrass-based sound that had the crowd cheering for more.
Two five-time Grammy Award winners kept the crowd on their toes: Keb' Mo' did songs from his recent album, Good to Be (ND review), including "Good To Be (Home Again)," mentioning it was an ode to his hometown of Compton, California, and Mary Chapin Carpenter performed her many well-known songs, including "Shut Up and Kiss Me."
An Ameripolitan Award winner earlier this year, and 2023 Americana Artist of the Year nominee, Sierra Ferrell's unique voice and style puts her, for me at least, in the same category as Patsy Cline. She had fans clapping, singing along, and occasionally screaming, "Marry me!" and "I love you!" Ferrell's set also featured Clay "Mazing" Letson of the Emergency Circus, who specializes in cowboy tricks. The undeniable highlight was when he whipped a rosebud out of her mouth! 
Closing down the fest were two acts who have successfully straddled the country and roots line: Tyler Childers and Chris Stapleton. With the stage decorated with props such as a possum, a ram, and sufficient foliage to appear as though you're in the Kentucky backwoods, Childers kept his adoring fans happy with a selection of his best known songs as well as some from his most recent album, Can I Take My Hounds to Heaven? (ND review). With numerous Grammy, Country Music Association, and Americana awards under his belt, Stapleton, a force of nature, played 90 thrilling minutes to a sea of fans. It was hard to come down from that high. 
Click on any photo below to view the gallery as a full-size slideshow.
---