THROUGH THE LENS: Farm Aid and Treefort Music Fest Renew Spirits on Opposite Sides of US
Posted On October 18, 2021
---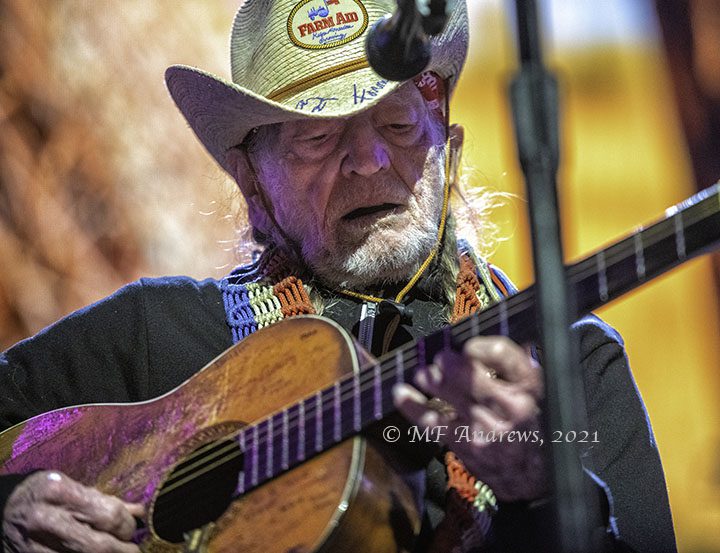 Willie Nelson - Farm Aid 2021 - Photo by Mary Andrews
As noted in last week's column, September was jam packed with roots music festivals. So, this week's catchup features two fests at opposite ends of the country: Farm Aid in Connecticut and Treefort Music Fest in Idaho. Two of ND's regular contributors were there to report on the action and snap some marvelous photos: Mary Andrews at Farm Aid and Peter Dervin at Treefort.
Here are their summaries, with photos in the gallery below.
Farm Aid: Great Cause, Great Music by Mary Andrews
Farm Aid is the major annual fundraiser for the organization that was started in 1985 by Willie Nelson during a farm crisis. During its 36 years it has raised $60 million to support farmers. This year's event occurred on Sept. 25 at the XFINITY Theatre, an outdoor/indoor amphitheater in Hartford, Connecticut, with over 10 hours of live music as well as local farmers who demonstrated how food is grown.
Three of the four annual performers — Willie Nelson, John Mellencamp, and Dave Matthews — were there, but Neil Young bowed out this year. On the positive side, Margo Price was added to the board of directors and did a rip roaring set.
Over 30,000 people saw inspired sets by Bettye LaVette, Tyler Childers, Allison Russell, Nathaniel Rateliff and the Night Sweats, Lukas Nelson and Promise of the Real, Jamey Johnson, The Particle Kid (Micah Nelson), and Ian Mellencamp.
It could be a tossup as to who delivered the best set of the day as all were outstanding. Jammy on guitars, Dave Matthews and Tim Reynolds' set seemed too short. Reynolds demonstrated that he is a master as he pulled amazing sounds from his guitar like no other. Taking the stage with cigarette in hand, John Mellencamp clearly enjoyed himself as he joked with fans. He had only three band members this time, but when he started singing, it seemed as if his entire band was present.
Willie Nelson, the master, wrapped things up that evening. Even though Nelson sat for most of the set, it was a fast paced, 17-song performance. His sons, Lukas and Micah, sat on either side of their father as they sang harmony and played guitars.
As Nelson said, "I'll see you in 2022." It was certainly a day to remember.
Treefort Music Fest: Moving Forward by Peter Dervin
Originally scheduled for March 2020, then pushed to September 2020, the ninth edition of the Treefort Music Fest in Boise, Idaho, finally happened! From Sept. 22 through Sept. 26, loads of fans came out to support the Treefort community.
Safety first. As festivals around the country continue to be challenged by the COVID-19 pandemic, whether to host an event with thousands of people has been a tough question to deal with. The folks at Treefort implemented a very simple COVID check app that allowed people to pre-verify their vaccination status. Onsite testing and vaccinations were also offered to attendees.
Additionally, Treefort encouraged mask wearing both indoors and outdoors, and social distancing as much as possible. The response from the attendees was impressive. I'd say adherence to this request was over 90 percent. This made for a safe environment for everyone.
The music. Treefort expanded to a five-day event spread out throughout downtown Boise. The variety of music was wide ranging, including indie rock, jazz, blues, singer-songwriter, funk, bluegrass, and rockin' Americana.
Highlights included Larkin Poe, Jeff Crosby, Alanna Royale, Tommy Castro & The Painkillers, Christian Scott aTunde Adjuah, and Calexico.
Treefort Music Fest announced its planned return for March 2022 and I can't wait! Thank you to the entire Treefort community for demonstrating how to safely bring people back together to enjoy the creative spirit.
Now, the photos from Mary Andrews and Peter Dervin, including many artists not discussed above. Click on any photo below to view the gallery as a full-size slide show.
---