THROUGH THE LENS: Farm Aid and Healing Appalachia Highlight National Issues
Posted On October 3, 2023
---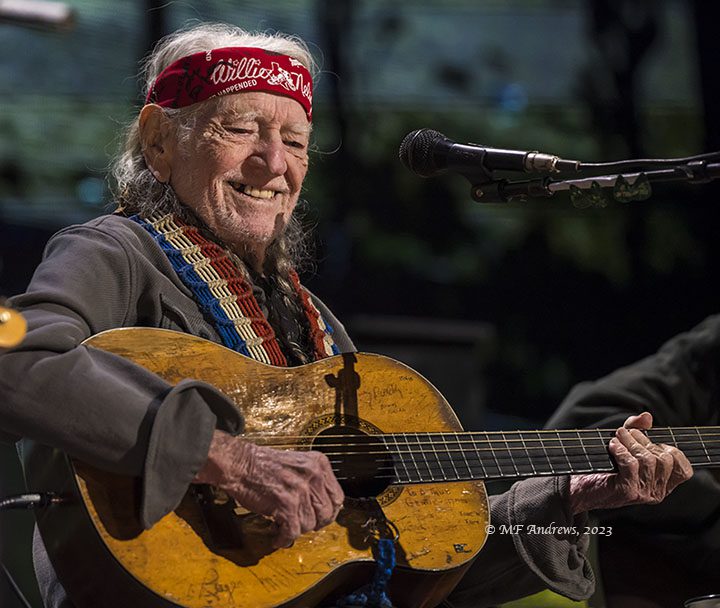 Willie Nelson - Farm Aid 2023 - Photo by Mary Andrews
This week's column features two roots music events that bring attention to and support critical national issues. Both festivals featured a who's who of roots music, from legends including Bob Dylan and Willie Nelson to new stars such as Tyler Childers, Allison Russell, Jason Isbell, and Margo Price.
The first, Farm Aid, now in its 37th edition, was held appropriately enough in the Midwest — Noblesville, Indiana, on Sept. 23. Begun primarily to support family farmers, it now extolls the benefits of organics and the effects of global mega-farming. Mary Andrews was there taking photos for ND once again.
The other, located in the heart of Appalachia at the State Fairgrounds in Lewisburg, West Virginia, is Healing Appalachia, held Sept. 20-23. This event began in 2019 to highlight the drug problems in the region fueled by Big Pharma, which flooded the state with opioids, reaping billions of dollars in profits. ND contributor Chad Cochran attended this year's Healing Appalachia and brought his camera along.
Farm Aid 2023 by Mary Andrews
Part of a yearlong celebration of Willie Nelson's 90th birthday, this year's Farm Aid offered a cavalcade of musical legends. It also delivered vital information on the progress of Farm Aid's efforts to help family farmers. Local farmers spoke of challenges in Indiana and offered information about the benefits of organic foods.
Neil Young said we are all in this together, from family farmers to consumers in grocery stores, and highlighted how little attention is paid to global warming. In railing against factory farming he said, "It doesn't work. It doesn't work for us. It doesn't work for humanity. It doesn't work for the planet. It doesn't work for the animals. It doesn't work for the humans. It doesn't work for anything that grows naturally. Everything that we do, we need to think about natural ways." In other words, as Joni Mitchell noted over 50 years ago, "We've got to get ourselves back to the garden."
While Nelson, Young, and fellow Farm Aid board members John Mellencamp, Dave Matthews, and Margo Price were the headliners, Bob Dylan made the biggest splash with a surprise visit, his first since 1985. Reflecting the diversity that is family farming, the lineup also included Allison Russell, the Wisdom Indian Dancers, and Black Opry Revue, including Lori Rayne, Tylar Bryant, and Kyshona, whom Russell introduced as one of the best singers out there. Their set seemed far too short.
Bobby Weir and the Wolf Brothers, featuring Don Was and augmented by Sturgill Simpson, Margo Price, and Lukas Nelson, did a three-song set that began with an extended version of "Truckin'" to everyone's delight.
Dave Matthews and Tim Reynolds delivered yet another spectacular acoustic set before Indiana's own Mellencamp gave the fans a run of his hit songs. During "Jack and Diane" he playfully chastised the fans for not singing it properly, but really they knew the lyrics to all of his songs.
Young's solo set was his first in four years, and as he walked around the stage he was apologetic regarding his absence. Spontaneously it seemed, at one point he shouted to the crowd, "What's your favorite planet?" Everyone roared back: "Earth!" That, after all, was written in big letters on the T-shirt he was wearing.
While the audience was expecting Nelson to take the stage next, Dylan, to the amazement of everyone, walked on with Tom Petty's band The Heartbreakers. Without any chit-chat, he sang and played guitar on just three songs, but they certainly were choice ones: "Maggie's Farm," "Positively 4th Street," and "Ballad of a Thin Man." All the photographers were escorted out of the area prior to his set, so the gallery below does not contain photos of the most elusive, camera-shy legend.
Willie Nelson and Family's closing set was one of the best I have seen in many years. Flanked by sons Lukas and Micah as well as Waylon Payne, Nelson played some exceptional guitar solos. Performing such songs as "Always on My Mind," "Mamas Don't Let Your Babies Grow Up to Be Cowboys," and "Texas Flood," Nelson's energy level could not have been higher. And Farm Aid could not have had a better day of music.
Healing Appalachia 2023 by Chad Cochran
Healing Appalachia brings together phenomenal musical talent in an effort to raise awareness around recovering and healing to a region that has been greatly affected by the opioid crisis. The 2023 lineup brought Tyler Childers, Jason Isbell, Trey Anastasio, Gov't Mule, Umphrey's McGee, Charles Wesley Godwin, and many others.
The festival included folks taking the stage, between bands, to share their inspiring stories of recovery. The traditional vendors were mixed in with those focused on youth drug prevention, recovery centers, Narcan training, and multiple other recovery-focused initiatives. In addition to the hundreds of volunteers, many who are also in recovery, Healing Appalachia provided a platform where many of the musical performers also shared their stories of recovery.
Click on any photo below to view the gallery as a full-size slideshow.
---