THROUGH THE LENS: Early Thoughts on AmericanaFest 2021
---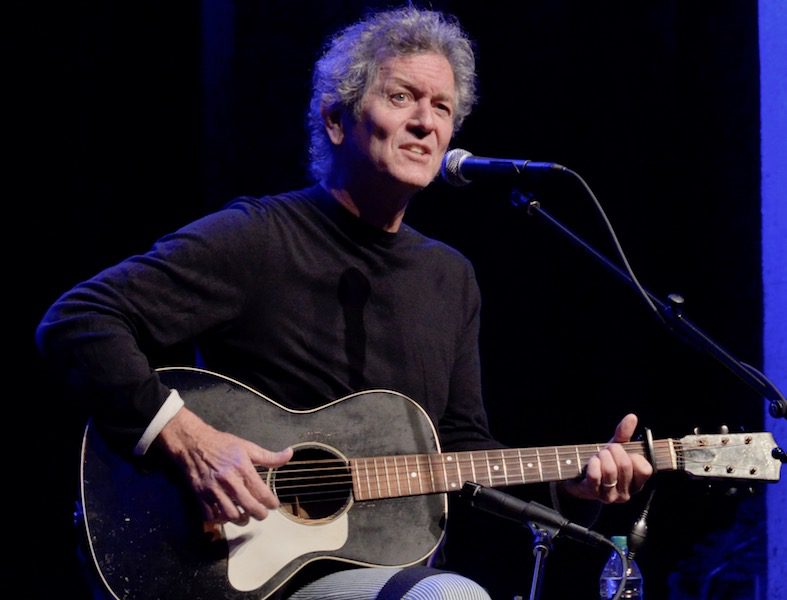 Rodney Crowell - AmericanaFest - Photo by Amos Perrine
Last week the Americana Music Association revealed the first round of showcases for this year's AmericanaFest in Nashville, Sept. 22-25. The announcement confirmed 164 artists of the 240 who are slated to have showcases during that four-day period. That works out to 60 showcases a night.
The announcement noted some, but not all, of the participating venues around Nashville, including the Mercy Lounge, City Winery, 3rd & Lindsley, and The Station Inn. I expect many of the additional venues will be those familiar to AmericanaFest attendees, but some may be new ones that want to become part of an event that American Songwriter in 2017 called a "veritable juggernaut." That's an understatement, as in the two years that followed, attendance rose exponentially.
Much of that increase in popularity was certainly due to the increased visibility and exposure of Americana music generally. However, there were a fair amount of those I labeled as "music tourists" — folks who, for a total of $90 in 2019, could load up on free food and beer during the daytime events. The music seemed more like an afterthought. In other words, where else in Nashville could you get all that for $15 a day? 
This year the Association has wisely upped the wristband cost to $199, much closer to its real value, but still a bargain. And it should be noted that sponsors of those daytime events have discretion of who may attend: conference attendees only or all wristband holders. Assuming daytime events will again be part of the fest, I'd suggest sponsors limit admission in some manner. It would prevent events such as Hillbillies and Hot Dogs and Lost Buffalo Artists, for example, from being overwhelmed in their relatively small spaces like they were in 2019.
The Initial Lineup
I've heard rumblings on several fronts — previous attendees, publications, and social media — about the absence of "big" names in the 2021 lineup announced so far, while acknowledging some stalwarts will be there, such as Rodney Crowell, Jim Lauderdale, Brandy Clark, The McCrary Sisters, Lilly Hiatt, and Allison Russell. I do not know how reflective those comments are of the Americana music fanbase as a whole, but I am extremely excited, even more so than in previous years. Most of those identified have never had showcases before.
I do not attend music festivals in general, and AmericanaFest in particular, to see the familiar. With so much happening in the genre and so many new and fresh talents rising to the surface, it's a time to bask in the light of new discoveries. It's the perfect time to be adventurous, take risks, and to be moved by artists we've only read about, heard on record, or for some other reason find intriguing enough to take a chance on. 
I could write a book on unknown artists I first saw at the 5 Spot, a pizza joint, the American Legion, and the many backyards of East Nashville that are now recognizable names in Americana and roots music. Sure, some will flame out or drift away, but you cannot replicate the feeling you get when initially seeing, for example, Yola, Margo Price, or Molly Tuttle. Because much of what draws many of us to Americana and roots music is the emotionality, that newness that you experience when stepping into another's life experiences. You can only get that for the first time once.
Festival programmers serve as curators of what's happening in the world of their respective genres. No matter how well connected you think you are, programmers know more than we do. They live it every day. We, on the other hand, are visitors. Well meaning, well intentioned, and insightful as we, the audience, may be, we cruise through the neighborhoods where artists live. We come, we go, they wave and then get back to work.
There are quite a few gems listed in AmericanaFest's initial lineup, just a very few include Waylon Payne, John R. Miller, Southern Avenue, Sierra Ferrell, The Shootouts, Rainbow Girls, Rachel Baiman, Chris Pierce, Christian Lopez, Melissa Carper, Jason Ringenberg, Great Peacock, Ana Egge, Christone "Kingfish" Ingram, and The Barefoot Movement. They are also a nice cross section of Americana and roots music in general. I cannot wait.
Now, the photos of just 30 of the 164 announced artists. Click on any photo below to view the gallery as a full-size slide show.
---