THROUGH THE LENS: DelFest Dishes Up the Best of Bluegrass and Beyond
---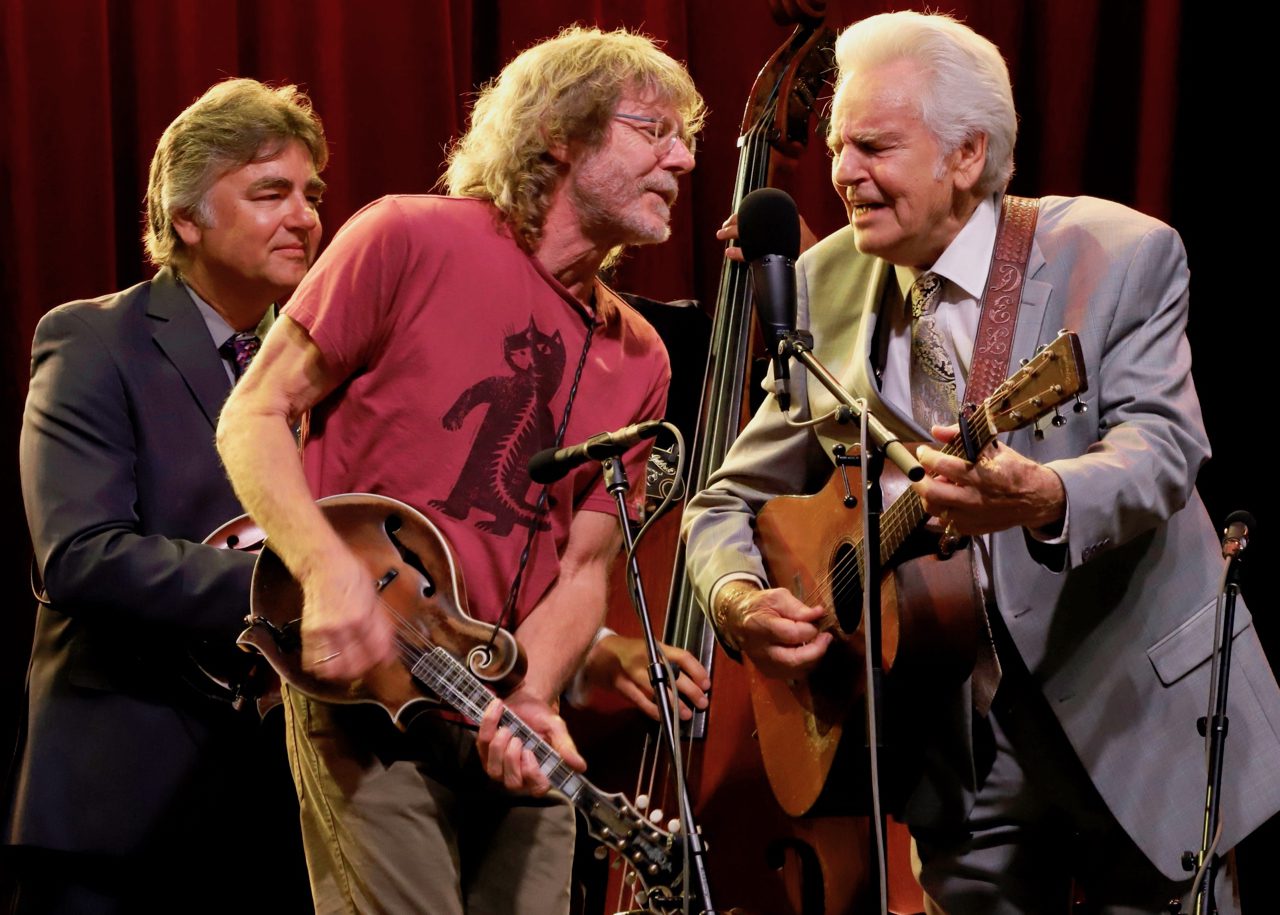 Del McCoury & Sam Bush - DelFest 2019 - Photo by Chris Morris
DelFest's 15th installment begins this Thursday. DelFest was created by and named after Del McCoury who, having won 31 International Bluegrass Music Association (IBMA) awards, including nine for Entertainer of the Year, is the undisputed the king of bluegrass.
We in the roots music community are fortunate that this king is a benevolent one, whose festival not only preserves tradition, but also includes younger generations who are making their mark in the genre as well as artists who have instilled the adventurous spirit of bluegrass into their respective takes on roots music.
The fest's home is the Allegany County Fairgrounds in Cumberland, Maryland, which abuts the North Branch of the Potomac River and is across from a West Virginia mountainside. The fairgrounds present a picturesque setting to what quickly after its founding became a destination of choice for lovers of bluegrass and beyond.
True to its own history, the fest will present a wide variety of bluegrass and roots performers this year. In addition to McCoury playing at least one set on three of the four days, Sam Bush and Peter Rowan will be on hand to bridge the gap from Bill Monroe to the present. However, Rowan will not bring his bluegrass band; rather, he'll spice things with one of his alter ego bands, The Free Mexican Air Force with Los Texmaniacs.
Highlighted below are just a few more of 40 of the acts scheduled to perform at this year's DelFest. The full lineup can be found here.
Bluegrass, Bluegrass and More Bluegrass
If you're expecting some hard-driving bluegrass, then you have come to the right place. In addition to McCoury, his sons' band The Travelin' McCourys, and Sam Bush, the fest will feature more than enough to quench your thirst.
At the top of your list should be two of modern bluegrass' brightest stars, Sierra Hull and Molly Tuttle. Hull, from Tennessee, is only 31, but she has accomplished more in terms of both awards and accolades than most veterans in a lifetime. Highly personable, she's at the top of her game and obviously enjoying every moment. Her duets that featured trading improvisational licks with Béla Fleck during the My Bluegrass Heart tour were my most memorable concert moments of last year.
Tuttle, who began playing in a family band, comes from the California branch of bluegrass. Influenced by Tony Rice, she, along with Billy Strings, is taking bluegrass guitar into other dimensions. Since winning the IBMA Guitar Player of the Year award in back-to-back years (2017 and 2018), Tuttle's bands have gone though various changes. It's as though she's been searching for the accompanists who can play a sound that she hears in her head. By all accounts she's found that in the current configuration, Golden Highway.
There are are other folks on the DelFest schedule who need to be noted, including the sibling bands of The Price Sisters and The Gibson Brothers, and a bluegrass stalwart, Junior Sisk. 
Sisk, an elder statesman who has lived and breathed the music for nearly six decades, is a direct link to The Stanley Brothers. On the younger side, twin sisters Lauren and Leanna Price have the smooth sibling harmonies bluegrass is famous for and front a crack band that will delight. In between them are The Gibson Brothers from upstate New York, who were named IBMA's Entertainer of the Year in 2012 and 2013.  
And of course I want to mention multi-instrumentalist Tim O'Brien, who has played with everyone. With his work with his sister Mollie and bands Hot Rize, Red Knuckles, and more recently his self-named band, he has to be the MVP of bluegrass.
The Beyond 
DelFest will also feature jammy bands with a bluegrass base like Trampled by Turtles and Infamous Stringdusters. There's also Pigeons Playing Ping Pong, who play a buoyant psychedelic funk, and the neo-soul of both The California Honeydrops and St. Paul and the Broken Bones. 
Then there is Sierra Ferrell who, after winning the Americana Music Association's award in 2022 for Emerging Act of the Year, has just been nominated by the Association for its highest award, Artist of the Year. Ferrell's playing, songwriting, and singing, honed by years of busking around the country, resulted in her stellar 2021 album, Long Time Coming. Lately, she has brought all that, and more, to many stages around the world. Having seen her many times during past 15 years, I can attest, as can her legion of new fans, that she is a once-in-a-generation talent.
Here's a gallery of photos of artists scheduled to play DelFest 2023, this Thursday through Sunday. Click on any photo below to view the gallery as a full-size slideshow.
---