THROUGH THE LENS: Days and Nights of Highlights at SXSW 2023
---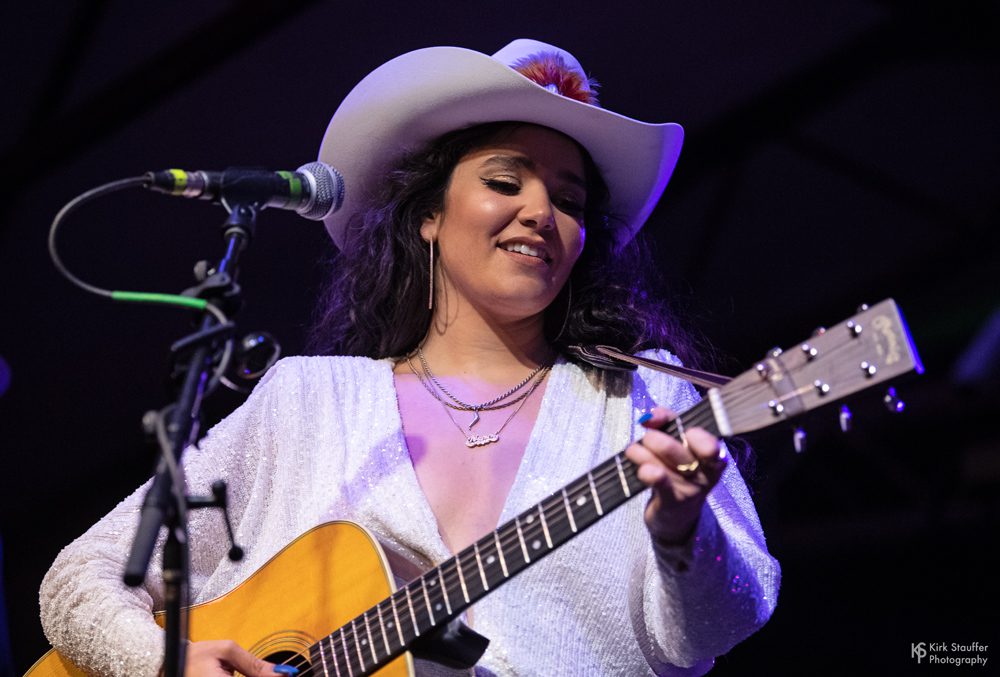 Emily Nenni - SXSW 2023 - Photo by Kirk Stauffer
Longtime ND photographer Kirk Stauffer is a South by Southwest veteran. So much so that in preparation for making his yearly pilgrimage to Austin to catch the sprawling 10-day festival, he makes a spreadsheet containing the names, locations, and times of the events he wants to catch. That is before the arduous tasks of arranging for a hotel, flying in from the Pacific northwest, and then scurrying around town to catch one set after another. The life and times of a roots music photographer is not all peaches and cream.
This column and ND readers are extremely fortunate to have someone with Kirk's dedication and skills, photographic and otherwise, to cover SXSW. On this, his sixth fest, he caught 22 sets for us. Of those, the following six performers piqued my interest:
The Zombies: The Rock & Roll Hall of Famers and winners of SXSW's 2023 Grulke Prize for Career Act celebrated its 10th SXSW by performing two live, sold-out shows at the fabled at Stubbs Bar-B-Q. To the crowds' delight, they did their hits from the '60s, and for the first time performed live songs from their new album, Different Game, which came out March 31. It was a classic English Invasion by a band that never quit.
Bella White: White was another standout for Kirk. Little did he know at the March festival that she would soon become ND's Spotlight Artist for April 2023. The Calgary native, now living in Nashville, came by her roots bonafides the old fashioned way: Her father, from Virginia, was a bluegrass man through and through. Based on what Kirk saw, there's little doubt that her new album, Among Other Things (out April 21), will bring more accolades her way.
Indigo De Souza: De Souza, from Asheville, North Carolina, promoted her third album, All of This Will End, coming April 28. Earlier this month she released the single "You Can Be Mean," which she has said in press materials is "about a brief toxic experience I had with a manipulative and abusive L.A. model fuckboy." The single before that was "Young and Dumber." If you see see a theme developing, think again, as there is a deft nonchalantness to her relationship disappointments and and confessional lyrics that recalls a young Lou Reed.
Emily Nenni: Nenni had a stellar 2021, releasing the album On the Ranch that garnered rave reviews from ND, The Nashville Scene, and Garden & Gun. In her ND review, Laura Stanley's called album a "barn burner." At SXSW Nenni brought enough fire to torch some other farm buildings as well.
Overcoats: The New York duo of Hana Elion and JJ Mitchell used SXSW to showcase their new album, Winner, and to prep for a monthlong tour that begins on April 24. Backed by only a dummer, their dreamy harmonies were less indie pop than folky Americana in a live performance. They recently performed "Horsegirl" from the album on WXPN (video).
The Tiarras: These three Mexican-American sisters — Tori, Sophia, and Tiffany Baltierra — blend rock, Latin, pop, soul, reggae, and blues into a feel-good energy while also making social statements. That is a heady task, but this trio pulls it off with an audacity that is highly affecting. Little wonder that this trio is also a 3-time Austin Music Award winner. At SXSW, they performed songs from their recently recorded, soon to be released, new album. Look for it.
Click on any photo below to view the gallery as a full-size slideshow.
---