THROUGH THE LENS: Courtney Marie Andrews, Charley Crockett, and More Upcoming Roots Music Releases
---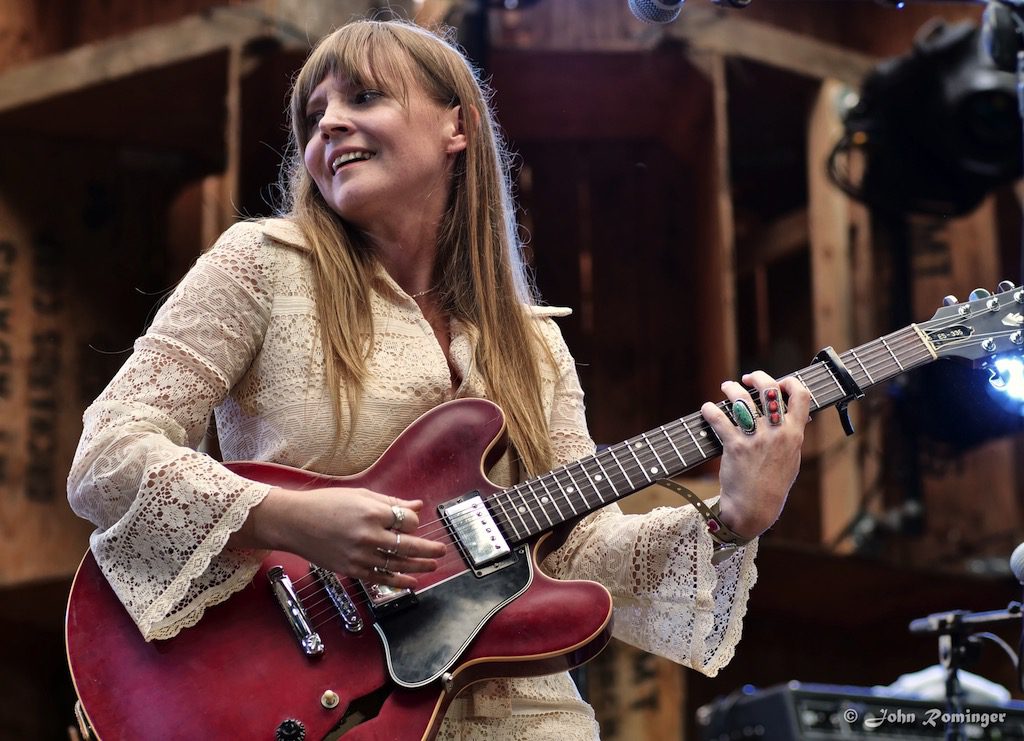 Courtney Marie Andrews - Photo by John Rominger
If you thought the first six months of this year provided some outstanding releases, buckle up for its second half. New albums by Courtney Marie Andrews and Charley Crockett, and Bill Kirchen's retrospective, are highlights from this month alone, and they've really gotten under my skin. Plus I wanted to highlight one album I did not get around to last time I looked forward: John McCutcheon. Collectively, these albums have made isolation a bit more bearable. I think you'll like them as well, or else I wouldn't be recommending them with these brief, impressionistic takes.
Courtney Marie Andrews – Old Flowers  (July 24)
I have waited a long time for this record, even before I knew it was coming. Its trajectories may not be as expansive, especially in geography, but in exploring emotional and romantic territories, with their resultant turmoils and discoveries, Andrews has entered a realm where Joni Mitchell once reigned supreme. The term "confessional" does not begin to describe the journey Andrews has undertaken. Like shedding one's skin, she strips away the layers of a previous self to see who the new, other self is and might be. 
The album is hypnotic, a spell you don't want broken. Its centerpiece for me is "Together or Alone," with its lyrics: "When we first met, your hair was in your eyes / I didn't believe a word you said, but I loved those pretty lies / You stay with me, no you never really go / In the bars out on Broadway, in the chords of this piano / My friends, they will talk in cliches on being free / But the grass is always greener when it's something you can't see."
As with Mitchell, Andrews takes the personal and makes it universal. Old Flowers is her, and her generation's, Blue.
Charley Crockett – Hard Times  (July 31)
Instead of selling anthems dedicated to beer and trucks, Crockett uses country music's original sounds, sensibilities, and tropes to more accurately reflect everyday life in modern America. In this respect, Crockett is at the forefront of a "movement" I've called Taking Back Country Music several times in this column. What sets him apart, in this field that seems to get more crowded each day, is his unassuming, plaintive manner that he deftly uses to obscure, somewhat, the underlying sense of existentialism in these songs. You could call it gothic country, or Leonard Cohen with a cowboy hat.
This was even before I got his note that said, in part, "If you think you're playing a rigged game, you're right. But you still gotta roll the dice, even when you know they're loaded." Perhaps this is best personified in "Heads You Win," where the click-clack of a drumstick sounds like clops of a horse beneath a rider aimlessly wandering in some anonymous Western landscape being "Pursued by a living apparition by a girl in cowboy boots / My mind becomes unglued / Heads you win, tails I lose." It may not hit you right off, but after a few listens, you'll get it.
Bill Kirchen – The Proper Years  (July 24) 
Kirchen may be best known for "Hot Rod Lincoln" with Commander Cody, but during his 50-year career, this Telecaster-slinger has mastered a wide variety of genres, including one that he calls "dieselbilly." It meets at the intersection of the Bakersfield Sound and Paw Paw, West Virginia, home of Asleep at the Wheel. Kirchen, like many of his generation, made his way to Austin in the 1970s, soaked it all in, and became its embodiment. Perhaps this is nowhere better exemplified than "Down to Seeds and Stems Again," where, in a Kinky Friedman-like manner, he delivers a classic country weeper, with the remnants of a dime bag.
With guests such as Elvis Costello, Nick Lowe, Maria Muldaur, and Dan Hicks paying homage, you will not find a better, more complete, or more entertaining way to explore American music than this two-disc set whose tunes are taken from his recordings for the Proper music label.
John McCutcheon – Cabin Fever: Songs From the Quarantine  (out now) 
A great folksinger's songs are topical and immediate, delivered in a conversational tone. Whether the songs are about family, dreams, or hard times, it's a reaffirmation of the common values everyone holds dear. All are welcomed immigrants in the nation we call life, and no one is a stranger. Written during a self-isolating three weeks in a cabin this past spring, these songs from folksinger supreme McCutcheon look at life, and the death of John Prine, though a coronavirus lens. The song for Prine is about as complete a picture of him as you are likely to hear, all in just over four minutes. It's not just a reminiscence of his friend, but a torch for all of us who were touched by him. In true Prine fashion, the song that follows it, "Sheltered in Place," is McCutcheon's "Hello in There." These two songs pack a punch.
In the other 16 songs McCutcheon also looks at birds, dogs, squirrels, flowers, and other living things. Life, all around us, that can go unnoticed until something stops us in our tracks. He can so easily go from prophetic, as in "One Hundred Years," where he sings "In trying to be great again, we've forgotten to be good," to the metaphorical in "Monet Refuses the Operation" with its final line, "But, doctor don't you see, it's taken beauty all these years to cure me." The album gives us pause, a pause for reflection and renewal, which can be a cure if we want it to be.
Now, pause for a few moments more and take a peek at the visual pleasures our ND photographers have for you.
---