THROUGH THE LENS: Connections and Community at 2022 Folk Alliance International
---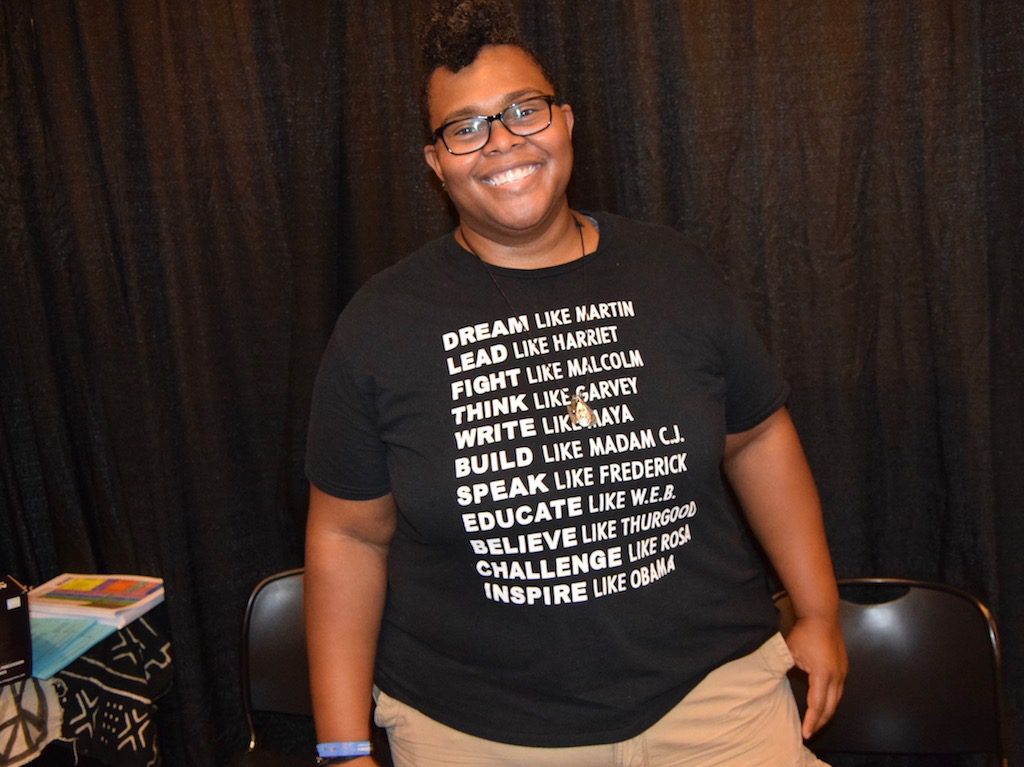 Crys Matthews - Folk Alliance International 2022 - Photo by Kim Reed
Folk Alliance International (FAI) was founded in 1989 to connect folk musicians aiming to sustain both the community and the genre worldwide. Its annual conference, held this year in its hometown of Kansas City, Missouri, offers showcases, panels, workshops, and networking for folkies from all over the world. The gathering is sorely needed; being a folk troubadour at times can be a rather lonely profession.
FAI brings the biggest names in roots music together with lesser known, yet significant purveyors of the folk music tradition on a stage as equals. Folk music is not about the cult of personality, but rather the delivery of a message, and keeping that message alive. As Woody Guthrie said, "It's a folksinger's job to comfort disturbed people, and to disturb comfortable people." It is needed now more than ever.
We were fortunate to have frequent contributor Kim Reed on hand to report on the action. 
Folk Alliance International 2022 by Kim Reed
We all go to musical gatherings for different reasons. Porch concerts, house and barn shows, concert halls, arenas, and festivals all draw us together. Time to lose the earbuds and listen with friends, family, and strangers. Sometimes, we show up to be stimulated or consoled. Other times we go to get involved, to see something new, or to be inspired. 
Folk Alliance International, which just concluded its 34th year, is an event for the latter set of categories. As was stressed numerous times in keynotes and side conversations, this is a gathering of folk artists that acts as an annual reaffirmation of the community. Bringing together caring people within the industry to support everyday, working musicians plying their trade is the most positive musical gathering I have ever attended.
This year brought a hybrid festival that included both live and streaming opportunities featuring FAI stalwarts such as board member Dan Navarro, a  27-year veteran, and longtime attendees David Amram, Dom Flemons, Jess Klein, Diana Jones, and BettySoo. They mentored younger artists from other parts of the world, including The Accidentals (US), Iona Fyfe (Scotland), Colin Lillie (Australia), Katherine Priddy (Ireland), and Rosier (Canada).
Awards, Showcases, Panels, and the Ethno Program
The awards portion of FAI kicked off the conference by recognizing Flaco Jimenez, the late Nanci Griffith, Swallow Hill Music, Planet Bluegrass, Gaelynn Lea, Amado Espinoza, and Mali Obomsawin. Song of the Year was awarded to Crys Matthews ("Changemakers"), and Allison Russell (Outside Child) took home the Album of the Year honors. (Full story here.)
During the five-day conference attendees could join in panel discussions, peer mentoring sessions, and workshops with topics such as LGBTQ2IA, Folks With Disabilities, and Activists and Changemakers.
Perhaps the most intriguing mentoring activity was FAI's partnering with JM International's Ethno program for folk, world, and traditional music, aimed at young musicians (13-30). Founded in 1990 in Sweden, Ethno's mission is to revive, invigorate and disseminate a global traditional musical heritage. It is a peer-to-peer teaching and learning experience aimed at promoting peace, tolerance, and understanding.
Official showcases kicked off in the ballrooms of the Westin Crown Center Hotel in the early evening. It took savvy planning to hit all of the must-see artists, which for me included Sierra Hull, Lilli Lewis, Kansas City-based Making Movies, California Guitar Trio, South for Winter, Stillhouse Junkies, Fellow Pynins, and Ensemble Iberica.
After the official shows, the "unofficial showcases" found us wandering from room to room until the wee hours of the morning. Sitting on folding chairs and beds or standing anywhere there was a space we enjoyed up-close performances by The Accidentals, Laura Cortese and the Dance Cards, Sawyer Fredericks, Clare Sands, John Smith, Dani Larkin, and Mark Erelli. Veteran attendees know you have to pace yourself if you want to find yourself immersed in the music of your new favorite artist at 2:30 a.m. It can be exhausting, but discovering those magic moments is why we attend Folk Alliance.
Special Moments
Roving around the hotel lobby, stairways, and connecting walkways led to informal sessions with a variety of musicians. One day I came upon Nashville-based songwriter Diana Jones, best known for her stirring song "We Believe You" and her influential 2013 album Museum of Appalachia Recordings. She was working on yet another song in the foyer.
FAI artist-in-residence and champion fiddle player Saskia Tomkins premiered a stirring video recounting the story of her grandfather, a Black American soldier who was forbidden by the U.S. government from marrying his white girlfriend. His daughter (Saskia's mother) was forced into two orphanages in England because of the little-known "Brown Babies" policy. The video also served as a reminder that there still remains many other oppressive policies, government or otherwise, that must be overcome.
Click on any photo below to view the gallery as a full-size slide show.
---