THROUGH THE LENS: Compass Records Points the Way for Roots Variety
Posted On February 2, 2021
---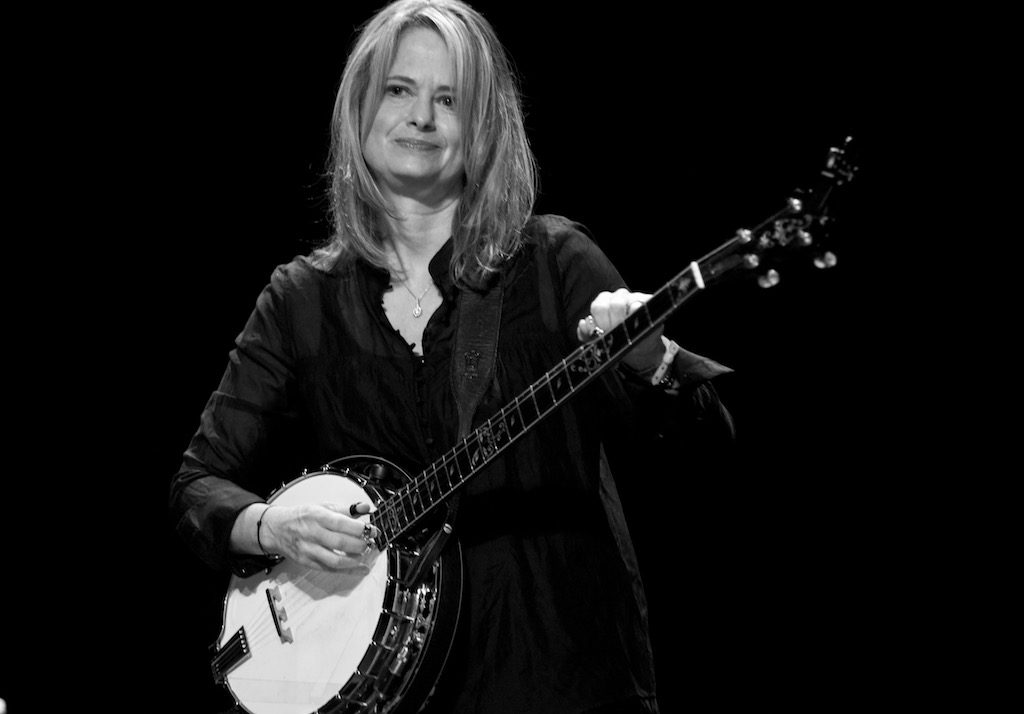 Alison Brown - Co-owner of Compass Records & IBMA Winner - Photo by Amos Perrine
Record labels matter, especially the independent ones. Independent labels invariably have a vision, a philosophy, you could even call it a personality. Think of the classic labels such as Chess, Blue Note, Vanguard, and Elektra, and consider where would we be today had they not recorded roots artists the way they did. I submit that record labels are part of the tradition, the part that ensures roots music is passed on to future generations.
In this day and age when self-production and streaming are all the rage, labels matter even more. They usually have more complete recording facilities, a distribution network, and the public relations skills that more directly get artists' music out to a discerning public. The almighty internet can be useful in looking for quality music, but it's way less complicated when you can rely on labels who share your values and your sensibilities, and are part of a community.
In the coming months the Through the Lens column will feature some independent roots labels and their artists that are a part of our community. This week I'm highlighting Compass Records Group.
The History of Compass Records
Owners Alison Brown and Garry West sketched the core concepts of Compass on a cocktail napkin in a Stockholm café, describing an environment that nurtured talent and created opportunities for the community of artists they saw around them. As the label began to take shape, they stuck with that vision, even while having to nimbly adapt to an ever-changing environment. 
Last year Compass celebrated its 25th anniversary. During that period it acquired several other independent labels, including Red House, Green Linnet, Mulligan, Celtophile, and Xenophile, and won multiple Grammys, IBMA Awards, Americana Music Association Honors, and other industry accolades along the way.
For more than half of Compass' lifetime, its office and studio has been on the edge of Nashville's renowned Music Row, the legendary "Hillbilly Central." Once known officially as Glaser Brothers Sound Studio, the building was the creative nerve center of Nashville's outlaw movement during the 1970s, where Waylon Jennings and others redefined country music, as well as John Hartford, Norman Blake, and other roots music mainstays.
Alison Brown and Garry West
West is a producer and bassist who worked with Delbert McClinton and Patty Loveless before co-founding Compass.  His recent production projects include Grammy winner Mike Farris' Silver & Stone, Cajun fiddle legend Michael Doucet's Lâcher Prise, and the jazz-blues group Davina and the Vagabonds' Sugar Drops. 
Before being a member of Alison Krauss' Union Station, Brown received a B.A. from Harvard University and an MBA from UCLA, spending several years in investment banking before making the jump into music. She released four albums on Vanguard through the 1990s, but her first album on Compass, 1998's Out of the Blue, didn't come until the label had been up and running for four years and had already released over 25 titles.
Brown has also delivered several keynote addresses before the annual IBMA's World of Bluegrass conference about the issues, economic and otherwise, facing the the genre. One of her passions is promoting women in bluegrass, most notably with The First Ladies of Bluegrass, a supergroup that features each of the first female winners of the awards in the IBMA's instrument categories: Brown, Molly Tuttle, Becky Buller, Missy Raines, and Sierra Hull. 
Hillbillies and Hot Dogs
One day each year Compass opens its doors for Hillbillies and Hot Dogs, an AmericaFest event that not only features the best hot dogs in town, but also provides six or so sets by its artists in the studio. It's also an informal time when you can chat with Brown, West, and the label's staff and artists about anything that's on your mind. Having attended it many times I can attest to the congeniality the Compass family extends to music fans. I've also had the good fortune to see many fine sets there, including IBMA Award winner Molly Tuttle and Americana golden boy Steve Poltz. It is a must during AmericanaFest.
Firm Footing
Compass has earned a reputation as an award-winning, full-service music company with an artist-centered focus and a global aesthetic for acoustic, folk, and roots-based musicians. The ability to also maintain its financial bearings made Compass the subject of an entrepreneurship case study at Harvard Business School. To be able to do both at once is an outstanding achievement.
To assist on the financial side, Compass has embraced the sale its recordings directly to music fans in a variety of formats: vinyl, CD, and high-quality and MP3 downloads. Its online store also offers books, No Depression print journals, and lots of merch, including a Banjo Cat Crosley turntable.
On the creative front, Compass continues to expand its artist roster, adding recent and upcoming releases from Dirk Powell, Sylvie Simmons, A.J. Croce, Karen Matheson, Elizabeth & The Catapult, Altan, and The Brother Brothers. The variety in its offerings demonstrates the label's commitment to the wide world of roots music and the diversity of its fans.  
Now, a few photos of Compass' many artists, including some from inside the Compass recording studio, and others from the Compass Records Showcase at MerleFest in 2017.
---