THROUGH THE LENS: Change in the Air at 60th Annual Philadelphia Folk Festival
Posted On August 30, 2022
---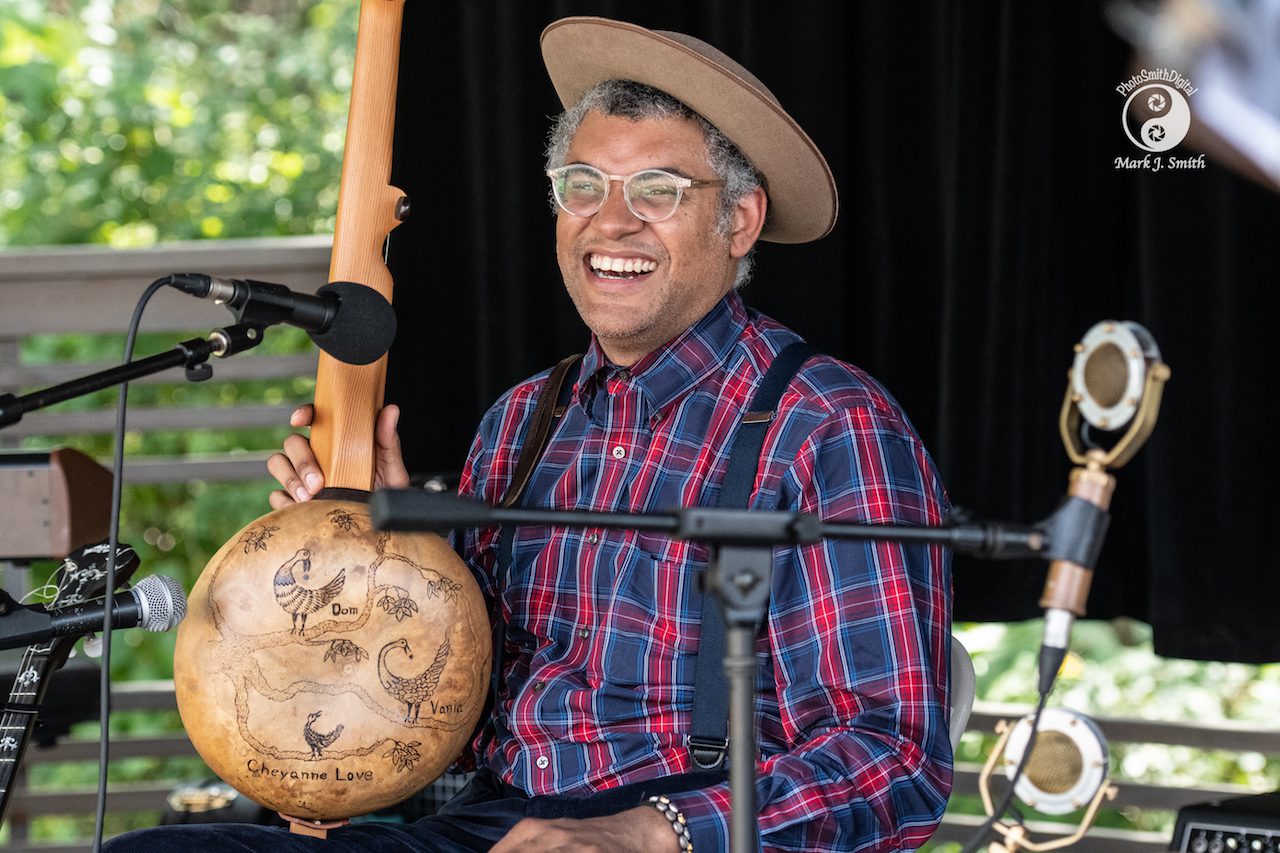 Dom Flemons - Philadelphia Folk Festival 2022 - Photo by Mark J. Smith
If it's late August, it means it's time for one of the oldest folk festivals going, the Philadelphia Folk Festival. It has a special place in my heart as it was the first festival I ever attended. My most indelible memory is lying on my back looking up into the star-filled night sky while Rosalie Sorrels performed "Rock Salt & Nails."
More recently, there has been a lot of chatter about the fest's viability in a world that's gone big-name festival crazy. With the increased costs and changing demographics, is there still room for a folk festival? 
Not only have the organizers had to deal with COVID, there have also been reports of the fest losing money, incurring debt, and selling assets. But last summer, the fest got $869,254 in COVID-19 relief money from the Shuttered Venue Operators Grant program. Certainly a welcomed cash infusion, but is it enough to stem the tide?
But those are questions for tomorrow. This week's column is a report on this year's fest from Mark J. Smith, who has attended many previous editions of the Philadelphia Folk Fest. His photos are featured in the gallery below, along with those of Eric Ring. Eric experienced a photographer's nightmare when the hard drive that contained most of his pics crashed, but luckily some survived. You can also check out frequent ND contributor Steve Ramm's videos taken during the fest on his YouTube channel.
Philadelphia Folk Festival 2022 by Mark J. Smith 
I had feeling of excitement as well as trepidation as I looked forward to the 60th annual Philadelphia Folk Festival because after two years of COVID-induced virtual festivals, we were, at last, going back live at the Old Pool Farm. 
I was also concerned about the changes brought about by negativity during the past two years aimed at The Philadelphia Folksong Society, the folks who along with 3,000 volunteers have run the fest ever since its inception. While David Bowie's "Changes" could be the theme for this year's fest, none of the alterations spoiled my enjoyment.
As the fest has seven stages spread out around the farm, there was plenty of activity, with workshops and music cultural presentations nonstop. The Martin Guitar Stage, the main stage, was my priority but not my only point of coverage. 
Friday, The Polish American String Band marched from the Camp Stage to the Martin stage (think Mummers Parade) to kick things off. Crys Matthews followed with what I call traditional folk music including social justice songs. We used to call them protest songs. She was marvelous.
Frigg, a band from Finland, hit the stage with what is referred to as Nordgrass, a great blending of the Nordic tradition with Americana. Not only were they fantastic, they also were a good example of the musical diversity that is a staple of this festival. There were more divergent sounds from Scotland's Talisk, with a concertina as the lead, and ADG7, who mix traditional Korean music with exuberant, upbeat pop sounds … excellent. 
Saturday night brought two hip-hop bands to the Martin stage. I was told that this was part of an effort for inclusion. A stretch for me, but I'm game. Both bands had the audience up and rocking and dancing and totally enjoying the music. Arrested Development played their collective hearts out while Michael Franti, the Saturday closer, put on an absolutely fantastic and entertaining performance. Franti is extremely crowd-centric; he had some audience members on stage and later went down a staircase into the audience. The place went wild. An incredible performance for sure. Not so sure it fit a "folk" festival, but it was loved by many.
The old guard was alive and well, often with sets with zippy titles, such as "Fabulous Folkies" (Tom Rush, Jim Kweskin, and Happy Traum); and "Folk Zinger" (Christine Lavin). To paraphrase Jim Lauderdale, that's what I call folk music.
Sunday always brings the Great Groove Band to the stage. Musicians ages 4 to 18 play a set after three days of practice together. It's always enjoyable and a big part of the vibe. Two of my favorites also played Sunday: Hiss Golden Messenger and Aoife O'Donovan not only had fabulous individual sets but then joined forces. 
Closing the Fest this year was The War and Treaty's combination of Southern soul, gospel, country, and rock and roll in a way that transmits nothing but pure love. Their incredible voices are still in my head. Wow!
See you all next year.
Click on any photo below to view the gallery as a full-size slideshow.
---