THROUGH THE LENS: Butterflies, Backyards, and a Busy AmericanaFest 2019
Posted On September 16, 2019
---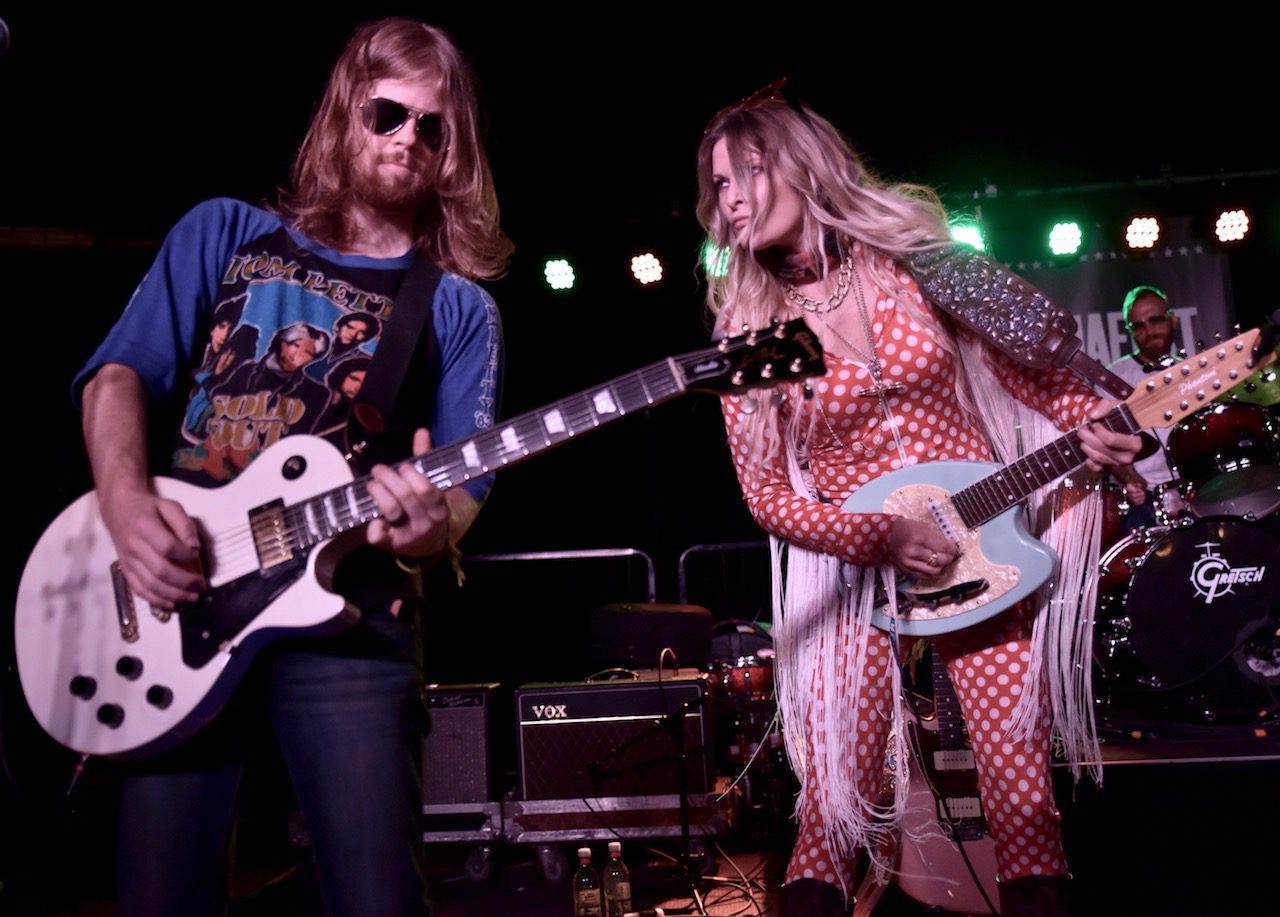 Elizabeth Cook & Andrew Leahey - AmericanaFest 2019 - Photo by Amos Perrine
"Jason Isbell told me, 'One thing you have to understand about about Amanda [Shires], she's a butterfly from outer space.'"
— Brandi Carlile at the Americana Music Honors & Awards Show 
While Amanda Shires was certainly the object of much admiration, she was not the only butterfly in Nashville last week. Amid the unseemly heat, the traffic, and the construction, along with some out-of-this-world music, the entire town seemed like a butterfly from outer space during this year's AmericanaFest.
It was also overwhelming if you looked at it as a whole. So, I did not try, and I will not attempt to present an overall picture here. What I will do instead is relay what invigorated me enough to stay out every night until 2 a.m., crash, and then begin the next day with coffee and a peanut butter sandwich before hitting the pavement again.
The Backyard Women: Molly Tuttle, Yola, Erin Rae 
These three women are not unlike many, many other young musicians in that they began their journey playing backyards, living rooms, front porches, open mic nights, anywhere they could. I first saw them in Nashville backyards years before they broke out, and I saw in them sparks that have now become fires. Each is different, but all are compelling. 
Even though I have seen Molly Tuttle several times this year, her showcase at the City Winery took her to even a higher level. I think by adding guitarist Anthony da Costa, she has found the band that fleshes out the sound she's been striving for. 
Yola was a powerhouse from the first time I saw her four years ago in the hot sun. She's harnessed that energy, like Tuttle, to not only make one of the best albums of the year, but to have have a commanding stage presence that surprises people. Even though at her showcase, and likely on the Luck Reunion riverboat cruise, folks knew what they were getting, she also played the Opry on Friday night to a rather unsuspecting audience. A friend who was there told me she blew that audience away.
Erin Rae is the consummate singer-songwriter, and has the extremely rare talent of making the intimate universal. Her subtlety perhaps escapes some folks, but those who listen closely may hear what I hear, the only person who's come close to what Joni Mitchell does. 
Showcases to Die For: Tami Neilson, Tanya Tucker, Orville Peck, Amythyst Kiah
I was ready for Tami Neilson. I'd been ready for several years to hear this dynamite songwriter-vocalist. She took the stage at the Cambia and never let go. Relying more on her R&B side, she ended that set with a cover of James Brown's "It's a Man's World," but added some twisty lyrics of her own that turned Brown's anthem on its head. She was also the highlight of the Doug Sahm show, and that's saying something with that all-star cast. In short, she tore it up from the floor up.  
What can you say about Tanya Tucker that has not already been said? I will not even try, save to say that her showcase at 3rd & Lindsley, where Brandi Carlile guested for over half the show, but never stole the spotlight, was not just her history of the past 50 years (she started performing when she was 9), but that of country music as well. It was the show of shows.
Orville Peck is a bird of a different color in his maroon Nudie suit and fringed black leather mask. My compatriot, Charlie Zaillian at Nashville Scene, perhaps says it best: "Peck's music combines plainspoken stories of love and loss, sung in a bottomless baritone, with gothy, 'gazey guitar sounds. Imagine Roy Orbison jamming with Joy Division, and you're getting close."
Missing Amythyst Kiah's set was my biggest regret, but fortunately my pal and fellow ND columnist Chris Griffy was there and provides us with his observations: "Because she's the most commercially successful, it's easy to think of Our Native Daughters as 'Rhiannon Giddens and Friends.' But it's no accident they kicked of the Americana awards with the Amythyst Kiah-sung 'Black Myself,' and anyone lucky enough to catch her set Friday at Station Inn got further confirmation that Kiah is no one's 'and Friends.' If you believe in reincarnation, Kiah may very well be the reincarnated soul of Rosetta Tharpe. Brash, bold, and electric, she wowed the audience, capped off by a two-song closer with Giddens and Allison Russell, who performed 'John Henry' and 'Black Myself' with her." Another friend told me that after the show, around midnight, he saw Kiah and Giddens jamming with Mark and Maggie O'Connor behind the Station Inn.
New Voices in Country: Kelsey Waldon, Martha Spencer, Sierra Ferrell
Though approaching country in three distinct manners, these three young women have three things in common. First, they harken back to the time before Billy Sherrill and Chet Atkins homogenized the "Nashville Sound." Second, they're from Appalachia — Kentucky, southwest Virginia, and West Virginia, respectively. Third, all embrace their accents.
Kelsey Waldon, with a new album coming out in a couple of weeks, made the most appearances during the week, and I caught her two full sets: John Prine's backyard on Tuesday and the official showcase after the awards show. 
I am so taken with Martha Spencer that I missed the first part of the awards show to catch her set at ACME Feed & Seed. The surprise was she had a full six-piece band. I felt as if I were 12 again at the Opry.
Sierra Ferrell, who just signed with Rounder, is the butterfly from outer space of this group. At Clifftop this year, to paraphrase Dylan, I danced with her beneath the diamond sky with one hand waving free. Her songs are as incisive as they are magical.
Special Events: Dee's Country Cocktail Lounge and The Doug Sahm Tribute
Dee's — Friday I got out of town and landed at Dee's in Madison, a short drive from Nashville. While The Wild Ponies' Happy Hour, featuring Della Mae, was on the app, I stayed for the whole night. While Dee's is certainly a throwback, it's not a dive. It was fun seeing AmericanaFest-ers mixing it up with locals, especially with the Ponies and Della Mae. But the festers all left way too soon, as the best was yet to come.
The California Shake Up, as its name implies, featured Californians who were in town for the week demonstrating that they can keep up with Nashvillians. My standouts were Emily Zuzik, who once fronted the alt-country band Sexfresh; Morrison & Company, whose smokey trips into into noir land completely seduced me; and Dee White, who made me regret missing his showcase.
On Friday the 13ths for some time now, D. Striker — in full '70s country persona — has fronted a ragtag group of crack musicians and regaled audiences with a sardonic look at country music. As he opined, "Getting older ain't easy. Right before I turned 44, I lost a tooth, lost a job, and wrecked my car. So I wrote a song about it called '44.' I'm 45 now. I'm not sure I can really go around singing about being '44' anymore, although I'm sure I will, at least for a little while." 
Closing out the night were two West Virginians: Annie Neeley, who when she lived there was known as the East Nashville Emmylou Harris, and Hello June, a duo featuring Sarah Rudy, who played the most intriguing guitar I heard all week — and that's saying something for a town full of great guitarists. Backing each other up during their sets, it was worth staying up till 2 a.m. to see both Neeley and Hello June. However, I passed on the trip to Two Boots Pizza.
Doug Sahm — This all-star tribute to an unsung originator of what we call Americana lit up the usually formal Country Music Hall of Fame venue like no one I have ever seen. As Sahm is a centerpiece of the current Outlaws & Armadillos exhibit at the museum, he was a natural choice. Led by his son Shawn and featuring Rodney Crowell, Charlie Sexton, Delbert McClinton, Kelly Willis, Kimmie Rhodes, and Tami Neilson, the show, complete with stories and songs, was more than a tribute; it embodied Sahm's music and life. 
Most Compelling Moment of the Week 
Even though I have heard the song "Wayfaring Stranger" perhaps more than any other song in my life, when Rhiannon Giddens and Francesco Turrisi did it during the awards show at the Ryman Auditorium, I felt it as never before. I was lost afterwards, I did not know where, or who, I was.
The Home Run Pinch Hitter Award 
When the Quaker City Night Hawks drummer had an onstage meltdown during the Big Velvet Revue on Wednesday night, the band's Thursday night showcase at the Cannery was cancelled. When I got the notification of the substitution I dropped my other plans and hightailed it over. Elizabeth Cook and her band, especially guitarist Andrew Leahey, hit it out of the park.
Many thanks to my fellow photographers who share their photos with us, Brenda Rosser, Chris Griffy, Aaron Caleb Fishbein, and Jim Cline. 
---