THROUGH THE LENS: Buddy Guy, Tanya Trotter, and Other Photos of the Week
Posted On November 18, 2019
---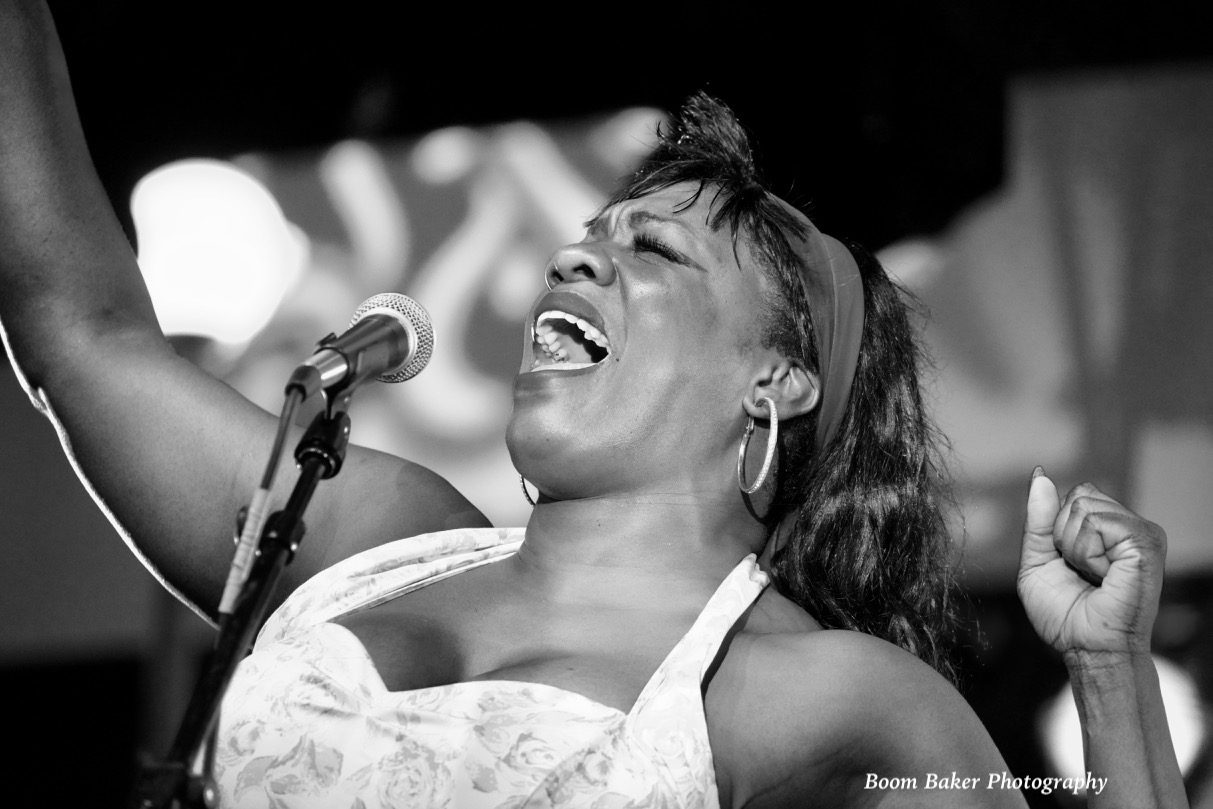 Tanya Trotter of The War and Treaty - Photo by Boom Baker
The work of ten ND photographers (identified below) are being featured this week.  The artists include some familiar faces, some significant artists who have not been featured in the column before, and lesser known folks who are highly deserving of your attention. But they all have one thing in common: Photos of them performing are stunning.
Soulful Sounds: Tanya Trotter, India Arie, and Imelda May
Is there any doubt that the gospel-infused R&B of The War and Treaty is exactly what the bruised souls of people everywhere need right now? Boom Baker's film-like photo of Tanya Trotter, with its gorgeous flesh tones, succinctly captures the essence of their live performances. Photos like this is what we photographers live for.
Wearing a top with the title of her single, "Worthy," from earlier this year, on it, India Arie's regal nature is revealed in Peter Dervin's photo, coming to us like a warm breeze in this chilly November. While she has won four Grammys in the R&B/urban categories, her most recent work is more acoustic in nature, but still retains the sweeping vocals she's known for.
It is a crime that Imelda May is not better known in the US. While Celtic soul is the basis of her sound, this Irish artist can effortlessly transition from gospel to sultry to even a tinge of country during a performance as well as on record. Steve Ford's photo nicely captures the rapturous joy she demonstrates during a live performance. 
Jimi Hendrix and the Blues
Nearly 50 years after his passing, Jimi Hendrix continues to resonate with music lovers everywhere. So much so that there's been a live touring show for several years called Experience Hendrix. While the cast varies from tour to tour, the highlight this time was Buddy Guy. Peter Dervin captured him in one of his signature polka-dot shirts.
Jim Gavenus attended Pennsylvania's Briggs Farm Blues Festival, which features many lesser-known artists who are revitalizing the tradition. Notably, a son and a grandson of two legends: Junior Kimbrough and R.L. Burnside, respectively.  
Also at the festival was Robert Kimbrough Sr., whose self-described "Cotton Patch Soul Blues from North Mississippi" won him album of the year at this year's AMG Heritage Awards held in North Carolina. 
Living near where his grandfather did, Cedric Burnside is not so much throwing back to the Mississippi Hill Country tradition of his family as he is shining a light on it. He's demonstrating that, as B.B. King often said, "the blues are alive and well."
Men do not own the blues, and Samantha Fish is a perfect reminder of that. She's as electrifying as they come, a constant swirling body of motion on stage. Peter caught her playing the cigar box guitar to perfection. 
The Solitude of the Singer-Songwriter
This singular sort of artist often appears on stage alone, their persona on wide display, no band to hide any weaknesses in their songs.
Peter Dervin captures that starkness in his photo of the unparalleled Richard Thompson.  I am reminded that some years back Paste magazine hilariously and ineptly identified Thompson down at No. 63 in its list of 100 greatest living songwriters. We know better.
Boom Baker also caught Tom Russell, whose singular presence constantly rages against the machine as typified in such songs as "Who's Gonna Build Your Wall?" The great line in that song is while there are fundamentalist religious people around the world being negatively portrayed, what scares him the most is: "A white man in a golf shirt / With a cell phone in his ear." Written in 2006, it's even more frightening today.
Allison Moorer is currently on both a book and music tour, sometimes combining the two. Brenda Rosser caught that combination in Atlanta's intimate Eddie's Attic. The juxtaposition of Moorer's introspective songs and reading her memoir about the deaths of her parents is a one-of-a-kind experience that one does not often find outside the roots world. 
Both C. Elliott and Aaron Caleb Fishbein caught Daughter of Swords (Alexandra Sauser-Monnig of Mountain Man) as the portrait of a young artist on the breathy, emotional side, sensitive to her North Carolina roots. How much better can you get than in the poetic lyrics of "Gem:" "I miss you over me, rain falling, soft and warm in bed." 
Many thanks to the above-noted photographers as well as Larry John Fowler, Mark J. Smith, and Steve Mack, whose photos are also featured below. There are also photos of artists not highlighted above.  
---