THROUGH THE LENS: Black Women Rule 2021 Americana Honors & Awards Nominations
---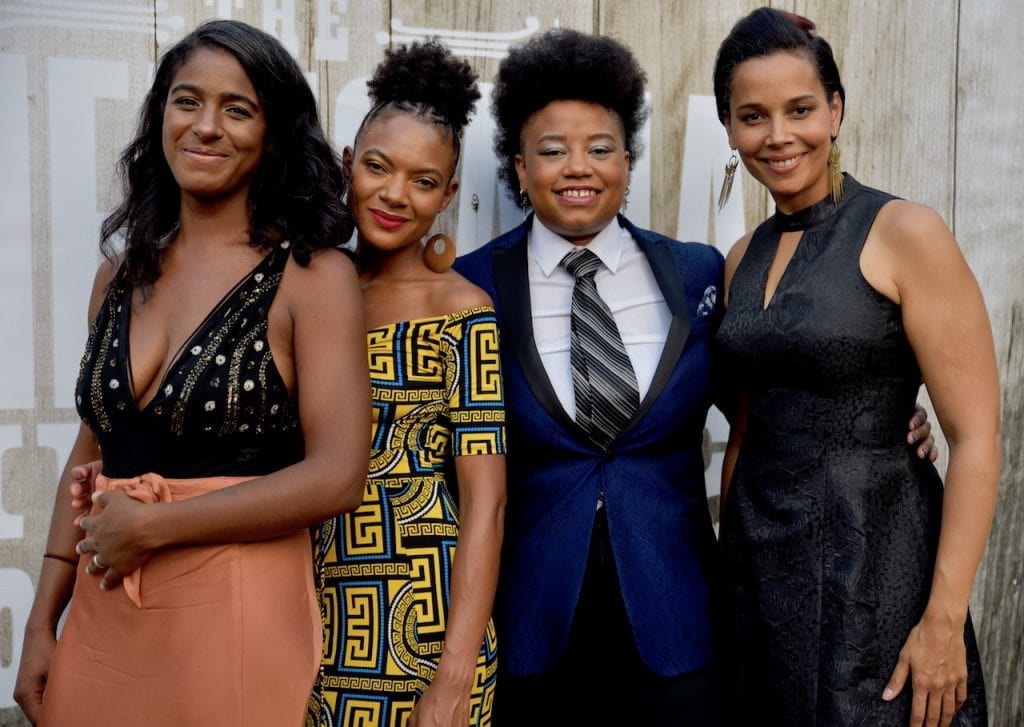 Our Native Daughters - Americana Honors & Awards 2021 Nominee for Duo/Group - Photo by Amos Perrine
The Americana Honors & Awards nomination process must have been especially difficult this  year, as the Americana Music Association's 3,000 members (of which I am one) had to consider projects released during the usual eligibility period — April 1 through March 31 — of a most unusual year. While there were quite a lot of outstanding records released, there were practically no live in-person performances during those COVID-19-ravaged twelve months. It's never been said in so many words, but having been around Americana music, AMA members, and fans, it is my considered assessment that the awards' recipients are generally backed by their live performance track record. After all, only two of the six award categories are for recorded music.
Even a cursory glance at this year's nominations reflects not only the diversity of Americana music but also its quality, augmented by four primary factors: 1) the release of critically acclaimed music; 2) online performances; 3) awareness by AMA members of who's making substantial contributions to Americana music; and 4) name recognition, which always plays a role.
While many of the usual suspects, e.g., Jason Isbell, Margo Price, Steve Earle, The Highwomen, Brandi Carlile, John Prine, and Sturgill Simpson got nominations, below are a few quick thoughts on what is an extraordinary slate for 2021.
Black Women Make Their Presence Felt
A definite highlight in this year's list of nominees is the presence of Black women. Nine of the 30 nominations went to Black women.
While Our Native Daughters has again been nominated (Duo/Group), two of its members, Amythyst Kiah and Allison Russell, have been nominated for individual awards in the Emerging Act category, with Kiah also getting a nod for Song of the Year with "Black Myself." Both have new albums for 2021, but Russell's was released May 21 and Kiah's comes out June 18, both after the March 31 eligibility cutoff.
While Valerie June's two nominations (Album of the Year and, with Carla Thomas, Song of the Year) and Tanya Blount's as part of The War and Treaty (Duo/Group) came as no surprise, Arizona's Joy Oladokun's nod for Emerging Act to some may seem to have come out of left field. However, I think it best demonstrates how aware the Association's members are of deserving talent outside the confines of major metropolitan locations. This nomination will definitely give her Oladokun's June 4 major label debut album, In Defense of My Own Happiness, a major boost.
Closer to home, drummer Megan Coleman, known for adding electronic beats to her old-school percussion and a vital member of the Nashville music community for more than 15 years, got a nomination for Instrumentalist of the Year. Most recently she's played drums for country artist Lucie Silvas. She also gained notable attention when she set the beat for Yola's "Grammy Salute to Music Legends" 2020 performance at the Ryman, playing Sister Rosetta Tharpe's "Up Above My Head" as part of a session-musician supergroup that also included Rhiannon Giddens and Laurie Anderson.
Some Surprises
Two Artist of the Year nominees were somewhat surprising as neither has won an AMA award before. First, there's Kathleen Edwards, who, after several well-received albums and a dedicated fan base, took a break from music in 2014 to open a coffee house. Last August her album Total Freedom was released with great fanfare. This may have been the Association's way of saying it's good to have her back. Second, Grammy and IBMA award winner Billy Strings lost the Association's Emerging Act award in 2020, but I think members felt his brilliance during the past few years and feel he needs to be more fully recognized.
While not a surprise exactly, Black Pumas made the jump from winning the Emerging Act award last year to being  nominated for Duo/Group of the Year this year. But that category does have one surprise: With basically only the release of the multi-disc Boots No. 2: The Lost Songs project during the eligibility period, Gillian Welch and David Rawlings garnered a nomination in that same category. My feeling is that this duo is so beloved by the Association's members and breadth of backlogged material was so outstanding that they just had to be nominated. 
For a complete list of this year's nominations, see Stacy Chandler's article. 
Now, the photos. Click on any photo below to view the gallery as a full-size slide show.
---