THROUGH THE LENS: Australia's Byron Bay Bluesfest Celebrates Its 30th Anniversary
---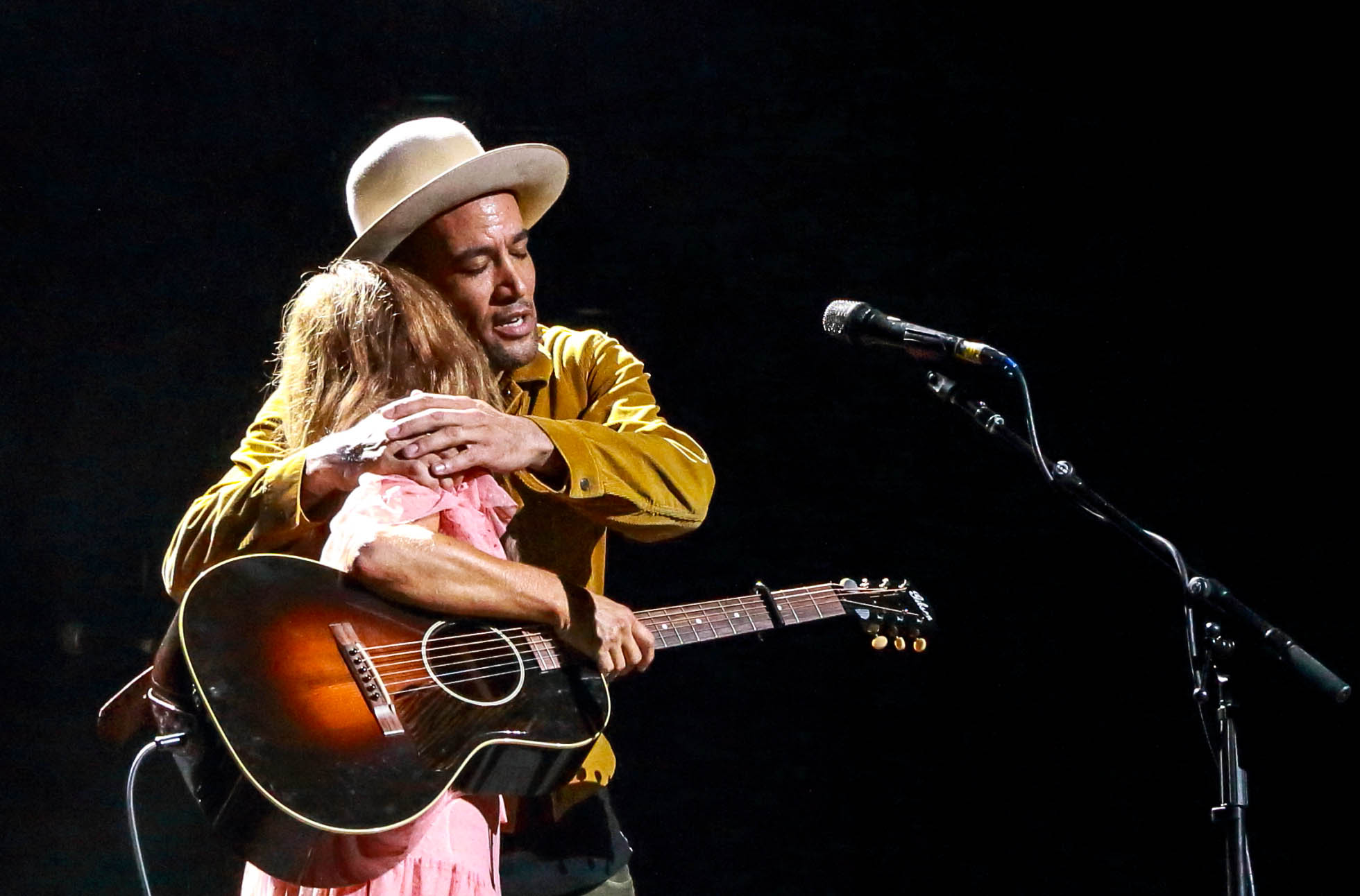 Ben Harper and Kasey Chambers - Byron Bay Bluesfest 2019 - Photo by Steve Ford
While New Orleans was preparing for the 50th anniversary of its Jazz & Heritage Festival, Australia's leading roots music fest celebrated its own major landmark. A humble but daring experiment took place in Australia, near Byron Bay (about two hours south of Brisbane by car) back in 1990. Initially, it attracted a total audience of 6,000, but Bluesfest has evolved into one of the world's leading roots music gatherings, and today's numbers tell the story of both its growth and stature: Five stages, five days, over 200 performances, a total audience of more than 100,000.
Long-time Australian No Depression contributor Steve Ford was there to cover Bluesfest for the Through The Lens column. His words are below, and he also took some fabulous photos you can view in the gallery.
Ben Harper, Kasey Chambers, and Mavis Staples
Ben Harper is the most popular of Bluesfest's regular headliners. He and the festival have been good to one another. An immediate hit in 1996, his brand of indie folk-rock helped propel the niche blues festival into a wide-ranging roots music event, and the fest made him a star in Australia. This was Harper's 11th Bluesfest.
The woman receiving Harper's embrace in the lead photo is Kasey Chambers. As much as any one person can, Chambers personifies the festival. In her first appearance, in 1998, she sang backup for Buddy and Julie Miller. The following year she was on the bill in her own right. It was her first major solo appearance, and a huge stepping stone to a stellar career. She's also an international artist of note. I'm told that every one of her showcases during numerous AmericanaFests in Nashville have been packed. Chambers has now logged 22 consecutive Bluesfests. In the years she wasn't booked to play, she has always been in the audience.
The picture above shows Harper joining Chambers to sing "Another Lonely Day," a Harper song recorded by Chambers as an early B-side. "That's a sad song," she said, "But I've never felt happier in my life."
If Bluesfest has a queen, it's the ageless Mavis Staples. She and her band are longtime regulars, revered by fans and fellow musicians alike. In past years she has been joined on stage by the likes of Bonnie Raitt and Elvis Costello. As fate would have it, Staples' new album We Get By – to be released later this month – was written and produced by Harper. "I don't usually get nervous," she said, when Harper appeared from the wings, "But I'm shaking like a leaf."
From Iggy Pop to I'm With Her
This was my 20th Bluesfest. I love the location, the vibe, the camaraderie, but most of all it's about the music. I love the breadth and depth of the music, and the chance to see old favorites alongside the new and unknown. Where else can you experience the exquisite harmonies of I'm With Her and punk legend Iggy Pop on the same stage on the same day?
ND readers don't need to be told that I'm With Her — Aoife O'Donovan, Sara Watkins, and Sarah Jarosz — is a genuine supergroup. As much as I love everything they do, it was the full-throated harmonies of the bluegrass segment of their show that put a huge smile on my face. Thankfully, their three festival sets were scheduled early in the day, where they played to attentive audiences. (Some of the best Bluesfest performances over years have been afternoon shows, including Tuck and Patti, the late Terry Callier and — unforgettably — Iris Dement.  Add I'm With Her to that list of memories.)
I missed out on the punk gene and was never a big Stooges fan, but Iggy Pop (who turned 72 during the festival) is an electrifying presence. Bursting onto the stage singing the appropriately titled "Raw Power," he lit up the Crossroads stage.
A real festival highlight for me was Ireland's Imelda May. Her sole previous Bluesfest was in 2008, where she played a fiery brand of neo-rockabilly. Her excellent self-penned 2017 album, Life Love Flesh Blood, recorded in LA with T Bone Burnett, took her in a new direction. Performed live, these soulful rockers and ballads took on an added dimension. It was a stunning show.
Anderson East was the biggest and most pleasant surprise for me. I knew next to nothing about him and entirely missed 2015's Dave Cobb-produced Delilah and last year's Encore. East and band flew out exclusively for their Bluesfest appearances and that was enough to make me curious. Expecting an introspective singer-songwriter, I was treated to extremely polished country-soul, delivered by a charismatic young performer. Like Imelda May, he uses all the stage and all the emotions. (And like Samantha Fish, East is the same age as Bluesfest!)
Lukas Nelson, Vintage Trouble, and St. Paul and the Broken Bones
Lukas Nelson, Vintage Trouble, and St. Paul and the Broken Bones all debuted in 2016 (the best Bluesfest ever) and each made their third trip to Bluesfest in 2019.
Nelson, who had a breakthrough year with the success of A Star Is Born, has become a firm favorite at Byron Bay. He's no clone of his famous dad — Lukas plays different music and he's way better looking — but he can sound eerily like Willie when he sings a slow one. The picture of Lukas Nelson with acoustic guitar in hand was taken during an onstage radio interview, with Lukas singing "Turn Off The News." (The Gibson guitar bears Willie's autograph. Apparently once while Lukas was visiting, Willie mistook his guitar for one intended for a charity auction!)
The flamboyant Paul Janeway of St. Paul and the Broken Bones and the acrobatic Ty Taylor of Vintage Trouble are riveting frontmen in very different ways. Janeway looks like a nerd dressed by Bjork and sounds like Otis Redding. It works. Taylor is a sharp-dressed cool rocker with some of the best moves. (Both, it should be said, are a photographer's dream.)
The Blues and More
I've lost count of the times I've seen Texan Ruthie Foster and the impossibly youthful Keb' Mo', but I'd walk over hot coals to see either. Foster can sustain a high note like nobody else, but she is not one for cheap histrionics and mostly gets into an easy groove. So too does Keb' Mo'. My wife says his voice is "like your favorite pair of slippers" and I think he'd take that as the intended compliment.
Sassy blues-rocker Samantha Fish, from Kansas City, is a seasoned performer at 30 years of age. Her multiple sets were all crowded and I'm sure she'll be back. (One of my female colleagues said "I can't even wear stilettos, let alone run around stage on them!")
Baby-faced Marcus King, out of Greenville, South Carolina , is another blues-rocker destined for repeat trips Down Under. At 23, he has been on stage since his early teens. His final set ended with an extended "Papa Was A Rolling Stone," followed by Black Sabbath's "War Pigs." What a way to win a crowd.
A friend had raved about The War and Treaty, whom he caught at JazzFest last year, so I was prepared for something special — and I got it. The War and Treaty, Iraq vet Michael Trotter and his wife Tanya, have gorgeous, soaring voices and they create an intoxicating, joyous, freewheeling gospel/soul stew.
Little Steven and The Disciples of Soul looked the goods — 14 people on stage, including three backup vocalists and a horn section. They played a spectacular two-hour show on opening night, which may have been an hour too long. Just my view, but the material lacked enough substance and variety for a full-length concert.
Rapper Dallas Woods, an Aboriginal man from Australia's remote northwest, is one of many Indigenous performers at Bluesfest, which contains Boomerang — a festival within a festival for Australian and Pacific First Nations people. Woods and fellow rapper Baker Boy were greeted like rock stars.
Norah Jones and Ray LaMontagne may have been out of place in the festival setting. Both need the intimacy of a seated, concert hall audience.
Bluesfest is a five-day high and, like all festival tragics, I never want it to end. As I write this, my wife is downstairs playing Lukas Nelson and Anderson East tracks on YouTube for some visiting friends. She has the sound turned up real loud.
---