THROUGH THE LENS: A Fond Look Back at AmericanaFest 2022
Posted On September 20, 2022
---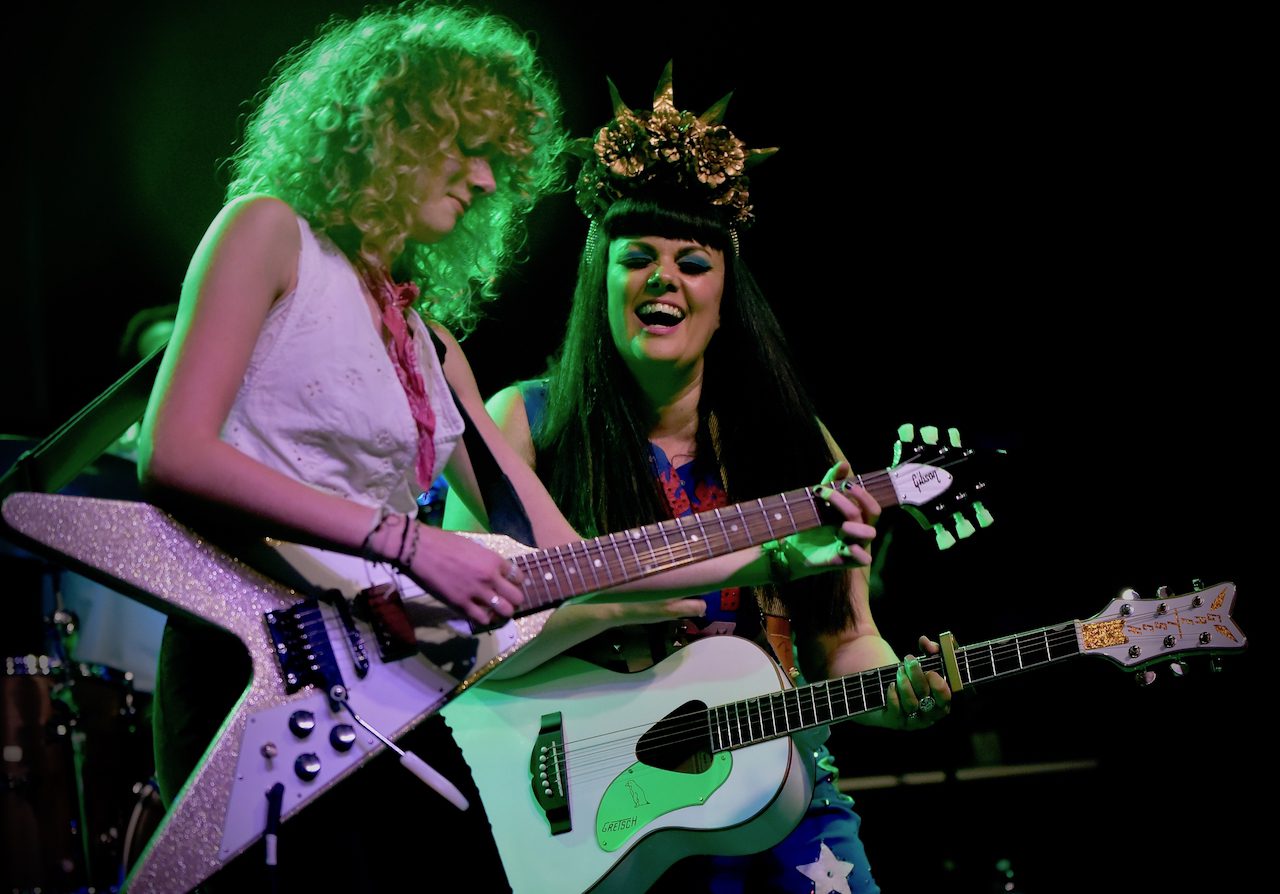 Tami Neilson & Grace Bowers - AmericanaFest 2022 - Photo by Amos Perrine
As this year's AmericanaFest was being held across so many far-flung venues in and around a Nashville that old-timers would not recognize, I decided early on to be happy in my adventure. I'd select showcases and events off the beaten path, the ones I sensed would more likely reveal the hidden gems of roots music. That's what I told myself, but really it's a combination of crapshoot and serendipity, and as there is so much talent in Nashville you are bound to discover someone amazing no matter where you go.
Once I learned that two other ND folks would be there, Chris Griffy (Crowdfunding Radar columnist) and Sonja Nelson (advertising manager), I enlisted their assistance in covering this monster of a fest. Together, I think we covered a lot of bases. Many thanks to them.
The Awards
This was the year that the Americana Music Association's 3,000+ members (of which I am one) caught up with what is really going on in roots music. Of the six awards, four went to women artists, and another to The War & Treaty, in which a woman is one-half of the duo.
A highlight among the performances was Allison Russell's "You Are Not Alone"; she was joined by two more of the evening's award winners: Brandi Carlile and Larissa Maestro. The fact that the musicians on stage for Russell's song were all women, most of them Black, was not lost on many in the audience. After one man (white) sitting close to me voiced that observation in a bewildered, if not somewhat belligerent, manner, I queried, "I wonder if there are similar comments about all-white male groups?" The night was a moment too long in coming. The full list of winners, along with red carpet photos, can be found here.
The TAMI Show
In 1964 there was a performance (and film) known as the T.A.M.I. Show that featured performances by James Brown, The Supremes, The Miracles, The Rolling Stones, and others that pretty much summed up the state of popular music at the time. By way of Dolly Parton and Aretha Franklin, the same can be said on the roots side for the Tami Neilson show that closed down this year's AmericanaFest.
As she performed the entire Kingmaker album (ND story) at the historic Exit/In, Neilson took no prisoners among the music industry patriarchy but also made the most invigorating music of the fest. As guest Henry Wagons did Willie Nelson's part on the hauntingly beautiful "Beyond the Stars," everyone around me agreed that this was the showcase of the week. It should be noted that 16-year-old Nashvillian Grace Bowers continuously shredded her guitar during the set. Certainly a name to watch.
Afternoons at the Groove
One spot I came back to a lot was The Groove record store in East Nashville, with a nice backyard perfect for live music.
Mule Kick & Devious Planet's Rock-n-Roll Brunch: While Andrew Leahey, Freedy Johnston, and The HawtThorns were the draws here, my highlight discoveries were Bette Smith and Michelle Malone. Drawing upon her raising in the Bed-Stuy section of Brooklyn, Smith, in both her delivery and attire, brought home to me the fabulous Philly sound of the '70s, but in a non-retro way. I had heard a lot about Malone, and it was all true: a mixture of folk and blues that's like a winding river, ebbing and flowing, every note an adventure.   
Andy's AmericanaMitzvah: As he did last year, host/organizer Andy Rubin brought out the best of East Nashville's underground. No one else could coax Will Kimbrough (his only appearance during the week) to come out, plus Amelia White, Jon Byrd + Paul Niehaus, and Crys Matthews. This year, in addition to Hello June's Velvet Underground-like set when they were in a more contemplative mood, my favs were Lilli Lewis, and the joint pairing of Van Plating and liv. 
With just a guitar and a keyboard, Lewis brought her New Orleans folk-rock sound to town during her showcase, but this set was more mellow. Plating may come from the indie rock world but she uses that pedigree to make her own brand of renegade country. As if serving as a counterpoint, New York State's Hudson Valley-native liv.'s savory melodies and dreamy vocals were a welcome antidote to the usual ragtag sounds of the city.
Queer Roots: The two LGBTQ+ artists I most wanted to see in this lineup were Cindy Emch (Secret Emchy Society) and Mya Byrne. One could describe Emch as if Nick Cave had grown up in Bakersfield with a dynamic swagger that could part the Red Sea. Last year Byrne was one of the first two trans women artists to play AmericanaFest, and earlier this year she was one of the Nashville Scene's country music's artists to watch. She mixes countrypolitan and glam pop into an intoxicating cocktail. I wanted more.
AmericanaFest 2022: Going Home
by Sonja Nelson 
When I moved to Nashville in 2001, the Americana Music Association Honors & Awards were held at the downtown Hilton, the streets rolled up at night, Johnny and June were still alive, and you could park on Broadway in front of Robert's Western World to catch a quick set from BR549. Since I moved to Seattle in 2013, Nashville and AmericanaFest have both grown exponentially, the former busting at the seams but the latter still feeling like a rowdy family reunion. 
I brought my Generation Z daughter out with me this year, to visit her place of birth and hear the music she was raised on, live and in person. We were NOT disappointed. It's hard to participate in the festival without reliable transportation, so I planned our days based on geography, not artists. When we found ourselves way out in East Nashville, we simply used the AmericanaFest app to find the closest venue to pop in and catch whatever band/artist happened to be playing. That is the beauty of this fest, the music and vibe are always so good.
Most memorable moment: JP Harris' tribute to Luke Bell, singing "The Bullfighter" at the Honors & Awards show. The sting of losing Bell to suicide last month was still present on that Wednesday night. Harris also implored the rapt audience to keep an eye on their friends as the mental health crisis reaches epic proportions.
Wow factor: Hank Williams Jr. backed by The Black Keys at The First Annual East Nashville Community Fish Fry hosted by Luck Presents in partnership with Spotify and Easy Eye Sound. Sure, that's a mouthful to say, but this was a HOT ticket to get. We walked into the event, catching Nikki Lane getting a tattoo from local artist Kyle Frary and James Beard Award-winning chef Sean Brock slinging wood-fired pizzas. Lukas Nelson was chasing a dog around and Kid Rock held court in the corner. It was NUTS, but in the best way possible. I had a "fan girl" moment when Sierra Ferrell grabbed me to join a photo of us wearing cheetah prints outfits. Gen Z daughter had a good time!
Do-not-miss venue: The Eastside Bowl, brainchild of owners Chark Kinsolving and Jamie Rubin, is what dreams are made of. The retro look of the bowling alley, arcade, bar, and Chark's Laneside Diner left no detail undone. Gen Z daughter rated it 10/10.
Pinch-me moment: The Deslondes at the 5 Spot. Riley Downing's distinctive baritone welcomed me to the darling of East Nashville, where beer was flowing, sweat was dripping, and pants were literally being danced off. This five-piece band from New Orleans came to play. Save for this current tour, they have not performed much in the past five years, so the crowd's energy was definitely warranted. The raucous tunes elicited the dancing, and the slow storytellers brought the pin-drop vibe. When it was over, no one wanted leave.  Now that's that mark of a great show.
Dee's Country Cocktail Lounge
by Chris Griffy
With the loss of the Cannery Complex this year to yet another non-musical developer in "Music City," the Association has had to rely on the other venues to carry the weight. Dee's Country Cocktail Lounge in Madison has certainly stepped up as a place that can host smaller events in an intimate space that doesn't sacrifice sound for comfort.
8th Fire Sessions by Ishkōdé Records: The event focused on Indigenous artists, highlighting the true roots of roots music, telling the tales of residential schools and systemic racism in Canada and America. The event starred Ishkōdé artists Amanda Rheaume, Digging Roots, and guitar phenom Aysanabee, as well as Evan Redsky. Indigenous artists have been the "final frontier" for Americana's move toward inclusiveness, and all of these artists proved that they brought plenty of entertainment to back up their message.
"Get Fried" Friday Fish Fry: These "unofficial" events are a great chance to see some local artists outside the Association's showcase confines. The highlight of the day was Anana Kaye, along with set partner Irakli Gabriel, hitting on songs from her solo career as well as her collaboration with David Olney just before he passed away, Whispers and Sighs.
Many thanks to my fellow photographers: Chris Griffy, Jill Kettles, Jean Van Devanter White, Alan Perry, and Sonja Nelson. I guarantee that you will not find a more complete set of AmericanaFest 2022 photos anywhere.
Click on any photo below to view the gallery as a full-size slideshow. 
---