THROUGH THE LENS: A Look Ahead to MerleFest 2021
Posted On September 13, 2021
---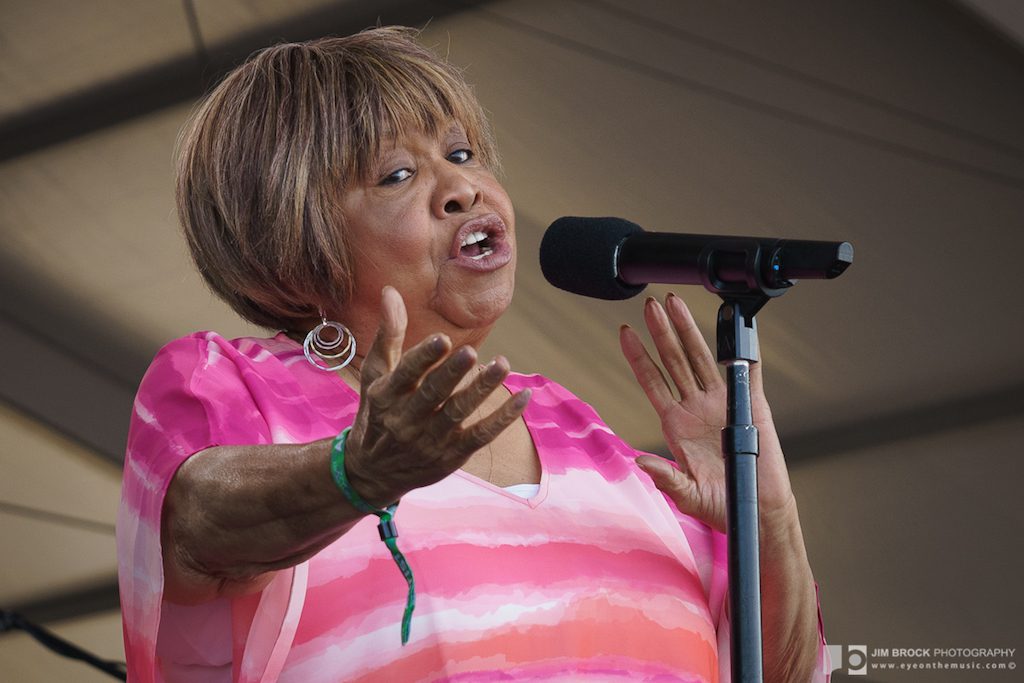 Mavis Staples - Newport Jazz Festival 2021 - Photo by Jim Brock
Canceled last year, then postponed from its traditional late April date to mid-September this year, MerleFest arrives this Thursday. But it's not quite business as usual for the Wilkesboro, North Carolina, megafest. For the safety of attendees, volunteers, staff, and performers, MerleFest has instituted a rigorous safety protocol. Attendees must abide by what seems to have become the standard position for festivals and large gatherings: proof of vaccination or a negative test within the previous 72 hours. Full information can be found here.
As some performers have canceled, attendees should download the app and check it consistently for any changes to the schedule, as well as for the latest safety measures. From all appearances, and based on my 20-year history attending the festival, the organizers are doing everything possible to ensure the show goes on … safely.
More Diversity in the Lineup
Over its many successful years since 1988, MerleFest has presented a significant amount of wonderful roots music to its many devoted fans, but the lack of Black and LGBTQ+ musicians has been noted by many, both inside and outside the MerleFest family.
However that changes this year. The inclusion of headliners Mavis Staples and Melissa Etheridge, along with other performers — such as Amythyst Kiah, Yasmin Williams, Brittney Spencer, Eli Yacinthe, Gangstagrass, Sarah Shook, Joe Troop (of Che Apalache), Piedmont Bluz, and Rev. Robert Jones — demonstrates that the festival is embracing diversity while remaining true to its roots.
As I've said all along, you don't have to go looking for diversity, it's been there all along. All you have to do is widen your gaze a bit.
Roots Artists Not to Miss
In this year's preview of must-see acts at MerleFest, my focus is not on the big names playing the Watson Stage after 5 p.m., but rather on those who have never played the fest before and, thus, may not be that well known by MerleFest regulars and musicians who have played the fest before, but deserve wider attention. In addition to the artists noted above, here are specific ones I am excited to see, in chronological order. 
The Barefoot Movement – While they can take tunes from Jimi Hendrix to The Beach Boys and make them seem part of the tradition, they remain knee deep in that tradition with their own songs and playing. Thursday: 8:15 p.m., Cabin Stage. Friday: 12:45 p.m., Walker Center; 1:30 p.m., Creekside Stage; 7:15 p.m., Dance Stage.
Sierra Ferrell – See what the buzz is all about. Ferrell will be performing songs from her highly acclaimed album, Long Time Coming, released last month. You'll be as enchanted as I am. Friday: 12:40 p.m., Watson Stage; 3:15 p.m., Walker Center.
Amythyst Kiah – Perhaps the most fiery of the four Our Native Daughters, the lifelong resident of East Tennessee can fuse old-time material with indie rock in a way that soothes your soul. Friday: 12:45 p.m., Americana Stage; 3:30 p.m., Austin Stage; 7:50 p.m., Cabin Stage.
Joe Troop – After leaving the US for Argentina, where he formed the internationally acclaimed bluegrass band Che Apalache, the North Carolina native returns home to play the festival founded by his hero, Doc Watson. Troop has just released a new solo album, Borrowed Time, full of songs inspired by time he spent with migrant workers and labor organizers. Friday: 1:15 p.m., Dance Stage; 5:30 p.m., Creekside Stage.
Robbie Fulks – With a dozen or so records under his belt, Fulks remains a cult-like figure, effortlessly blending bluegrass and country with a subversive, insightful grin. Friday: 2 p.m., Walker Center; 4:45 p.m., Cabin Stage.
Jody Carroll – Carroll does not play the blues so much as he inhabits them, with a definite Americana tinge. His dark and haunting tales embody roots music to its fullest. Friday: 2:45 p.m., Cabin Stage. Saturday: 2:50 p.m., Austin Stage. Sunday: 11:30 a.m., Americana Stage.
Bill and the Belles – The Johnson City, Tennessee-based group plays a wonderful mix of old-time, bluegrass, and swing, primarily focused on the sounds of pre-war American music. Friday: 3 p.m., Creekside Stage; 6:15 p.m., Traditional Stage.
Hogslop String Band – This Nashville-based old-timey band is the re-incarnation of the Soggy Bottom Boys of O Brother, Where Art Thou? fame. Saturday: 1:30 p.m., Watson Stage; 4:00 p.m., Dance Stage; 10:30 p.m., Walker Center. Sunday: 1:30 p.m., Hillside Stage.
Yasmin Williams – Williams is a booking perfectly in keeping with the Doc Watson tradition of presenting new and innovative guitarists. She has been hailed as one of a handful of outstanding acoustic guitarists in the world working today by Total Guitar magazine. Saturday: 2 p.m., Walker Center; 6:45 p.m. Cabin Stage.
Zoe & Cloyd – This pair of musicians originally came from opposite ends of the Appalachian mountains. Together they fused their respective sensibilities in a manner not unlike the way a painter brings to life once-hidden features in a landscape painting. Saturday: 3:30 p.m., Cabin Stage; 4:30 p.m., Americana Stage.
Charley Crockett – ND's Spotlight Artist for September has been called the King of the Wild Blue Frontier, with a drawl that's as noticeable as his songs are memorable. Be prepared to be blown away. Sunday: 11:30 a.m., Watson Stage; 1:00 p.m., Americana Stage.
Sunset Sessions at the Hillside Stage
The Sunset Sessions, offering quality alternatives for those without reserved seats close to the Watson Stage or who just want a different option, are back for the third consecutive festival.  
Shawn Colvin – This three-time Grammy winner is one of the deans of American singer-songwriters. A legend not to be missed. Friday: 5:15 p.m., Hillside Stage (plus an earlier set at 1:30 p.m. on the Austin Stage).
Sarah Shook & The Disarmers – ND once said, "This ain't no country for hipsters or posers. It's real, raw, mean-and-evil-and-nasty badness that makes an ass-kickin' sound mighty fine." I call it punk country, straight up, no chaser. Saturday: 5 p.m., Hillside Stage.
Now, the photos. Click on any photo below to view the gallery as a full-size slide show.
---