THROUGH THE LENS: 2022 Big Ears Festival Pulls Out All the Stops – And All the Genres
---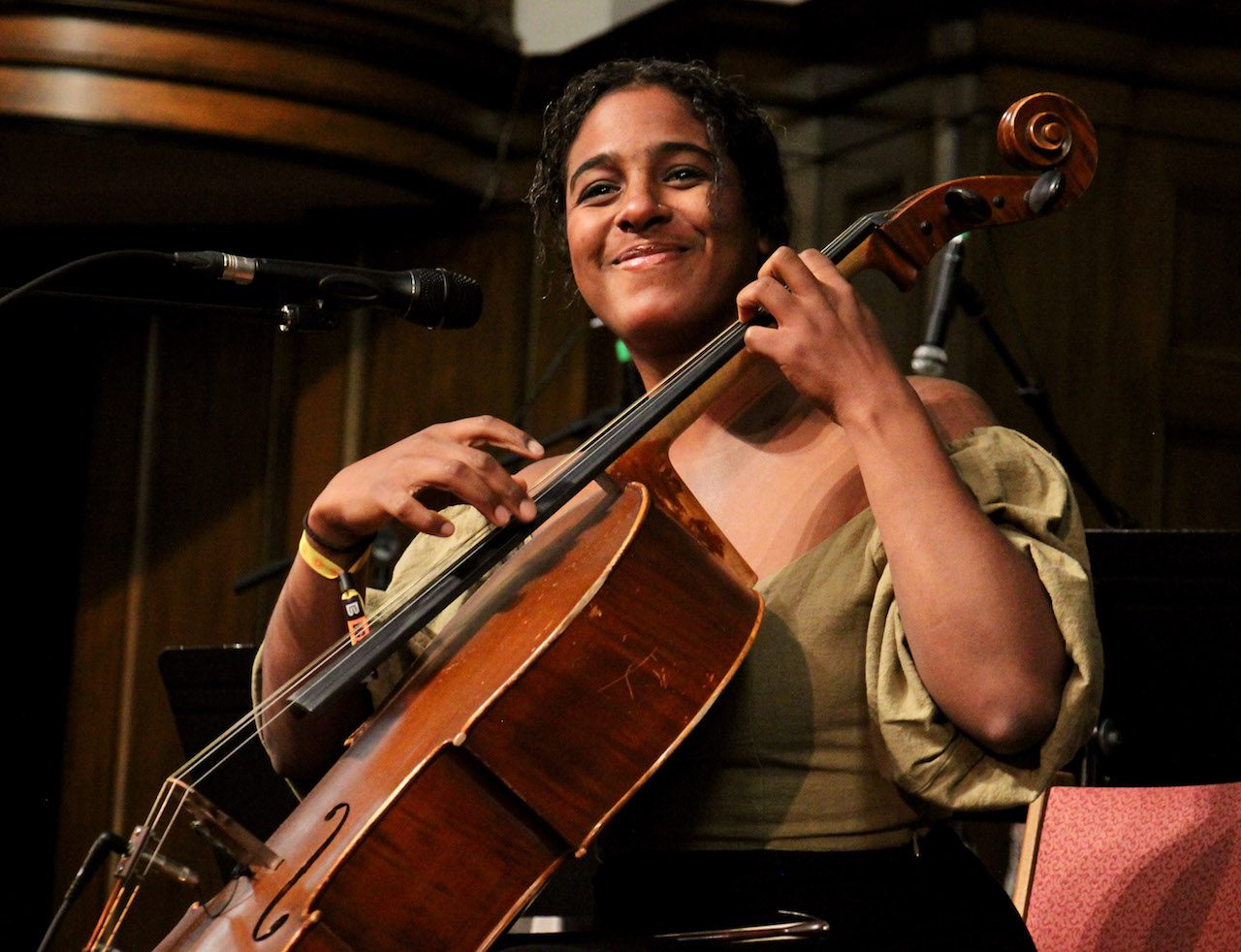 Leyla McCalla - Big Ears Festival 2022 - Photo by Kelly Shipe
In his opening remarks, Big Ears Festival founder Ashley Capps said, quoting jazz composer Albert Ayler, " 'Music is the healing force in the universe.' It resonates more now than ever." After a two-year COVID hiatus, this year's edition of Big Ears offered more than 200 sets across 13 venues by genre-defying artists from all over the world and certainly did offer healing over its four-day run in Knoxville, Tennessee, that concluded last Sunday night.
Joining me in this year's coverage is previous Through the Lens contributor and Knoxville resident Kelly Shipe. Given the extravaganza before us, two sets of eyes and ears could go farther to give readers of this column a far more intriguing report. Kelly also interviewed Capps.
Kelly Shipe
Do you remember those magical feelings of childhood? The kind experienced when you woke up to an unexpected snow day, or when you were in the last hour of the last day of school before summer vacation? There was going to be adventure, you just knew it.
What if I told you that I think I found a beautiful little pocket where that feeling of freedom, of creativity and possibility, still lives, if just for a long weekend? Its name is Big Ears, a most unique amalgamation of music, art, love, community, and inspiration that wraps its arms around downtown Knoxville in early spring.
Before the fest, I spoke with its founder, Ashley Capps, about this truly unique festival that he created in 2009. "Big Ears is more than a music festival," he told me. "It's an all-the-stops-pulled celebration!" His joyous energy is infectious.
This two-year journey through a global pandemic has challenged and influenced us all. Capps was inspired to make Big Ears' return "bigger and brighter," he said. Inviting artists from all over the globe and crossing all genres, from the punk poet laureate Patti Smith, to the eclectic genius of Joe Henry, to the experimental avant-garde of Yves Tumor, to X-Girl and former Sonic Youth lead Kim Gordon, and everything around and in between. 
Capps smile widened as he told me he wants artists "to be who, what they want to be in that moment."
"Big Ears opens the door to serendipity and nurtures curiosity, allowing the audience to step outside their own comfort zone," he continued. "Cross pollination." Capps also touted his hometown as the perfect setting for the fest: "Great food, great hotels and walkability" are just a few of the attributes he listed.
As our conversation turned to roots music, I mentioned my excitement about seeing Anaïs Mitchell with Bonny Light Horseman (who sadly canceled), Yasmin Williams, Marisa Anderson, and William Tyler.  He nodded, expressing his own enthusiasm for these artists, then added, with jubilance: "There's nothing more Americana than New Orleans!" An intriguing part of this year's festival programming was the epic offering "New Orleans/Haiti and Beyond," featuring Big Ears' first-ever Krewe du Carnival curated by Preservation Hall's Ben Jaffe, with the Krewe du Cattywampus Parade and Street Party. Preservation Hall Jazz Band, 79rs Gang, Lakou Mizik (the leading acoustic Haitian roots-music revivalists), and RAM, a group that electrified vodou music, were in residence for this unique Big Ears experience.
Amos Perrine
Joe Henry's 115th Dream: For those who don't think jazz is roots music, Joe Henry, roots music's fiercely independent bastion, tells a different story. Dedicating a set that prominently featured Jason Moran and Marc Ribot to jazz composer, trumpet player, and longtime friend and collaborator Ron Miles established a high mark on the fest's opening night. Mixing his eclectic erudition, ruminative wit, and fondness for peccadillos and parables, Henry dove head first into a dream I did not want to end. 
Downtown New York: I stood in line with a guy from Austin who had come to Knoxville just for the two-day John Zorn extravaganza. He was not disappointed, nor was anyone else. All nine of Zorn's unprecedented sets were filled to capacity. From his sometimes whimsical Songs for Petra set that featured Petra Haden on vocals to his closing night "big band" sets with Masada, Zorn demonstrated why he is so revered around the world. He took no prisoners.
It had been a very long time since Patti Smith had played Knoxville. Her first set was an intimate one that featured readings and some music. Her set the next night at the larger Tennessee Theatre had the air of a punk rock god having descended from Mount Olympus; her songs, as if carved in sacred text on tablets, have long been anthems. Playful in parts, serious in others, she had the audience in rhythm. I closed my eyes and was transported back to my CBGB's nights. 
Bill Frisell: If there was an MVP of the festival, it was Bill Frisell. He had his own sets, notably with his trio and Friday night's closing set, Music of Ron Miles, which also featured Brian Blade, Jason Moran, and Thomas Morgan. Frisell also sat in with Joe Henry's set and Zorn's "Electric New Masada" set.
Leyla McCalla: Last, and certainly not least, Leyla McCalla's two sets highlighted Haiti's history and quest for human rights. She fused, and grounded, the festival's many disparate elements. One could see history, perseverance, and hopeful triumph in her playing, and in her eyes. 
Click on any photo below to view the gallery as a full-size slideshow. 
---