THROUGH THE LENS: 2020 Americana Music Award Nominations Reflect Roots Music's Rich Diversity
---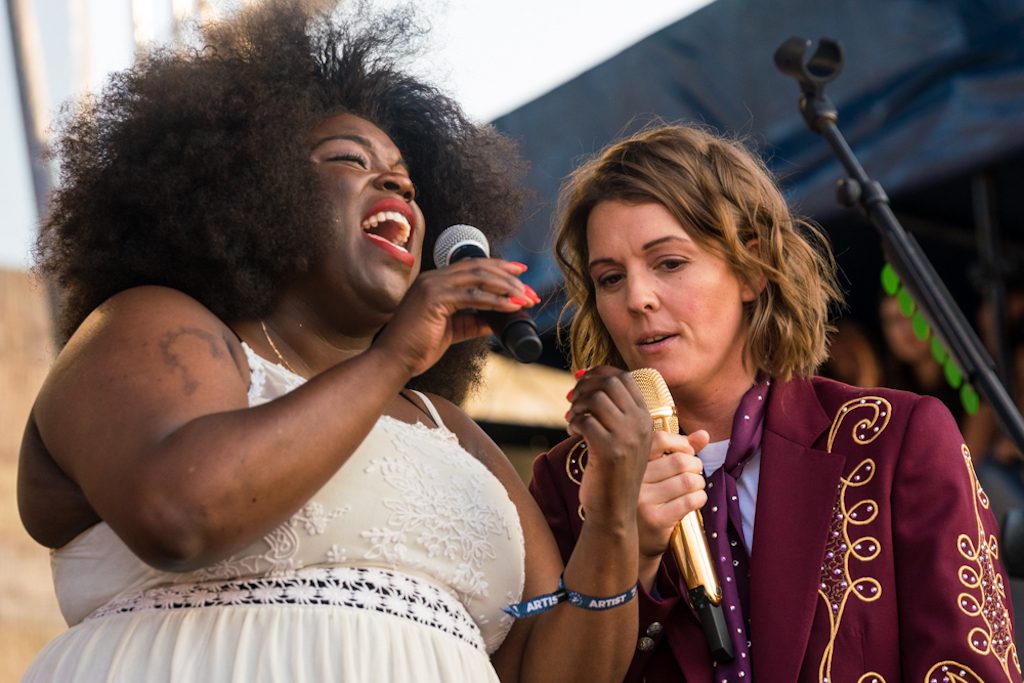 Yola Carter & Brandi Carlile - Artist of the Year Americana Music Awards 2020 Nominees - Photo by Anthony Mulcahy
Brandi Carlile, Brittany Howard, John Prine, Tanya Tucker, Yola, Our Native Daughters, The Highwomen, Buddy & Julie Miller, Billy Strings, Tyler Childers, Black Pumas, Brittany Haas, and Kelsey Waldon lead a diverse group of artists in the 2020 AmericanaFest nominations. See the full list below.
Being somewhat visually inclined, I wanted to see this year's group of Americana Music Award nominees not as names on a list, but rather in photographs. In the photos I not only saw the diversity the artists represent in Americana and roots music, but I also traced the unique paths they took to arrive where they are today, their commitment, and the power and grace so many of us find in their music.
As I looked at those I photos I also thought about the much used, and perhaps misunderstood, term "diversity." One does not create diversity, nor is it some artificial construct. Diversity is awareness. It is being attentive to what's going on around you; it's acknowledgement and inclusion. This year's list of nominees certainly fits that definition.
I distinctly remember when most of the 2014 awards went to white men. There were several articles decrying the woeful lack of appreciation of the many other artists who did not fit that description. I particularly recall one writer who "blamed" it on the Americana audience; since the audience was primarily white males, the thinking went, they would necessarily see themselves as the most deserving. I did not fully agree with that assessment.
As I have noted before in this column, blame should be laid less with the audience or the Americana Music Association organization than with the association's voting members, who have lagged in recognizing what's happening in the ever-expanding world of Americana and roots music. You need look no further than who the association has selected in its Honors categories, and its yearly AmericanaFest showcase lineups, to see that it has embraced the boundless riches that exist, and have existed, in the music and the artists who have made it their calling. 
The voting members have caught and delivered on their promise of 2018, when over half of the nominees were women. While the winners did not fully reflect that wider perspective that year, they did so more in 2019, and most certainly will again this year.
Two Exemplary Journeys
I have also seen that the Americana and roots audience wants to be engaged in the journeys and stories of the artists who have traveled paths different than their own. Be it out of empathy or a need for a vicarious experience, I have found the audience not only rejoices in these journeys, but actively seeks them out. 
While there are plenty of narratives in this year's nominees, two nominees for Artist of the Year stand out in my mind as being emblematic of the expanse of Americana music.
John Prine's death from the coronavirus is a huge loss that we will feel for years. His was the guiding spirit that saw us better than we saw ourselves, foibles and all. Who would have ever thought that a mailman from the Midwest would become the finest writer in any genre of his generation? Or that this gentle, witty, generous man would one day be viewed as the Godfather of Americana Music? 
Then there is Yola, a young black woman from Bristol, England, who moved to Nashville and began trying to make it in the world of country music. Like many of my fellow AmericanFest regulars, I first saw her four or five years ago in someone's backyard. Since then, she has become a singular presence, pretty much creating and defining a new genre: country soul.
The Show Must Go On (Partly)
While AmericanaFest has been canceled for 2020, the Americana Music Association has assured us that, as in years past, there will be an Honors & Awards show at the Ryman Auditorium. It is set for Sept. 16, 2020. There are also plans for fans to attend, dependent on and consistent with national, state, and local coronavirus guidelines. Ticketing information will become available as the scheduled ceremony date draws closer.
Recently the Americana Music Association announced the creation of the Americana Music Association Foundation. On Thursday, the Foundation will roll out its first initiative and the "reveal" of its upcoming experience. So stay tuned, as AmericanaFest is not standing still.
Finally, you might notice that this year the award categories have been to expanded so that each includes five nominees, instead of four — with the exception of "Song of the Year," which has six nominees due to a voting tie. This was done to further highlight the wide breadth of exemplary talent in the Americana music community.
19th ANNUAL AMERICANA HONORS & AWARDS NOMINATIONS
Album of the Year:
And It's Still Alright, Nathaniel Rateliff, Produced by James Barone, Patrick Meese and Nathaniel Rateliff
Country Squire, Tyler Childers, Produced by David Ferguson and Sturgill Simpson
The Highwomen, The Highwomen, Produced by Dave Cobb
Jaime, Brittany Howard, Produced by Brittany Howard
While I'm Livin', Tanya Tucker, Produced by Brandi Carlile and Shooter Jennings

Artist of the Year:
Brandi Carlile
Brittany Howard
John Prine
Tanya Tucker
Yola
Duo/Group of the Year:
Black Pumas
Drive-By Truckers
The Highwomen
Buddy & Julie Miller
Our Native Daughters
Emerging Act of the Year:
Black Pumas
Katie Pruitt
Aubrie Sellers
Billy Strings
Kelsey Waldon
Instrumentalist of the Year:
Ellen Angelico
Annie Clements
Brittany Haas
Zachariah Hickman
Rich Hinman
Song of the Year:
"And It's Still Alright," Nathaniel Rateliff, Written by Nathaniel Rateliff
"Bring My Flowers Now," Tanya Tucker, Written by Brandi Carlile, Phil Hanseroth, Tim Hanseroth and Tanya Tucker
"Crowded Table," The Highwomen, Written by Brandi Carlile, Natalie Hemby and Lori McKenna
"My Love Will Not Change," Aubrie Sellers featuring Steve Earle, Written by Billy Burnette and Shawn Camp
"Stay High," Brittany Howard, Written by Brittany Howard
"Thoughts and Prayers," Drive-By Truckers, Written by Patterson Hood

In the gallery below are photos of nearly all of this year's nominees taken by your No Depression photographers. You will not see these photographs anywhere else. 
---