The Yankees: thanks to Joan Jett and Kenny Laguna
Posted On November 7, 2009
---
Late in the summer of 1980 I was playing guitar in this band with this girl and her manager suggested that it would be a smart move for us all to move to New York so we did.
The first week we were here we played a gig at the Ritz (now known by it's original name Webster Hall) that was filmed for the movie "Urgh-A Music War"). That was quite an event but another event from the end of that summer stuck with me in a bigger way.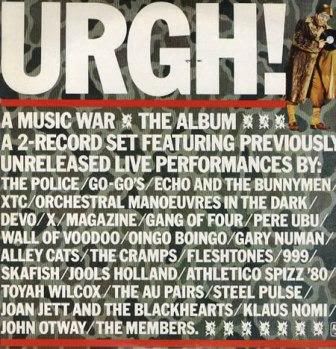 When I first got to NYC Joan Jett's manager Kenny Laguna was quick to ask me about my team. "Who's your favorite baseball team?". I had to admit that my punk rock circumstances had taken me away from the act of enjoying baseball but as a kid in Batavia, IL I had followed the Cubs. Wrigley Field was the first place I ever saw a Major League game on great afternoon field trip with a bunch of kids on a yellow school bus. Ernie Banks, Ron Santo and the great broadcaster Jack Brickhouse kept me dialed into the Cubs. I followed the Cubs coverage in the Chicago Tribune, saved the Trib that celebrated Erinie's 500th home run, but when my folks gave up the Trib in favor of the more local Aurora Beacon News whose sports coverage consisted of less than exciting AP wire crap I drifted away from baseball.
So when I told Kenny Laguna that I used to follow the Cubs he replied "You are in New York now. There art 2 teams and you have to decide." Kenny quickly took us all to 2 games. Out to Shea to see the Mets and then to the Bronx to see the Yankees. The decision wasn't really that hard for me.
I felt it was better to move to the American League so I wouldn't end up rooting against the Cubs. Also, in the trips to the 2 NY Stadiums I found everything about the Yankees to be rather stunning. The team, the history, the uniforms and the food at Yankee Stadium were really amazing. I'll always remember going to the bathroom at Shea and teetering on the heels of my cowboy boots through the standing, uh, water. That and the Navy Blue pinstripes. Joan, of course, stuck with her beloved Baltimore Orioles.
And that was always good for continuing banter between Joan and Kenny (which I'm sure continues to this day)
So seeing the Yanks play in the Bronx with Reggie and all sealed the deal. Followed the team on broadcast TV. The Scooter & Bill White years being some of the most entertaining.
The end of this summer of my cycling buddies hooked my lovely wife and I up with some tickets to see the Yanks at their new stadium which really brought me back. We had a fantastic time up there
and it drew me into the post season.


iPhone Pano pic i took at the new Yankee Stadium
I had heard a lot about the new stadium, some good some bad, but I thought it was a fantastic place. The Yankees beat Toronto and I came home with 40 bucks more than I thought I would so it
didn't seem as crazy expensive as it had been described.
Fast forward to the Series. Watched every minute of every game. Was on the road with another band of Yankee fans last weekend and watched last thursday's game in the bar we were playing in DC. We had to go on during the 6th inning but I had downloaded MLB.com's "At Bat Lite" iPhone application which I fired up and set to 15 second refresh on top of my amp. It was exciting to keep track of the game from that angle too. I saw them "win" on my phone. 2 days later we were driving back from Knoxville, TN and listened to the whole game on Sirius Satellite Radio. We'd done that before on the Steve Earle tour due to a hiccup in the TV setup on the tour bus. Still exciting as hell.
The Yanks won their 27th Title. Everybody knows that. The Phillies played a great series.
It was all great baseball.
Yesterday as I was doing some errands on my Cannondale Track bike, not so affectionately named "The Murderburger", I realized I had some free time so I snuck downtown to the vicinity of the Yankees Parade.

"Murderburger"
I really couldn't get too close but it was a blast just being in a huge, positive crowd.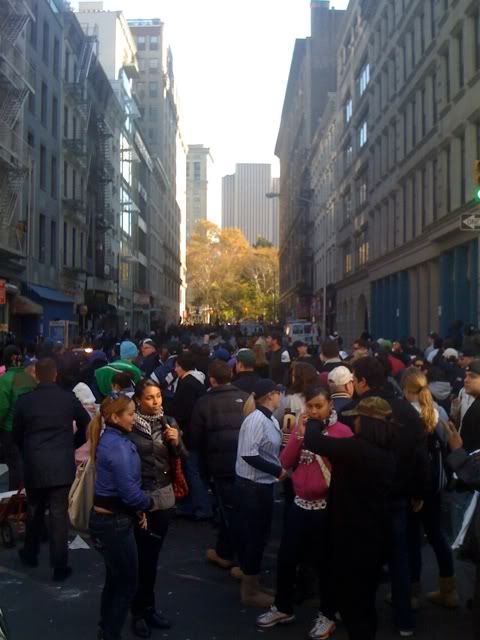 When I was riding back to the East Village on "Murderburger" I remembered going to my first Yankee
game and wanted to thank Kenny Laguna and Joan Jett for taking me there.
Eric Ambel
11-7-2009
---