---
Outside the Thomas Wolfe Auditorium in Asheville, North Carolina, there's a sculpture of a guy with a fiddle, a guy with a banjo, and a couple of people dancing. It's cast in hard, cold metal, but the fixed figures appear to really dance. The material that's meant to hold them still, frozen in history, has a swing to it. It moves, or so it seems. Consider it from the right angle and you can see mountains in the background – a soft blue ridge. At the right time of day, the sun sets behind those mountains. Turn around and walk through the doors, find your seat in the theater named for the literary giant, maybe check your phone until the lights dim.
Fiddler Gabe Witcher is the first Punch Brother to walk onstage, followed by guitarist Chris Eldridge, mandolinist Chris Thile, bassist Paul Kowert, and banjo player Noam Pikelny. They head to each of five microphones arranged in a straight line across the front of the stage and ready their instruments. Thile counts them in, "2… 3… 4…" and it begins. The song is "Julep" from their most recent masterpiece, The Phosphorescent Blues. I used the phrase "most recent masterpiece" because it is just that – one in a line of musical projects that has been fashioned by this stringband for the purpose of knocking you off your feet.
It's not shocking, Punch Brothers' little masterpiece habit, considering they were originally formed for the purpose of performing Thile's 40-minute, four-movement instrumental composition "The Blind Leaving the Blind," which grew from his solo album How to Grow a Woman from the Ground, which led to him calling the band he'd amassed The How to Grow a Band. Thankfully, they quickly abandoned that awkward mouthful for the catchier – dare I say punchier – Punch Brothers, and named their 2007 "debut" album Punch. The name is pulled from Mark Twain's "A Literary Nightmare," declaring the group's affection for both heady things like satirical literature and trad folky-bluegrass things like railroads (the line from Twain's story that employs the phrase "punch, brother" is a railroad reference).
Eight years in, Punch Brothers is only just barely hitting their stride. As much as The Phosphorescent Blues reveals a level of virtuosity that is just plain stunning, part of the allure is that you know these guys have more talent in reserve. They're not throwing all their cards on the table, neither with their albums nor their live performances. If music is a game of how many ways you can arrange 12 tones, Punch Brothers is a lesson in deliberate infinity.
Rise of a New Generation
Up the highway a little bit, deeper into the mountains, you come to downtown Boone, home of Appalachian State University, where another stringband called the Carolina Chocolate Drops first formed. It's a land of cobblestone streets and romantic views. Nearby are towns with dramatic names like Windy Gap and Blowing Rock. But Boone is a sleepy little city, peppered by bakeries and coffee shops, independent bookstores, cafés.
On a sidewalk at the corner of King and Depot streets right there in town, seated on a park bench, is another metal sculpture. This one shows a man squinting, blind, playing the guitar. He's fingering a D major chord and his legs are situated in a way that looks like, although he's seated, he might spring forth at any moment when the song strikes him just so. Unlike the sculpture in Asheville, meant to capture nameless Appalachian string musicians, this one pays specific tribute to the late Doc Watson. Watson was a guitarist himself, and played mostly solo in his later years, though his earlier records saw him paired with his son, guitarist Merle Watson. It's for Merle, who died in a tractor accident, that Doc began the annual MerleFest in neighboring Wilkesboro. Each year at the festival, tribute is paid to Merle, and now to Doc, who died three years ago.
Though it's widely discussed as a bluegrass festival, MerleFest was never explicitly intended to exist as such. It began simply as a way for Watson to gather his friends and artists he loved in one place for a weekend, to play the music they wanted to play. Sure, this resulted in a lot of bluegrass and Appalachian old-time music, but innovators were there from the beginning – Watson championed a young stringband from Virginia called Old Crow Medicine Show, for example, and Doc himself toed a line that challenged straight tradition. So, it's not surprising that, in 2007, the year Punch Brothers made their MerleFest debut, the festival closed out with a stringband jam that defied everything so many people had come to expect from traditional-rooted stringbands. On stage were members of Punch Brothers, Uncle Earl, the Duhks, Infamous Stringdusters, Crooked Still, and the Mammals. The following spring, anticipating another MerleFest, Peter Blackstock wrote in issue #74 of No Depression (what was to be the penultimate issue of the original print magazine): "And so it stands, at the dawn of 2008, for the bigger picture of this loose-knit string-band community – as exciting and innovative a confederacy of musicians as we have seen in at least a decade. And yet every one of these acts is in the midst of some kind of significant transition."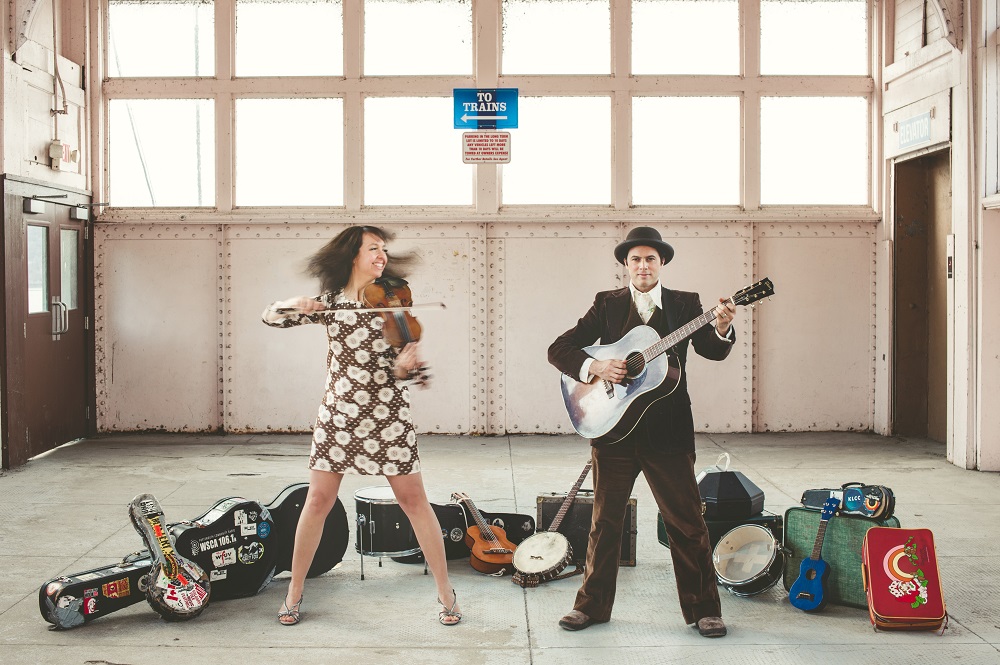 It was unclear at that time what exactly was coming from these players – as individuals and as a scene – but their promise loomed large enough that Blackstock, the magazine's founding co-editor, was inclined to make note of it. It wasn't the first or last time he hit the nail on the head. Yet, in the seven years that have passed since, Crooked Still broke off, with frontwoman Aoife O'Donovan taking a strong step into the singer-songwriter world. The Mammals separated and have come back together (now under the name The Mike + Ruthy Band, minus only Tao Rodriguez Seeger) for a bold new album this year, but not before producing a haunting reunion record for the Duhks, with singer Jessee Havey back in the band in 2014, and championing the rise of literate singer-songwriters like Anais Mitchell. Many of the members of Uncle Earl have their own things going now, too. Guitarist Kristin Andreassen tossed her hat into the literary songwriter realm – where Mitchell and O'Donovan remain major players – supported by traditionalist Jefferson Hamer of the Murphy Beds. Fiddler Rayna Gellert dropped a much-loved solo album last year between stints playing for Scott Miller, and banjoist Abigail Washburn has picked her way through innovative projects one after the other before landing in a duo with her husband, the equally imaginative Bela Fleck. Meanwhile, younger pickers like Sarah Jarosz have joined the pack, breathing in new life and reflecting back at this crowd of innovators – all a decade older than her – how their influence plays out on the generation that's nipping at their heels.
"The Punch Brothers record is a good indication of where things have gone and how [the stringband scene] has evolved," Jarosz says on the phone from her home in New York City. "I feel like it's become more focused, the energy of the Americana and folk music worlds, and it seems a little more concentrated in a good way. People seem to be … opening up their minds. The Punch Brothers record is bold and courageous but there are a lot of things that could easily be caught onto. … I would hold them up as a light guiding the sort of movement that I want to be a part of."
And, it does seem to be a movement. Talking with a number of these artists, it becomes clear that they share not only a taste in music, but also a state of mind about how it's best made. Though they all have different ideas about what exactly has influenced the surge of classical, jazz, and rock influences in stringband music, their perspectives together approximate a picture of a generation coming of age during a time of great cultural cross-pollination. No doubt the internet has played a large part in this (more on that in a moment), but so has the proliferation of acoustic music festivals – fiddle camps, bluegrass rambles, folk festivals, old-time banjo gatherings. Every town and city and open field in the country seems to have one of its own these days.

"

In the big picture, what makes us special is that we love traditional music and roots music, and are inspired by it. Tapping back into that inspiration is what's going to keep us interesting to the world." - Abigail Washburn
From Washburn's perspective, a lot of it also has to do with personal developments offstage that are resulting in remarkable musical mashups. "Decision-making factor number one when I realized I was pregnant, was, 'What's the next project going to be? Bela and I!'" She laughs. "And for the next number of years, it's going to have a huge impact too because we don't want to be separate from [our son], Juno, especially in these really young years. … I think Bela and I both decided that we're going to artistically align ourselves forever now, because we have this little person. So that's massive. That's having a huge impact on the kind of music I make in the sense that Bela and I as a collaboration are trying to figure out what's the best way to use what we have together. …
"And, shoot, I'm playing lots of jazz festivals now, and Bela's encouraging me to improvise, which is something I never even thought about or cared about. We talk about it onstage, that part of our marital bridging is me trying to improvise on our set," she continues. "At the same time, I think this is going to be true about a lot of these artists – there's going to be a return to tradition. Because in the big picture, what makes us special is that we love traditional music and roots music, and are inspired by it. Tapping back into that inspiration is what's going to keep us interesting to the world, I believe. That's what's happening for me at least. This record with Bela has been a lot about coming back."
This idea of coming back, or reconnecting, is also at the center of The Phosphorescent Blues, likely what makes it that guiding light Jarosz feels inclined to carry. The disc is a commentary on how we are all affected by the reign of technology that is slowly tugging our attention away from genuine personal connections. Nowhere is this more evident than at a live music event.
Indeed, back at Thomas Wolfe Auditorium, as Punch Brothers alights into its set, delivering "Familiarity" – the ten-minute masterpiece that kicks off the masterpiece – hands push phones up, dotting the air above people's faces with phosphorescent light as they record what's happening onstage. They share these photos on Instagram and Twitter, post video on YouTube and Facebook. Meanwhile, the band slaughters syncopated arpeggios that bridge at least three separate musical aesthetics, and Thile sings out:
It's on
Pretend
You love it
Because you love them
As you explode out of your phones
Amen
To make some music of your own…
To accentuate his point more prosaically, Thile told Cameron Matthews at the Bluegrass Situation last spring: "We've all taken ourselves out of the moment, all the moments. Very rarely are we 100 percent present. … It has changed everything. We have to figure out how to make it work for us, and how to live vibrantly in its company. I don't think unplugging, like racing off the grid, is the answer. Escapism rarely is, I don't think. The record's just trotting out those sorts of thoughts. …
"Music helps us look at our fears in the face," he adds. "I have a big fear that we're experiencing things less vibrantly than we have in the past. That's a fear of mine. I love experiencing things. I love experiencing new things and I don't want anything to rob me of an experience, and yet I am robbing myself of experiences I could be having all the time, and that scares me. That scares me a lot."
Meanwhile, on the other side of the same coin, in a sense, the proliferation of technology is precisely what has aided this new stringband boom, what has amplified its existence, and what has facilitated the urge many of these groups have to drag its traditions into the 21st century. Just as radio, television, and Harry Smith's Folk Music Anthology introduced their parents' generation to the music from towns and cities they'd never visited, the internet has clued contemporary artists around the world into what American stringbands are up to and has provided a close-to-authentic education for budding players. As much as Punch Brothers is on-point about our overzealous love affair with technology, it's hard to completely let it go when we consider the members of a band that'll pick up Punch Brothers' legacy in 20 years are just now learning clawhammer banjo via YouTube. In fact, it could be said that the internet is part of what moved a young Noam Pikelny – banjo player for Punch Brothers, who has his own share of remarkable other projects – to seek out like-minded players in the first place.
"My first relationship with the internet and technology," he remembers, "began when I was in junior high, when everybody first got dial-up internet. The first thing I started trying to look up on the internet [was] the community around old Gibson banjos and Fender Telecaster guitars. As great as my friends were, I couldn't sit around and talk about … Bela Fleck's old banjo with my friends in Skokie, Illinois. And I wanted to learn more about Albert Lee's telecaster playing. All of a sudden, this resource in my school library launched me into this community of people who were obsessed with the same things, and I felt like part of that community. I got to meet people in the flesh who were part of that community. I think the impetus for signing onto these things is so good-natured. We all just want to … connect and enhance our experience as part of a community."
O'Donovan, whose band Crooked Still was one of the most promising and imaginative groups in the stringband realm before Punch Brothers came into their own, and who is in the early stages of forging another groundbreaking group called I'm With Her, sees what Pikelny's talking about as being integral to the future of the form. "Back when Crooked Still came on the scene," she says, "[it was] pre-social media. It was pre-YouTube, even. A lot of how people were consuming music and hearing about music was very different than it is now. I think [social media] has influenced the younger generation greatly, in a really cool way. A lot of these younger people who were fiddle camp kids … now the kids are going to different camps all over the country. There are kids from the West Coast going to Kristin Andreassen and Laura Cortese's fiddle camp on the East Coast because they hear about it through their friends on Facebook or Instagram or Twitter. There's a lot of cross-pollination. There are a lot of styles you can take an online lesson [in]. … So much has changed in terms of how we get music."
Of course, it's hard to give credit to the internet for cranking up the innovation of stringbands without raising a cynical eye toward the trend in pop music to put on the costume of roots music without actually toting around the tradition. No doubt what's trending online is tied directly with what mainstream entertainment companies want to cash in on. During the same years that Punch Brothers has been delivering its masterpieces, while O'Donovan has been dipping her toe in the singer-songwriter world, and while their peers have been branching out in all the interesting and authentic directions, bands like Mumford & Sons, the Lumineers, and other arena-packing outcroppings have been appearing across the pop music spectrum, playing on acoustic instruments without tapping into the roots that come with them.
Ruthy Ungar, whose band The Mammals helped lay the groundwork for this stringband boom a decade ago, and whose too-brief trio collaboration with O'Donovan and Andreassen, Sometymes Why, raised Blackstock's pen back in 2008, sees a clear delineation between what's happening with roots-oriented stringbands and the mainstream suspenders-and-fedoras boom. "For us," she says, "the measure of 'are you rootsy or not' is what do you do with your banjo?
"Anybody can strum [a banjo] like it's a guitar and learn a few chords with their left hand," she continues, "but if you actually bother to learn clawhammer like Mike [Merenda of The Mike + Ruthy Band] plays or like Leonard [Podolak] in the Duhks, or if you play any number of bluegrass picking styles … I would say people who are in these bands that we've been mentioning actually play banjo like it's a banjo – Abigail Washburn, obviously, and even Maggie in Spirit Family Reunion. She sort of made up her own style but you can tell she listened to some banjo. … Maybe she didn't sit down with an old geezer and learn a traditional style but she made up something that, to me, has that spirit. [Meanwhile,] there are a number of bands out there who I think just use it as a prop and bang on it, which is fun and I don't really want to put it down. But I can hear the roots in that instrument when they're there."
As that conversation develops, Ungar and her husband and collaborator Mike Merenda talk their way toward acknowledging that even the kind of banjo-toting pop music that ignores the deep roots of the instrument is coming from some kind of tradition. "There's people pushing traditional instruments to the hilt of what they're capable of doing," Merenda adds. "I just read an article – I forget the name of the band – but this guy plays spoons through a distortion pedal. I mean, how the hell do you even rig that up? I don't know. But [artists in our generation are] taking washboards and spoons and doing the most experimental performances of these old instruments. … it's just so wide open. You can't put the authenticity crown on some bands and not others because there's so much experimenting going on and it's all a link in the chain. I just think some of it connects to the past and to the tradition more deeply than other approaches, but I try not to be too critical of what people are doing."
In fact, though their approach may be different – Merenda and Ungar's shot glass of Evan Williams versus Punch Brothers' chilled glass of Buffalo Trace – the music The Mike + Ruthy Band is making, like that which I'm With Her, Fleck and Washburn, and Punch Brothers are coming to define, is emerging from a generation that recognizes that all musical styles pull from a number of traditions. That stringband music – like all American cultural traditions – is a blending of languages and histories and tastes. With that in mind, purism becomes a myth repeated only by fans and journalists. When you get down to it, what happens across the eight tones of a standard scale has one tradition in common: that of people who have, across all of human history, picked up instruments to make sounds that communicate the universal human experience in a way that language and conversation cannot. The fact that music has been categorized and subdivided and organized into genres is a fairly modern development in the scope of music history, after all – something that was done in order to serve markets and radio formats, not to serve the way that actual musicians process or perform their craft.
Pikelny sees this as central to Punch Brothers' mission, though he doesn't think it's anything entirely new in the realm of stringbands. "Genre labels used to be necessary to sell things," he explains. "You needed to know what bin to put something in. Nowadays, that's not as important, everybody's just following the trail online to discover new music. … For people who are in search of labels and descriptors, that's really just a way of communicating how they're feeling about this music to their friends or their peer group. When people call us a bluegrass band in that context, to me it's a real point of pride because bluegrass is the music I love," he says, adding that when Punch Brothers hits a pub after a show, the jam that commences always starts with a tune by either Flatt & Scruggs or Bill Monroe.
"What bluegrass represents to me is a tradition of innovation," he continues. "The people who have left their mark in the stringband format are people who were innovators. That goes way back to the music of Bill Monroe and the Stanley Brothers and Earl Scruggs, through to guys like Jon Hartford and Tony Rice, Norman Blake, and the progressive wave. That was a huge impact on everybody in Punch Brothers – the wave of Bela Fleck and Edgar Meyer and Jerry Douglas, Sam Bush, and those guys, the Strength in Numbers crew. All these people were innovating while being stringband musicians. They all were trying to take their experiences and influences and build a new sound. I think that has always been the legacy."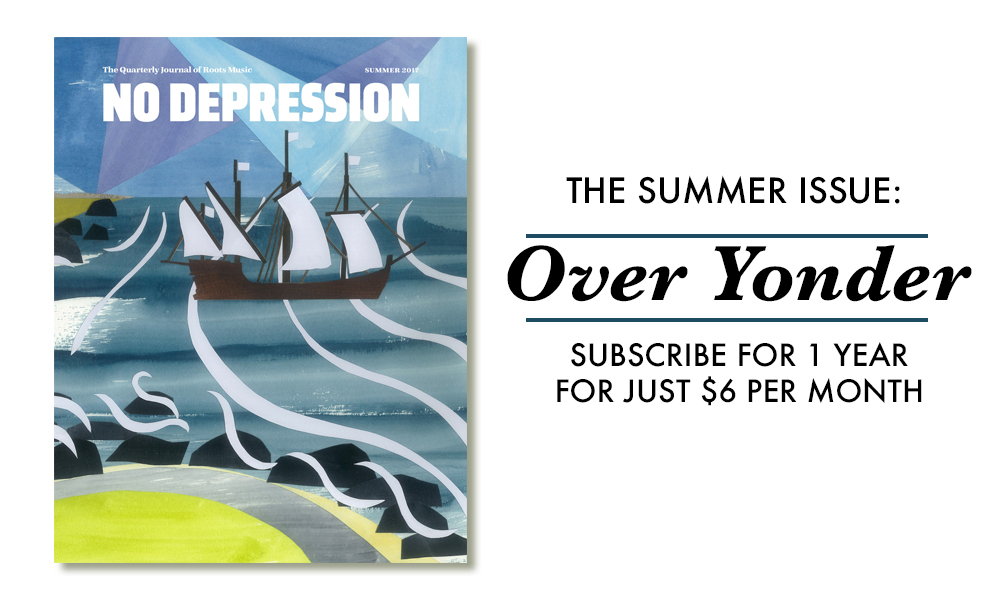 Before There Were Genres
When you consider that Punch Brothers opened The Phosphorescent Blues with a song that clocks in at more than ten minutes, you get the idea that this is a record that was not made with an emphasis on getting its songs played on commercial radio. This seems like it should go without saying, but it must be said to clarify the distinction between a band that will be embraced by Americana, folk, and roots music fans and one that will be embraced by the mainstream music establishment. Consider that the same album also includes compositions by envelope-pushing classical masters like Claude Debussy and Alexander Scriabin, and it becomes clearer that, rather than the forward-thrusting element that seems at first listen to drive the sonic landscape of the disc – and of so many of these stringband innovators – the music itself is harkening even farther back than Bill Monroe, farther than Woody Guthrie and the Carter Family. It's reaching back to before there was a recording industry, before there were genres, when music was just music – whether it was made at home, or at church, at a community center, or in a theater.
And, while it's tempting to call that a return to roots, Jarosz, for one, believes "it is a total innovation."
"I think there would be some traditionalists out there saying, 'Oh, these people are grabbing from all over the place and it isn't folk and it isn't bluegrass.' But … there is a level of curiosity about all those other styles and there is such a wanting to incorporate elements of them. I think that's what sets this current generation [of stringbands] apart."
Then again, artists are always pulling from everything that has inspired them, whether it's a painting, a book, or a collection of disparate musical styles. "I hesitate to say what genre I am," Jarosz continues, "because I feel like I pull from a lot of different things, really without thinking. It just comes down to your ear and what you've heard and been influenced by. That stuff is in you, so whatever comes out of you will have elements of that. It happens naturally without making conscious decisions of, 'Oh, I want to include some jazz in this.'" She laughs. "I never do that."
Though the conversation with Jarosz eventually evolves into discussing how much of the innovation is due to playing with different people, Pikelny takes that leap on his own. This is, after all, the guy who made the album Noam Pikelny Plays Kenny Baker Plays Bill Monroe in 2013. That disc saw him covering fiddle adaptations of songs originally written for mandolin. The mandolin-to-fiddle leap isn't a big one, since those two instruments share string tones and tunings. But Pikelny did it all on the banjo, which might sound like a crazy undertaking if you're music-geek enough, or a straight-up gimmick if you're not. He nailed it so hard that he earned the respect of his fellow pickers, not to mention the International Bluegrass Music Association, who awarded him its Album of the Year honor. Needless to say, he knows a thing or two about roots and how to grow from them, and how to know when it's a good idea to branch out – an instinct he shares with his collaborators in Punch Brothers.



"There is a level of curiosity about all those other styles and there is such a wanting to incorporate elements of them. I think that's what sets this current generation [of stringbands] apart." - Sarah Jarosz
"[Bluegrass has] this amazing repertoire," he says, "but also this unspoken call to do something that's your own. At the onset of Punch Brothers, we didn't sit down and discuss Bill Monroe's call to action. It was always unspoken. That's such a big part of our musical personalities. We were all interested in doing something new with each other. And we couldn't resist the opportunity to see what would happen if we explored music-making together – writing music and arranging music. That's always been in the DNA of Punch Brothers."
Of course, that inability to resist what a group of people can do together if they pool their talents and interests and set out on a creative road – the determination to trust the music above all else – is at the heart of what has always defined this niche. No matter an artist's list of influences or training or experience, when it comes down to it, a group of people with open minds can make music that flies in the face of definition. Just like Punch Brothers formed after five guys kept bumping into each other at folk and bluegrass festivals and out on the road, new groups are popping up all over the country, with one eye on their roots and another on the path ahead.
Earlier this year, Jarosz and her friends O'Donovan and Nickel Creek alum Sara Watkins announced a trio collaboration that is possibly the most exciting supergroup to step into the rootsy world since Watkins' old bandmate formed Punch Brothers eight years ago. I'm With Her started as a fun opportunity for three friends to tour Europe, but by the time I talked to Jarosz and O'Donovan in March, they had committed to being a real band. Though Watkins lives in California, the internet and the highway are two tools modern stringbands know well how to use wisely. And, with Jarosz and O'Donovan both in New York City, collaboration on new original songs has already begun. The formalization of the band was just a natural next step. "We actually, on the [Prairie Home Companion] cruise, decided we're going to call it I'm With Her," Jarosz says, "and Garrison Keillor approved of that name. He actually kind of convinced us that that's what we should do. We're all really stoked about it and it seems to be a good fit, and we're going to pursue it as a band."
It's easy to imagine that Keillor saw in these three musicians an artful blend of singing voices matched with a longstanding relationship with traditional music – O'Donovan (guitar) grew up singing Celtic ballads with her sisters; Watkins (fiddle) joined Nickel Creek when she was eight; Jarosz (mandolin, banjo, guitar) was such a promising teenage bluegrass picker that she inked a deal with Sugar Hill Records when she was barely out of high school. But while all three of these players came of age in the realm of tradition, each of them have developed habits of reaching well beyond those bounds. Jarosz believes this is largely because of the music they've encountered traveling the old dusty road, crossing paths with all the others who are traversing the same road.
"A lot of touring musicians, they just have their song and their band and that may be all they ever do," Jarosz says. "I look at a lot of people I look up to, not to bring it back to Chris, but Chris Thile is a perfect example of someone who's playing with Edgar Meyer and playing with Brad Mehldau and then playing with Punch Brothers and playing with Nickel Creek. Obviously, all those different musical situations are going to influence him and the music he's creating. Playing with different people is automatically influencing the music."
To that end, it's fair to declare that the cross-pollination, the outside-the-box playing, the broad view of what kind of music can be borrowed from and explored and divined all are part of what is driving the next progressive wave of roots-rooted string players. What they all share, as Merenda indicated and as Washburn and Pikelny made clear, is a love and reverence for traditional music, an understanding that the traditional songs are anything but old and set in their ways, and a determination to be the next link in that chain.
What's more, a quick survey of artists playing the major music festivals this summer is enough to raise an eyebrow or two. You can be sure that once Punch Brothers has breezed through every major stage from Bonnaroo to Telluride – crossing paths with everyone from Gary Clark Jr. to Bela Fleck yet again – new sounds will be forming, moving the music ever forward, cementing the fact that, as fixed and formed as traditional American music may appear, like the statue back in North Carolina, the truth is that this stuff is made to move.
This article was written for our Fall 2015 issue of No Depression in print, which was our return to the page after seven years of being an online-only publication. It's been digitized as a special feature during our month-long subscription drive. Please subscribe today and receive a year's worth of No Depression in print for more great longform music writing like this, most of which is not available anywhere online.
---