The War and Treaty and One Wise Young Man
Posted On August 15, 2018
---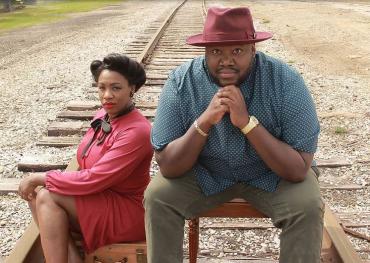 When I interviewed The War and Treaty for this month's ND Spotlight feature, they gushed about Buddy Miller — their friend, their "musical godfather," and the producer of their new album, Healing Tide. But he was just as enamored of them, he made clear in our interview.
Superproducer Don Was was Miller's first introduction to Michael Trotter Jr. and Tanya Blount-Trotter, and soon after that mention, Miller says he "went down the YouTube rabbit hole" watching their videos — including on his birthday, when guests including Emmylou Harris were gathered at his house. He was "completely knocked out," he says, and invited the Trotters to perform at the Hardly Strictly Bluegrass festival, where he had curated the day's performances on one stage. The stage was already booked, he recalls, but he gave The War and Treaty half his set, and he also invited them to the Cayamo music cruise with him. "Everything I was doing," he says, "I wanted people to hear them."
They came to mind again when he had to call out sick to his planned performance at AmericanaFest last year — he asked The War and Treaty to cover his set, and they more than stepped up to the challenge. Ever since, they've been building buzz, drawing huge crowds to seemingly every festival, and winning hearts, minds, and ears.
Miller will gladly tell you about what great people Michael and Tanya are, both musically and personally, and his love extends to their young son, Legend, as well. The whole family appeared recently on Miller's show with Jim Lauderdale on Sirius/XM satellite radio, The Buddy & Jim Show. 
During the course of the interview (you can hear the whole thing at 10 p.m. ET tonight on Sirius/XM's Outlaw Country channel), Miller turns his questions to Legend, who answers with an emphatic "YES" when asked if there's a lot of music around his house.
Then Miller asks whether Legend has a question he'd like to ask his parents, and Legend takes the opportunity to make a comment about his mom and dad and their music instead. You'll want to listen for yourself in the clip below. I won't spoil it for you, but at the end Miller (who provided this clip for ND) proposes taking "a tear break" to recover.
---