THE READING ROOM: Willie Nelson and 'Sister Bobbie' Let Us into the Family
Posted On September 10, 2020
---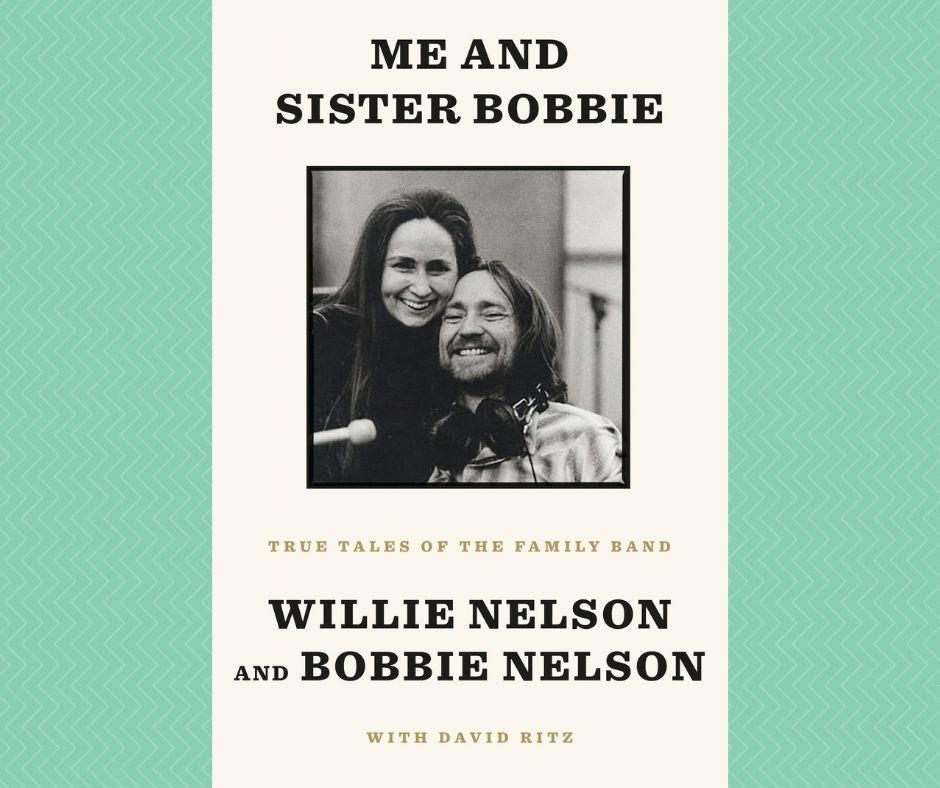 Light up a smoke, sit down in your favorite chair, drop the needle on your favorite Willie Nelson album, and let Willie and his sister Bobbie Nelson regale you with tales of life, love, and music in their new dual memoir Me and Sister Bobbie: True Tales of the Family Band (Random House; out Sept. 15). A rascally raconteur who delights his fans with his slap-your-knees, laugh-out-loud tales of life on the road or smoking a joint in the Carter White House, Willie has entertained us already in two memoirs: It's a Long Story: My Life and Roll Me Up and Smoke Me When I Die: Musings from the Road. Here, older sister Bobbie joins the autobiographical road show as she and Willie tell their stories of growing up, of following their musical paths, and of some of the more challenging details of their personal lives: Willie's IRS troubles and the death of Bobbie's son, for example. Chock full of entertaining stories, Me and Sister Bobbie, written with David Ritz, amuses and charms on every page.
Willie gets the ball rolling by praising his older sister, calling her his "heroine": "Little did I know that one day I'd wake up and realize I have enough memories to fill a shelf of books. I've written a few books before, but there's one that passed me by. Probably passed me by 'cause the heroine is too humble to demand attention. The heroine is my sister, Bobbie. Bobbie's got the best story in our whole family. But to tell it right, I needed Bobbie by my side. I needed Bobbie to tell it herself. It's our good fortune that Bobbie has agreed. Without my sister, I'd never be where I am today. I've always needed her."
Growing up in Abbott, Texas, Bobbie recalls, her younger brother displayed the bravado — and the devilish personality and the recklessness — that would characterize him later in life. "Willie was never afraid of anything. He was a born explorer. My job was to find him before he got into trouble," she writes. Willie confirms his sister's recollections in his wry words: "I was born restless. Born curious. Born ready to run. And I did. Started running at an early age. Kept running, stumbling, getting back up and running some more. Would have run into complete ruin if it hadn't been for my first and best friend, Bobbie. If I was the sky, Bobbie was the earth. She grounded me. Two years older, she also protected me."
Both Bobbie and Willie focus on their earliest musical training in gospel music. A passion for religious music shaped the siblings, as Bobbie played piano and Willie sang and played in the church. Willie recalls: "We were taught music as a form of worship, another way to praise the Lord. Sure, I had a rebellious nature — I've always been a handful — but I never rebelled against God. When Mama and Daddy Nelson told us that just as God had created us, God had also created music, I believed them. Early on, music became my passion. The truth, though, is that I was never a musical prodigy. Not even close. Bobbie was the prodigy." Despite their immersion in gospel music, their passion for the music sometimes didn't align with the ways that the church treated others. Growing up the siblings worked on farms alongside Black and Latino workers. When the siblings invited their fellow field workers to a church performance, the church didn't welcome these workers. Bobbie recalls that the "the incident did get me to thinking about challenging conventional church dogma."
Willie recalls his own early passion for playing guitar and writing songs. He writes about the gift that led him down the musical path: "Then came that sunny day when a package arrived in the mail. Don't wanna sound overly dramatic, but this package changed my life. I opened it up and there it was — a brand-new Stella guitar. Mama and Daddy Nelson, being the beautiful people they were, figured I needed an instrument of my own. So they did what everyone did back then. They got hold of a Sears & Roebuck catalog and found what they were looking for. I wanted a guitar because three of the people I admired most in the world could play: Ernest Tubb, the Texas Troubadour; my father, Ira; and Daddy Nelson himself. Besides, eighty-eight keys were fine for Bobbie but way too many for me. Six strings seemed just 'bout right." Willie remembers that "without anyone telling me, I knew the guitar had a voice. I knew that box of wood could sing. And I knew by holding it against my chest, it was hearing my heart. It became part of me."
The tone of the memoir turns somber as Bobbie candidly recalls the death of her son Michael from AIDS. "The last days of Michael's life were brutal. If I could, I would erase those memories from my mind. But I can't. The nightmare was too real to ever forget. What I can do, though, is turn to happier thoughts. I can remember those afternoons and evenings when Michael was still strong enough to walk next door with me to the Four Seasons. He loved that hotel. We'd have brunch there. … Dear Michael was stalwart. Dear Michael was strong. He was sweet. He was brilliant. Even in the fading light of his life, he never failed to express his gratitude. His kindness only grew. His goodness only deepened. In 1989, three years after his diagnosis, we lost him. I lost him. But we never really lost him. Great spirits don't die. I feel Michael's spirit now. He is as close to me as he has ever been. He is my son, a gift from God. I keep him close."
Nelson fans will relish Me and Sister Bobbie, savoring tales well-told and reveling in the affirmation of the gifts of love and music that Willie and sister Bobbie give to us and the world.
---