THE READING ROOM: Top Music Books of 2019
Posted On December 12, 2019
---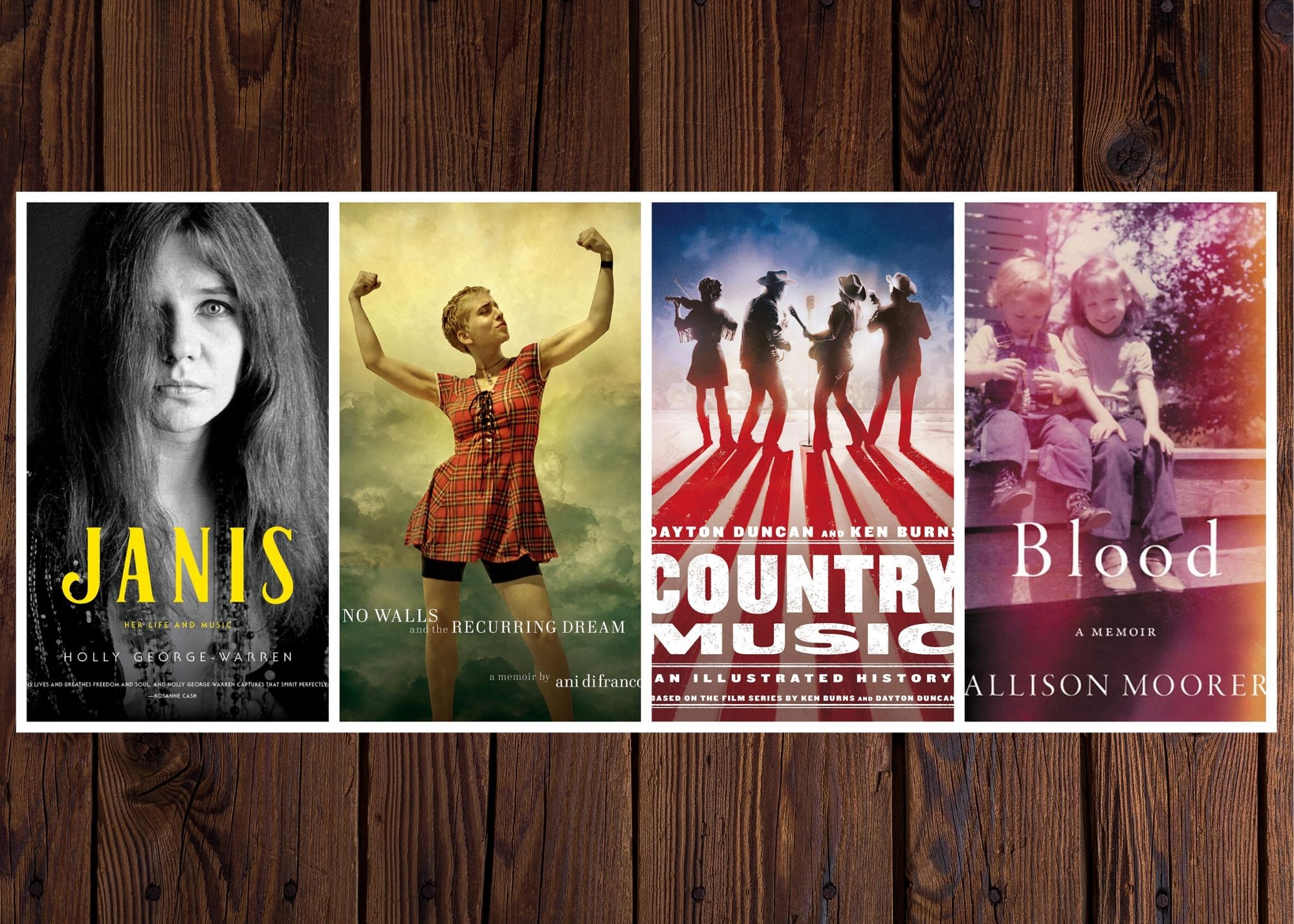 It's been a good year for music books, and thank goodness, for they have been a refuge in an otherwise stormy publishing world that's focused on the corruption rampant in American politics. Almost every book in my list below could have occupied the first spot here, though I have not ranked these entries. Although one is a biography and another a memoir, Holly George-Warren's Janis and Allison Moorer's Blood easily share the first spot, and each is a must-read. The 12 books on the year-end list range from biographies to music history and criticism to memoir, and I have commented briefly on each of those. A longer list of favorite and important books follows. Happy reading!
Holly George-Warren, Janis: Her Life and Music (Simon & Schuster): Holly George-Warren's exceptional new biography reveals the path Joplin took from her days growing up singing in her parents' church to her show-stopping performance at the Monterey Pop Festival to her solo career. Drawing on archival materials as well as interviews with Joplin's friends, family, and bandmates, George-Warren traces Joplin's life from her childhood in Port Arthur, Texas, where she would "publicly flaunt her individuality," through her high school days to her time in Austin, singing black music in a segregated folk bar. George-Warren tracks Joplin through her early days with Big Brother and the Holding Company to the making of Pearl, which was released after Joplin's death. Janis contains rich detail and provides a glimpse at Janis Lynn Joplin becoming Janis Joplin. Janis: Her Life and Music emerges as the definitive biography of Joplin because of its depth, its breadth, and its candor and brilliant insights into the woman and her music.
Allison Moorer, Blood: A Memoir (Da Capo): "It was still dark outside and they were gone just like that." Moorer's powerful and poignant memoir opens with the deaths of her parents, and the singer shares her journey of groping in fits and starts through darkness toward the bright sheen of healing. Finding a voice — to speak truth to power, to share past injustices, to recall the beauty of small moments, to speak words once unsayable — lives at the center of Moorer's memoir. The beauty of Moorer's memoir lies in her being present every moment to her pain, her loss, her hope, and her search for the words with which to speak her memory.
Patti Smith, The Year of the Monkey (Knopf): Somewhere between waking and dreaming Patti Smith wanders, extolling the poetry of Allen Ginsberg, puncturing the ballooning apathy of American culture following the 2016 presidential election, and looking back on, and gazing forward into, times marked by loss and measured by the pace of her reveries. There is stark splendor in Smith's writing, for she allows us to see the hope and beauty of a dreamed-of world — well, the world as it might be without the bloatedness of human conceit. And when we read one of her memoirs, we submerse ourselves in her wanderings and find ourselves somewhere between waking and dreaming. In her newest memoir, Smith reflects on the raggedness of life and love and the sheer fabric that separates life and death, illusion and reality.
Ani DiFranco, No Walls and the Recurring Dream (Viking): DiFranco focuses more on music and less on sex, drugs, and rock and roll. The memoir reveals the ways that music brought DiFranco "deeper and deeper into the world." DiFranco's honesty and her fearlessness in sharing the depths of the forces that have shaped her music and her artistic identity separate her book from the run-of-the-mill memoirs flooding the market today.
Alan Paul and Andy Aledort, Texas Flood: The Inside Story of Stevie Ray Vaughan (St. Martin's): On Aug. 27, 1990, the dynamic guitarist Vaughan was killed in a helicopter crash, following a stunning performance with Eric Clapton. When he died, Vaughan was playing at the top of his game and securing his reputation as one of the top blues guitarists in the world. Drawing on hundreds of interviews with the people who knew Vaughan best, Paul (One Way Out) and Aledort provide the definitive biography of the brilliant guitarist whom we lost far too early.
Elton John, Me (Henry Holt): John finally tells his own story in this humorous and fast-paced memoir. It's a no-holds-barred account of his ascent to superstardom, his descent into addiction and alcoholism, his stunning comebacks, and his laser-like focus on the music. It's a must-read for fans of John's music, but it's also an excellent introduction to John's life and music, and the book will have any reader grabbing the music to listen to it again or for the first time.
Thomas Goldsmith, Earl Scruggs and Foggy Mountain Breakdown: The Making of an American Classic (Illinois): Journalist Goldsmith draws deeply on interviews with Scruggs; his wife, Louise; Béla Fleck; Curly Seckler; Mac Wiseman; and Jerry Douglas, among others, as he demonstrates how influential Scruggs' instrumental work has been to bluegrass and to folk music.
Bruce Conforth and Gayle Dean Wardlow, Up Jumped the Devil: The Real Life of Robert Johnson (Chicago Review Press): Legend after legend surrounds the short life of bluesman Robert Johnson. Conforth and Wardlow draw on interviews and deep archival research — some of the material has never been seen before — to paint a lively and definitive portrait of Johnson.
Aaron Cohen, Move On Up: Chicago Soul Music and Black Cultural Power (Chicago): If you buy only one book on soul music this year, this should be it. Cohen, whose little 33 1/3 book on Aretha Franklin's Amazing Grace is the definitive book on Franklin's album and the film, provides a social history of soul music in Chicago from the 1960s to the 1980s. Drawing on over one hundred interviews with Chicago's soul musicians, Cohen explores the ways that soul was more than just music; it was a marker of black empowerment, inspiring change and hope in the city. Cohen's passion for this music imbues this history with a lively spirit.
Dayton Duncan and Ken Burns, Country Music: An Illustrated History (Knopf): Duncan chronicles the history of country music through over 500 pages of cinematic narrative and through 1,000 images. The book is laid out in eight sections corresponding to the eight segments of the series. While Country Music: An Illustrated History follows the contours of Ken Burns' series, Country Music, it gives some of the deeper background on artists and on the places and songs that the film can't fully provide. Duncan's lavishly illustrated book — in many ways the photos alone are worth the price of the book and tell a compelling story themselves — well fulfills its purpose as a companion to the PBS series, encouraging us to swim in the many streams that flow into the big river of country music.
Ed Ward, The History of Rock & Roll, Volume 2: 1964-1977 (Flatiron Books): Ward's fascinating book picks up where his first volume left off, tracing the evolution of rock and roll through all its forms over the 13 years covered in the book's subtitle. An enthusiastic storyteller, Ward stitches together detail after detail as he regales us with an almost moment-by-moment account of the ways that these years unfold. As in his first volume, each chapter is devoted to a single year, and each chapter is so packed with information, the book merits a slow and careful reading, maybe accompanied by the sounds of the artists and bands Ward discusses. Ward's captivating narrative ranges widely over the development of artists including CSNY, Linda Ronstadt, Janis Joplin, Mavis Staples, Fleetwood Mac, David Bowie, Bad Company, The Allman Brothers, Marvin Gaye, Bobbie Gentry, King Crimson, The Band, and, of course, the Beatles and the Stones, among many others. The History of Rock & Roll, Volume 2: 1964-1977: The Beatles, the Stones, and the Rise of Classic Rock richly repays close readings and leaves us looking forward to Ward's third volume of the history of rock and roll.
Kathy Iandoli, God Save the Queens: The Essential History of Women in Hip-Hop (Dey Street Books): Drawing on interviews with Nicki Minaj, Lil'Kim, Remy Ma, Rapsody, and many others, acclaimed music writer Iandoli provides the first extensive history of women in hip-hop. She vividly draws a portrait of these women making their way successfully in a world that too often shunted them to the margins. This is essential reading.
More Great Reads from 2019
Randee St. Nicholas, My Name is Prince: 25 Inspired Years—1991-2016 (Amistad)
Ted Gioia, Music: A Subversive History (Basic)
David Browne, Crosby, Stills, Nash & Young: The Wild, Definitive Saga of Rock's Greatest Supergroup (Da Capo)
Peter Doggett, CSNY: Crosby, Stills, Nash and Young (Atria)
Tommy Womack, Dust Bunnies: A Memoir (Tommy Womack)
Booker T. Jones, Time Is Tight: My Life Note by Note (Little, Brown)
Dale Cockrell, Everybody's Doin' It: Sex, Music, and Dance in New York, 1840-1977 (Norton)
David Rowell, Wherever the Sound Takes You (Chicago)
Mark Katz, Build: The Power of Hip Hop Diplomacy in a Divided World (Oxford)
Con Chapman, Rabbit's Blues: The Life and Music of Johnny Hodges (Oxford)
Lee Zimmerman, Americana Music: Voices, Visionaries & Pioneers of an Honest Sound (Texas A&M)
Debbie Harry, Face It (Dey St.)
Vincent L. Stephens, Rocking the Closet: How Little Richard, Johnnie Ray, Liberace, and Johnny Mathis Queered Pop Music (Illinois)
Tim Newby, Leftover Salmon: Thirty Years of Festival! (Rowman & Littlefield)
Andrew Grant Jackson, 1973: Rock at the Crossroads (Thomas Dunne Books)
Alan B. Krueger, Rockonomics: A Backstage Tour of What the Music Industry Can Teach Us about Economics and Life (Currency/Crown)
Rod Picott, Out Past the Wires (Working Title Farm)
Dixie Gamble, Witch Hairs: Mirth, Miracles, Mayhem & Music (Working Title Farm)
Jonathan D. Cohen and June Skinner Sawyers, eds. Long Walk Home: Reflections on Bruce Springsteen (Rutgers)
Neil Young and Phil Baker, To Feel the Music: A Songwriter's Mission to Save High-Quality Audio (BenBella)
Liz Phair, Horror Stories (Random House)
Joni Mitchell, Morning Glory on the Vine: Early Songs and Drawings (HMH)
Scott Bomar, The Bakersfield Sound: 1940-1974 (Bear Family)
Peter La Chapelle, I'd Fight the World: A Political History of Old-Time, Hillbilly, and Country Music (Chicago)
Janiva Magness, Weeds Like Us: A Memoir (Fathead Records)
Karen Tongson, Why Karen Carpenter Matters (Texas)
---