THE READING ROOM: 'The Hag' Sticks to Well-Worn Path of Merle Haggard's Life Story
Posted On February 24, 2022
---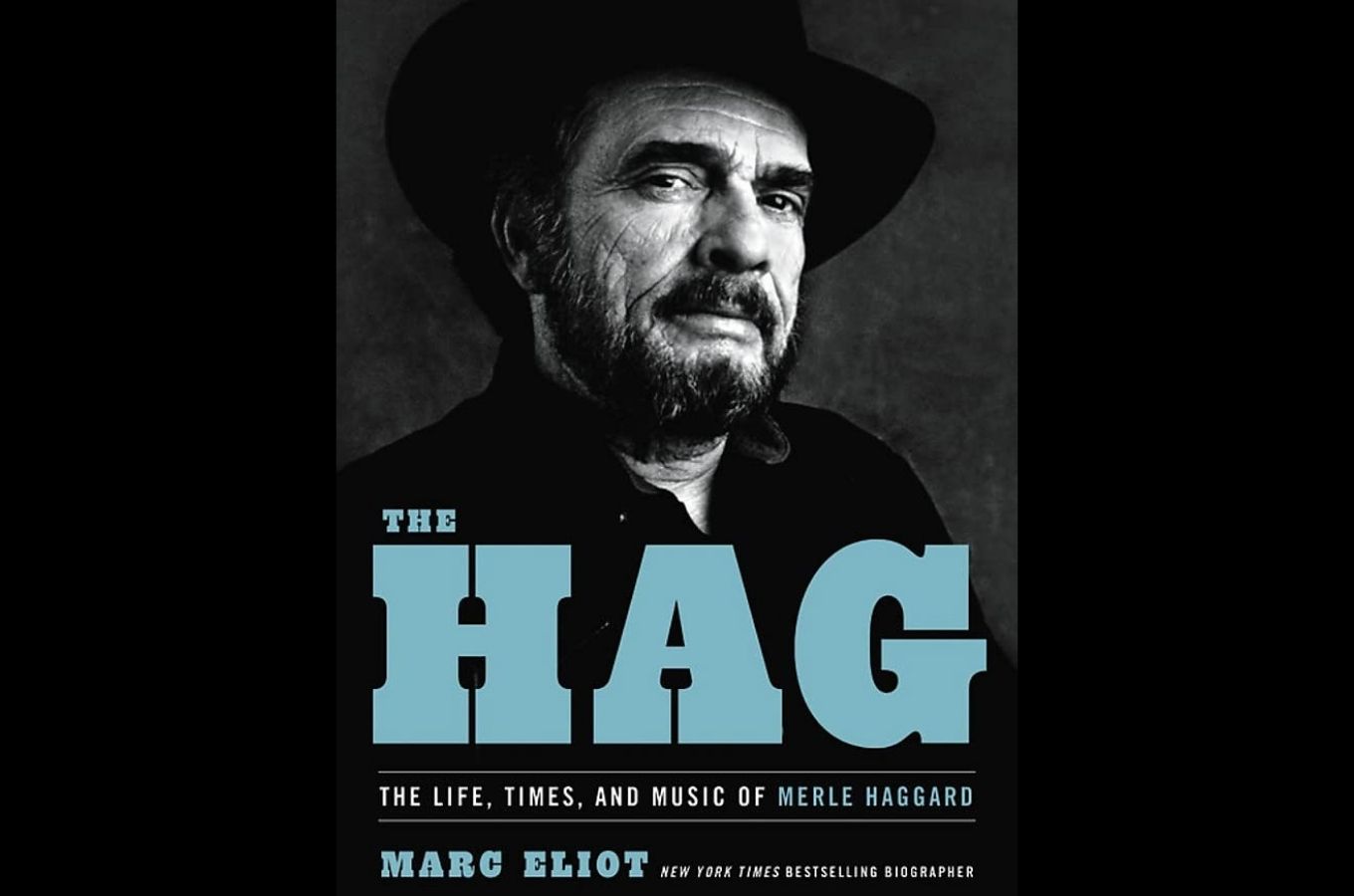 Do we really need a new biography of Merle Haggard? Haggard himself left us with two autobiographies: Sing Me Back Home: My Life (1981) and My House of Memories (2002). Since the second was written 14 years before his death on April 6, 2016, perhaps we need someone to fill in those blanks, as well as to portray Haggard's sprawling life with candid critical analysis that takes into account the ups and downs of his life and music.
We're still waiting for that biography. The Hag: The Life, Times, and Music of Merle Haggard (Hachette), Marc Eliot's breezy fan's notes, is not it. Eliot does hit the high points, and we learn the stories behind many of the songs, but we're left wanting more detail and more depth than The Hag gives us.
The contours of Haggard's life and career are already familiar to most of his fans, and Eliot narrates that well-known story from Haggard's birth in Bakersfield, California — "Merle Ronald Haggard came into the world kicking and screaming … From the time [his parents] brought him home, he loved the sound of music." — through his teenage years when he picks up his first guitar, his early scuffles with the law and his prison time, his early songwriting, his five marriages, and his eventual rise to fame. Along the way, Eliot manages to provide some glimpses into Haggard, the songwriter, at work.
For example, in a very brief analysis of "Mama Tried," Eliot simply writes that "as much as [Haggard] resisted it, he had become a player in his own myth-making: the artist is the subject, the subject is the artist." However, Eliot is content mainly to point out the facts surrounding the song — it went straight to No. 1 on Billboard's country chart — and he prefers to let British journalist Andy Wickham in a Rolling Stone review provide the depth: "His songs romanticize the hardships and tragedies of America's transient proletarian and his success is resultant of his inherent ability to relate to his audience with precisely the right emotional pitch … Merle Haggard looks the part and sounds the part because he is the part."
Eliot delves deeper into "Okie from Muskogee," examining the song's origins and its afterlife. According to Eliot, the song was "much more than a redneck rhapsody; it was indelible demonstration of attitude and reactionary resentment, and an ode to his dad, James Haggard." The song came together on the bus one night in 1969 when Merle Haggard saw a sign that read "19 Miles to Muskogee." Everyone on the bus but Merle was smoking pot, and someone on the bus remarked, "I bet they don't smoke marijuana in Muskogee," which broke everybody up. Haggard then asked his drummer, Eddie Burris, if he had any lines, and Burris came up with what was Haggard's favorite: "Beads and Roman sandals won't be seen." After Haggard and the band finished writing the song, he went back and sat beside his wife, Bonnie, and worked out the harmony parts; by the time he went to sleep the song was finished, and he tried out the next night. As Eliot points out, Phil Ochs, John Denver, and the Grateful Dead recorded the song. Haggard, writes Eliot, "often referred to the song as a joke, insisting that it was not very important." For years, Haggard introduced "Okie from Muskogee" by saying, "Here's a song I wrote for my dad," but he told a journalist once that "there are about seventeen hundred ways to take that song."
Eliot's claims for Haggard, though, are overblown, even as he tries to situate Haggard in the American literary landscape. He compares Haggard's early years to a young Hamlet "who suffers the premature death of the father he keeps alive in his dreams, dreams that produced an unshakeable rage that warps the love he has for his mother and drives him to commit self-destructive acts." In ranking Haggard in the American canon, Eliot contends that Haggard's "lyrics clearly show that he was an American poet of the first rank, an original voice of the twentieth century, his melodies deceptively simple (until you try to sing them) … Merle's 'If We Make It through December' resembles, and is as complex and skillful as, Frost's 'Stopping by Woods on a Snowy Evening'." Like all great poets, Eliot writes, Haggard's "work both defined and reflected who he was and his struggle to set himself free through music."
While The Hag: The Life, Times, and Music of Merle Haggard reveals little new for Haggard fans, Eliot's book at least takes us back to Haggard's best feature — his songs — and it will have readers reaching for their Haggard albums to drop on the turntable.
---